EV batteries will live forever in Ford's closed-loop factories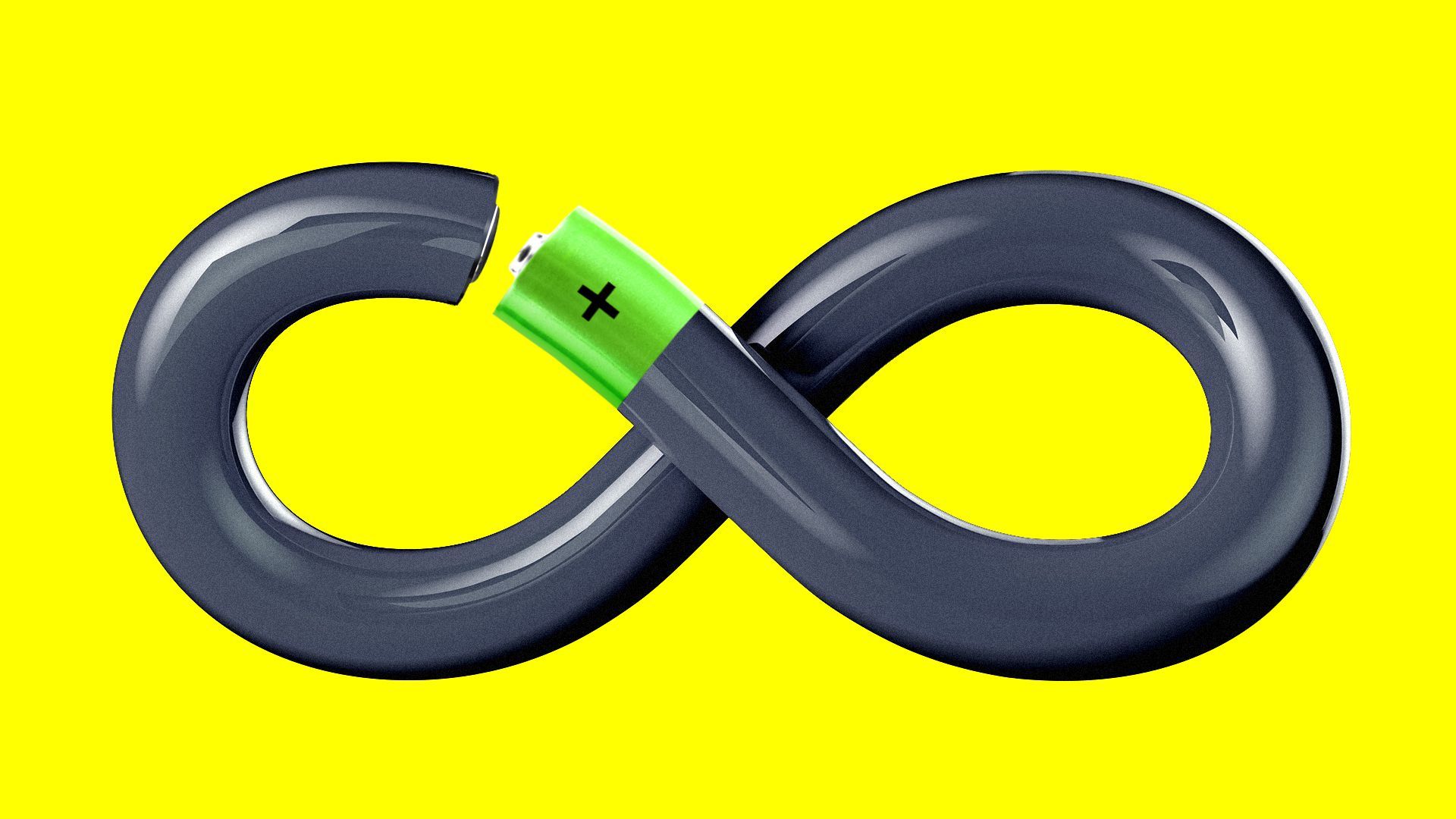 Ford is partnering with battery recycling company Redwood Materials to lay the groundwork for a domestic supply chain for electric vehicle batteries that relies on closed-loop recycling.
The big picture: The long-term vision would ensure that critical battery materials like lithium, nickel, copper and cobalt are re-used in new batteries, reducing the need for imports and avoiding further environmental damage through mining.
Creating a circular supply chain would also help reduce battery costs, making EVs more affordable, the companies say.
Context: The collaboration agreement comes one week after Redwood disclosed plans to move a huge chunk of the battery-component industry from Asia to the U.S., as Bloomberg first reported.
Nevada-based Redwood, founded by former Tesla battery exec JB Straubel, plans to build a $1 billion-factory to produce anode copper foil and cathode materials to U.S. partners.
Ford, which is spending $30 billion on electrification through 2025, said it invested $50 million in Redwood, part of its recent $700 million capital raise.
Details: The two companies will begin by salvaging scrap materials from Ford's planned battery joint venture with Korean battery manufacturing SK Innovation.
BlueOvalSK plans to open "multiple" battery plants in North America starting mid-decade and will aim to use some of Redwood's recycled materials.
Eventually, Ford and Redwood intend to salvage battery materials from EVs at the end of their life, but that's still 15 or 20 years away.
What they're saying: "Integrating battery recycling into our manufacturing process is really mission critical," Lisa Drake, Ford's North America chief operating officer, told reporters Tuesday.
"As the market grows, we know the demand on commodities is going to outstrip supply. We also know we don't have the supply here in the U.S.," she said.
Straubel added: "The risk is that we find ourselves in a situation similar to the current semiconductor shortage if we don't plan ahead and we aren't strategic about putting supply chains in the right regions at the right time."
"Any companies that are serious about switching to electric vehicles, this issue has to be addressed," he said.
State of play: GM's battery manufacturing joint venture, Ultium Cells LLC, announced earlier this year a recycling deal with Li-Cycle to collect and reuse scrap materials.
Straubel said Redwood's plan with Ford is "unique in terms of its depth and scope."
What to watch: The U.S. recently laid out a national blueprint for lithium batteries, which aims to establish a secure supply chain for battery materials and technology by 2030.
Go deeper