First look: Greens seek K Street wedge on climate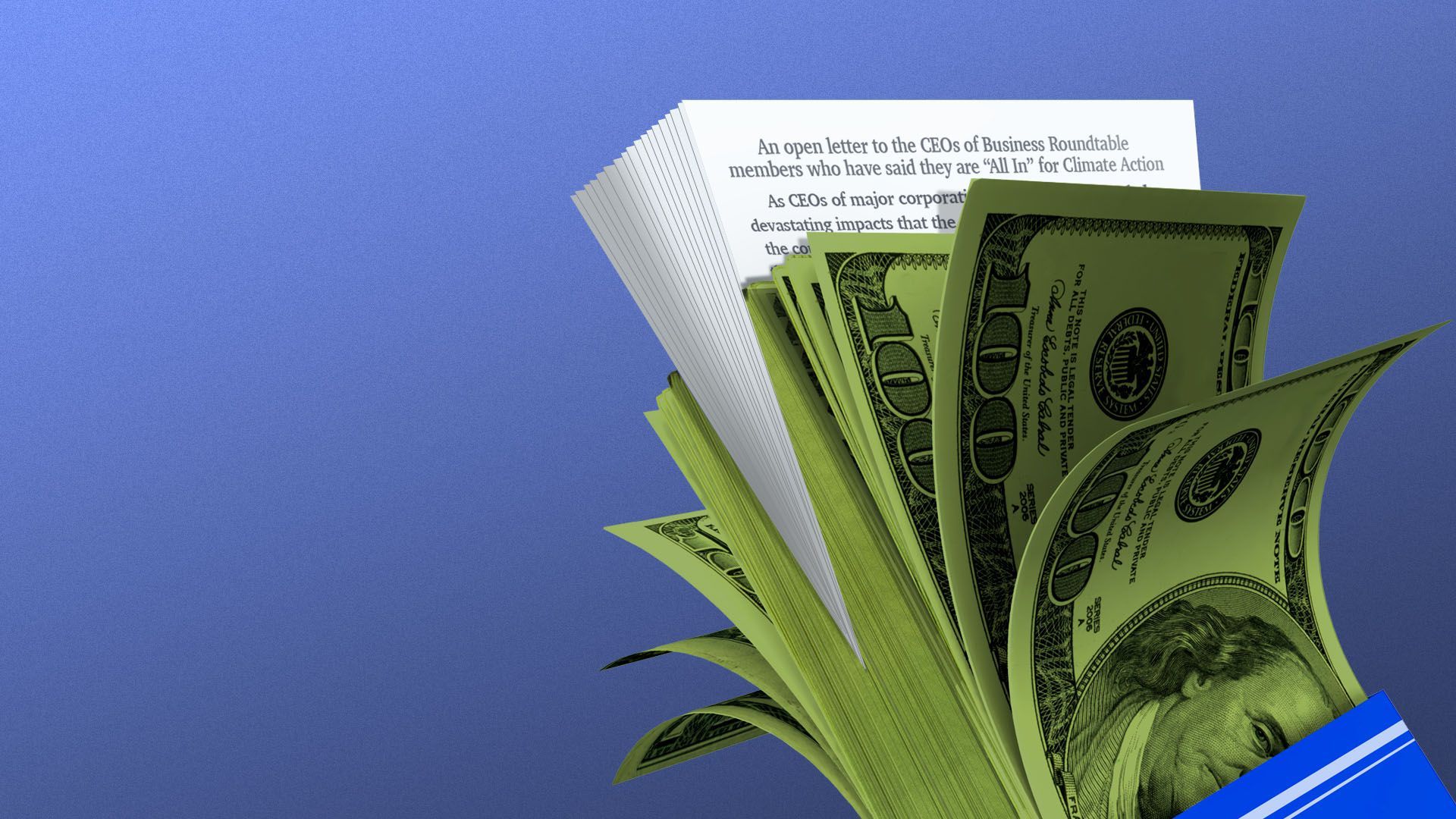 Environmentalists are pressing big companies with lofty climate goals to split with their lobbying associations over sweeping Democratic legislation that includes major new clean energy spending and tax incentives.
Driving the news: A suite of climate groups just released an open letter to two dozen companies — including Apple, Walmart, Coca-Cola and Amazon — in the Business Roundtable, which has voiced several concerns about Democrats' wider spending and tax package.
The letter to the companies, many of which are also in the U.S. Chamber of Commerce, says there is "no time to waste in distancing yourself" from the two associations' lobbying against the plan.
What they're saying: "We are asking you to live up to your climate commitments when it matters the most," the letter states.
"[Y]ou must step in, call for the passage of immediate climate investments through the Build Back Better Act, and publicly break with their campaign to undermine our best chance to take meaningful climate action at the federal level," it states.
Around 30 groups including Climate Power, the Sierra Club, the Sunrise Movement and the League of Conservation Voters are on the letter.
Why it matters: It could raise pressure on some corporate giants to take an active role in lobbying for the big, multi-topic spending and tax package Democratic leaders are struggling to move on a party-line vote.
It's part of a wider effort to enlist corporate support for legislation slated to include big new renewables and EV incentives, and new financial carrots for utilities to accelerate clean energy deployment.
A separate coalition of environmentalists is out with a letter to "America's CEOs" urging them to publicly back climate measures in the Democrats' package and "any trade association lobbying that would undercut these provisions."
The other side: Both business groups are currently opposing portions of the $3.5 trillion legislation, a mix of healthcare, social safety net and climate measures.
They're citing concerns about the overall price tag and tax increases that would hit their members.
"These measures would put millions of American jobs at risk, stunt wage growth, suppress business investment and innovation and once again make American companies more susceptible to foreign takeovers," Business Roundtable CEO Joshua Bolten said in a statement this week about tax provisions in legislation moving through the House.
The U.S. Chamber calls the legislation an "existential threat to America's fragile economic recovery and future prosperity."
The big picture: Some of the country's largest corporations — including the ones name-checked in the green groups' letter — have increasingly been setting ambitious carbon-cutting targets and expanding investment in clean energy.
Jason Phelps, an adviser with Climate Power, tells Axios via email that the letter is "the climate movement's opening statement to companies asking them to put their money where their mouth is."
Go deeper