Cities try to combat "urban heat islands"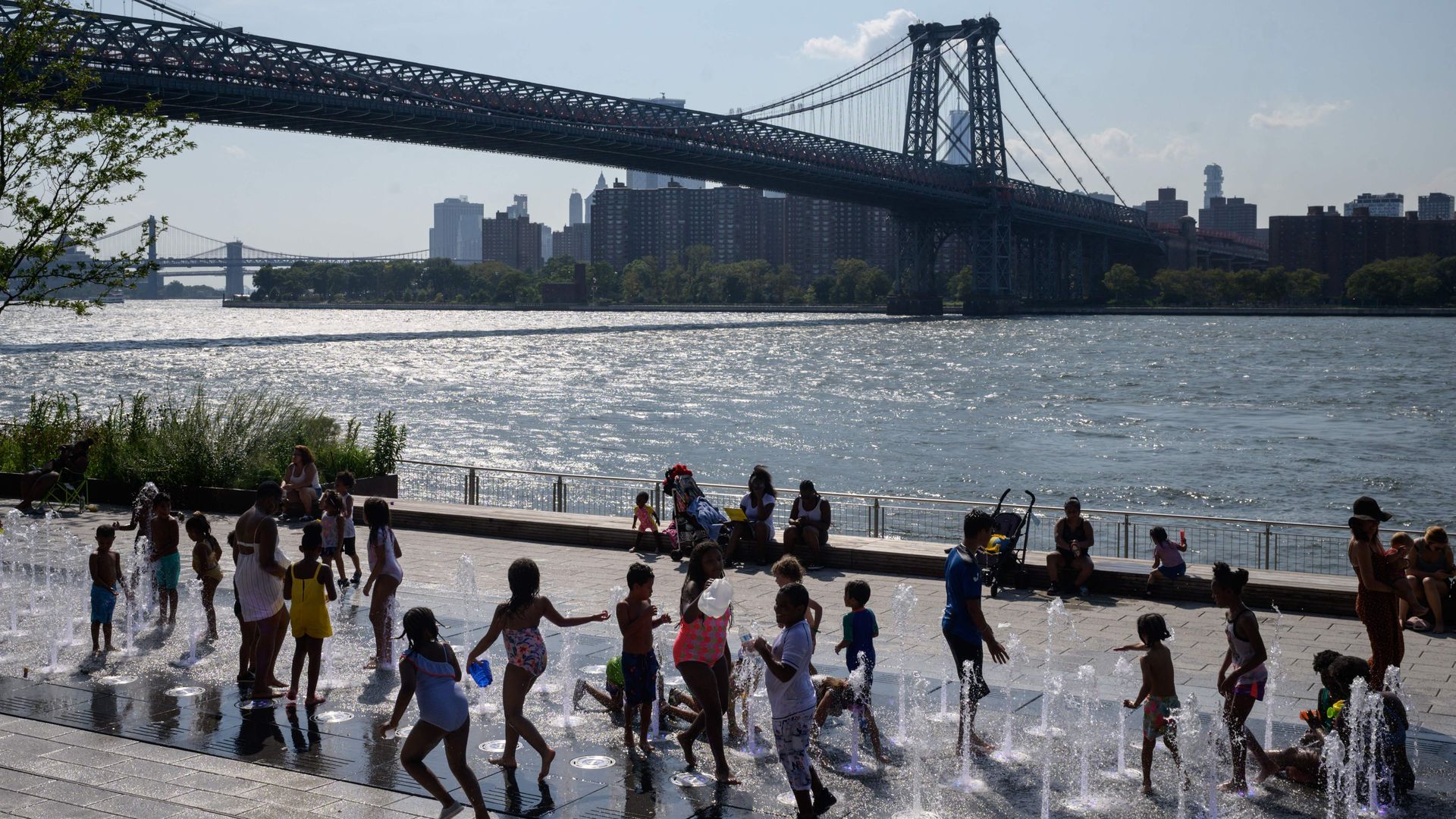 Hot times, summer in the city: As rising temperatures turn urban centers into smoldering heat bubbles, cities are turning to technology like reflective pavement coatings and "cool roofs."
Why it matters: Climate change will keep making cities hotter, and municipal leaders are starting to acknowledge that planting trees, opening "cooling centers," and putting white paint on streets and rooftops will not be enough.
What's happening: A growing number of startups are crowding into the market for products to counter "urban heat islands," with experimental (and proven) technologies aimed at absorbing or reflecting surface heat on roads, sidewalks, buildings and other structures.
"It's really an exciting time," Kurt Shickman, executive director of the Global Cool Cities Alliance, a 10-year-old nonprofit based in Washington, D.C., tells Axios. "The concept [of using technology to offset the sun's energy] is not new, but we are seeing a lot of innovation in the space now. "
His organization — with 70 member cities worldwide, including 25 in the U.S. — is dedicated to "passive cooling" techniques, which don't rely on electricity (vs. "active cooling" like air conditioning).
While "cool roofs" have been around for more than 30 years, the technology is evolving rapidly, Shickman says: "For any type of roof you can imagine, there is a way to make a cooler version of it. That's really where the innovation sits on that side."
"A cool roof is one that has been designed to reflect more sunlight and absorb less heat than a standard roof," per the Department of Energy. "Cool roofs can be made of a highly reflective type of paint, a sheet covering, or highly reflective tiles or shingles."
On the pavement side, the market has "really only been around for about a decade — it's a very young market," Shickman says.
Cool pavement is "a water-based asphalt treatment that is applied on top of the existing asphalt pavement," per the city of Phoenix, which is doing the largest U.S. demonstration of the technology and will present its findings virtually on Sept. 14.
"It's made with asphalt, water, an emulsifying agent (soap), mineral fillers, polymers and recycled materials," a city website explains. "It contains no harmful chemicals and is compatible with traditional asphalt."
But creating cool pavements "is more complicated than roofs," says a report issued in July by Climate Central. "In cities with urban canyons, the sunlight may not even reach the street level long enough to make a significant difference."
What they're saying: Whitewashing sidewalks and roadways is just the beginning. "We're seeing lots of innovation there, not just in going to a light-colored pavement — there's a wide variety of different ways you can actually make a pavement cool," says Shickman.
Those include using different colors and advanced coatings or sealants — some of which can make a roadway "30% reflective instead of 5% reflective."
Details: Cities like Los Angeles, Phoenix and Tokyo are in the vanguard of using cool pavement technology to combat urban heat islands.
New York and San Antonio and Austin, Texas, are in discussions about it, per Shickman.
Globally, the Cool Coalition, hosted by the United Nations Environment Programme, works to do things like reducing reliance on A/C by getting people to replace their air conditioners with heat pumps, which are more environmentally friendly.
Be smart: "Extreme urban heat is a public health threat, especially for individuals and communities that are more vulnerable due to health, social, economic, or other reasons," says the Climate Central report.
The report recommends everything from cool pavements and rooftops to solar panels, public assistance with energy bills, and, of course, planting trees.
Go deeper