Deadly Hurricane Ida leaves over 1 million without power in Louisiana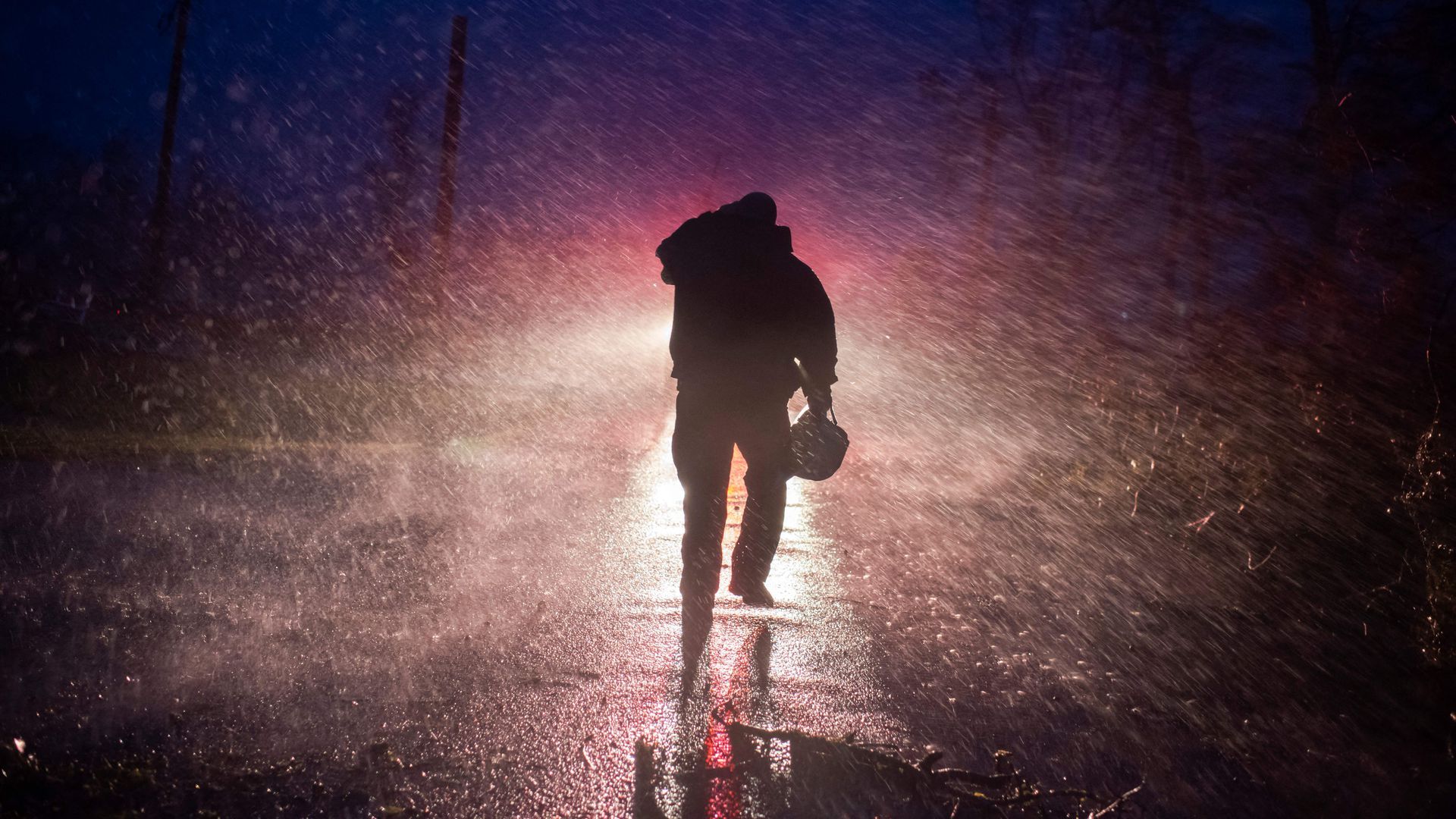 Hurricane Ida continued to lash Louisiana overnight, as the first death from the Category 2 storm was reported and an estimated 1 million-plus customers were left without power in the state.
The latest: President Biden approved Louisiana's disaster declaration late Sunday, enabling federal funding for parishes affected by the storm, which will go toward grants for temporary housing and home repairs, low-cost loans to cover uninsured property losses, and other programs.
Ascension Parish Sheriff's Office said in a statement that deputies responding to reports of a tree falling on a person in Prairieville, south of Baton Rouge, La, just after 8:30p.m. local time "confirmed that the victim" had died.
Threat level: Ida left New Orleans with no electricity except for power from generators, as widespread outages were reported across the state.
Entergy Louisiana, one of the energy providers in the state, said in a statement Sunday that people could be without power for weeks after the storm passes.
In New Orleans, emergency medical services were suspended because of dangerous winds.
Several of the city's sewage pump stations lost power Sunday, increasing the potential for sewer backups in homes.
What else is happening: The storm was bringing "catastrophic effects" to Louisiana — including storm surges, extremely high winds and dangerous rainfall flooding.
Nearly 95% of oil and gas production in the Gulf of Mexico was suspended on Sunday, and more refinery capacity is in Ida's projected path, according to S&P Global.
Colonial Pipeline, the primary fuel supplier to the South and the East Coast, temporarily shut down two of its lines running from Houston to Greensboro, North Carolina, because of the storm Sunday, the company said in a statement.
Extreme winds from Ida blew the roof off Lady of the Sea Hospital in coastal Lafourche Parish, southern Louisiana, while patients were inside, per video from the scene, broadcast by WDSU News.
The big picture: Ida made landfall in Port Fourchon, Louisiana, as a Category 4 storm with maximum sustained winds of 150 mph — which is close to Category 5 intensity, Axios' Andrew Freedman reports.
The storm gradually weakened, but its heavy winds and rains were triggering flash flooding warnings across the state overnight.
Background: Biden on Friday approved state of emergency declarations for the governors of Louisiana and Mississippi ahead of Ida's arrival, allowing FEMA to coordinate all disaster relief efforts in the state.
He said earlier Sunday that the Federal Emergency Management Agency had prepared 2.5 million meals and 3 million liters of water for affected states.
FEMA deployed 2,400 people, along with specialized equipment to the Gulf region in anticipation of storm damage. This included nine urban search and rescue teams staged in Louisiana and three more in Alabama, an agency spokesperson said.
Meanwhile, thousands of members of the Louisiana National Guard had been staged in several parishes for search and rescue efforts.
Louisiana Gov. John Bel Edwards said Sunday afternoon that more than 1,540 people were in evacuation shelters throughout the state, though that number is expected to increase.
Go deeper... In photos: Hurricane Ida pummels Louisiana
Editor's note: This article has been updated with new details throughout. It's been corrected to reflect that 3 million liters of water was prepared, not 300 million as previously stated.
Go deeper