The other job for batteries in boosting the electric vehicle market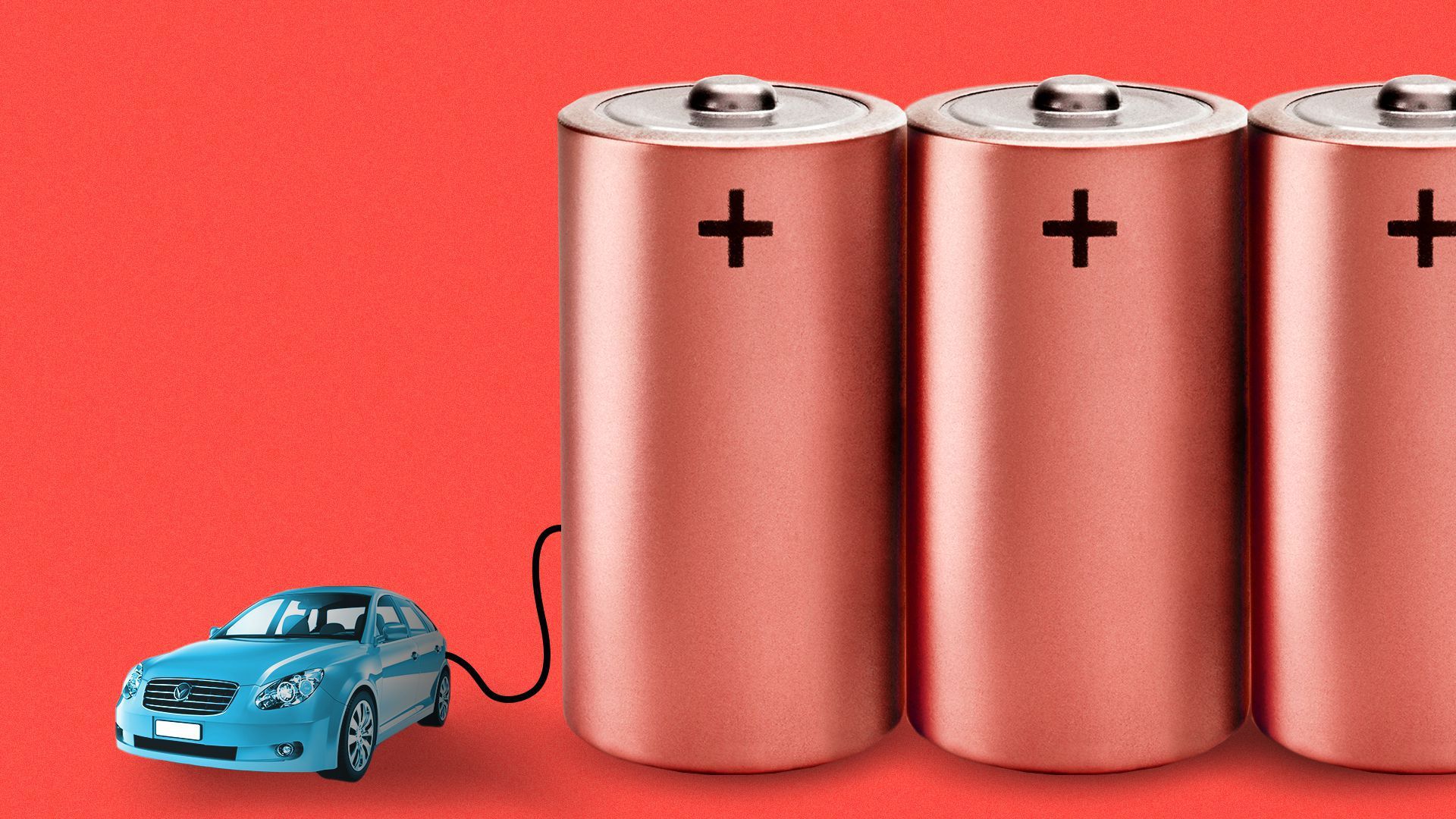 The electric mobility company Revel is installing battery storage at a New York City charging hub in a partnership that represents a growing and evolving trend in the industry.
Driving the news: Revel is adding storage from the firm Electric Era to help power its large charging "superhub" in Brooklyn that offers public access and charging for Revel's ride-hailing vehicles.
Why it matters: Co-locating charging with storage improves the economics of the industry by helping to lower "demand charges" that commercial power users pay utilities based on their maximum use.
Looking ahead, as EVs grow from a niche to mainstream technology and millions of vehicles are on the roads, storage is one tool that can help prevent EVs from becoming a new strain on power grids.
By the numbers: Revel and Electric Era said the batteries "will reduce peak power at Revel's Superhub by up to 500kW, the equivalent of powering 500 homes."
They also note that demand charges can account for a whopping 90% of charging sites' power costs, "making them uneconomic to run while EV adoption remains low."
What they're saying: Energy analyst Chris Nelder, in an email exchange, also cited the 90% figure, calling it a "total business killer" while the charging market is young.
"As the transportation sector electrifies, mobility companies must be able to afford charging operations and promote grid resiliency," said Electric Era CEO Quincy Lee in a statement.
The big picture: "We are seeing an increase in these types of deployments as there is a good business case to co-locate these resources," said Jason Burwen, interim CEO of the Energy Storage Association, an industry trade group.
Burwen cited the charging network EVgo's deployment of storage at 14 fast-charging stations. Others including Electrify America have added batteries to charging sites, and Burwen said announcements from more companies are expected soon.
"We expect most businesses in [direct current] fast charging will eventually deploy onsite energy storage to manage vehicle-grid integration and avert more expensive upgrades to local power infrastructure," he said.
The intrigue: Batteries, which obviously carry their own costs, are hardly a silver bullet for the charging industry.
Nelder and Burwen both said regulators and utilities should be reforming rate structures to lower costs for charging companies in order to help vehicle electrification grow.
"But getting regulators and utilities to think outside the box of the demand charges they've known and loved for decades is really hard," said Nelder, host of The Energy Transition Show podcast, in an email exchange.
Go deeper: The EV revolution will hit speed bumps
Go deeper