Big Oil has big problems despite rising profits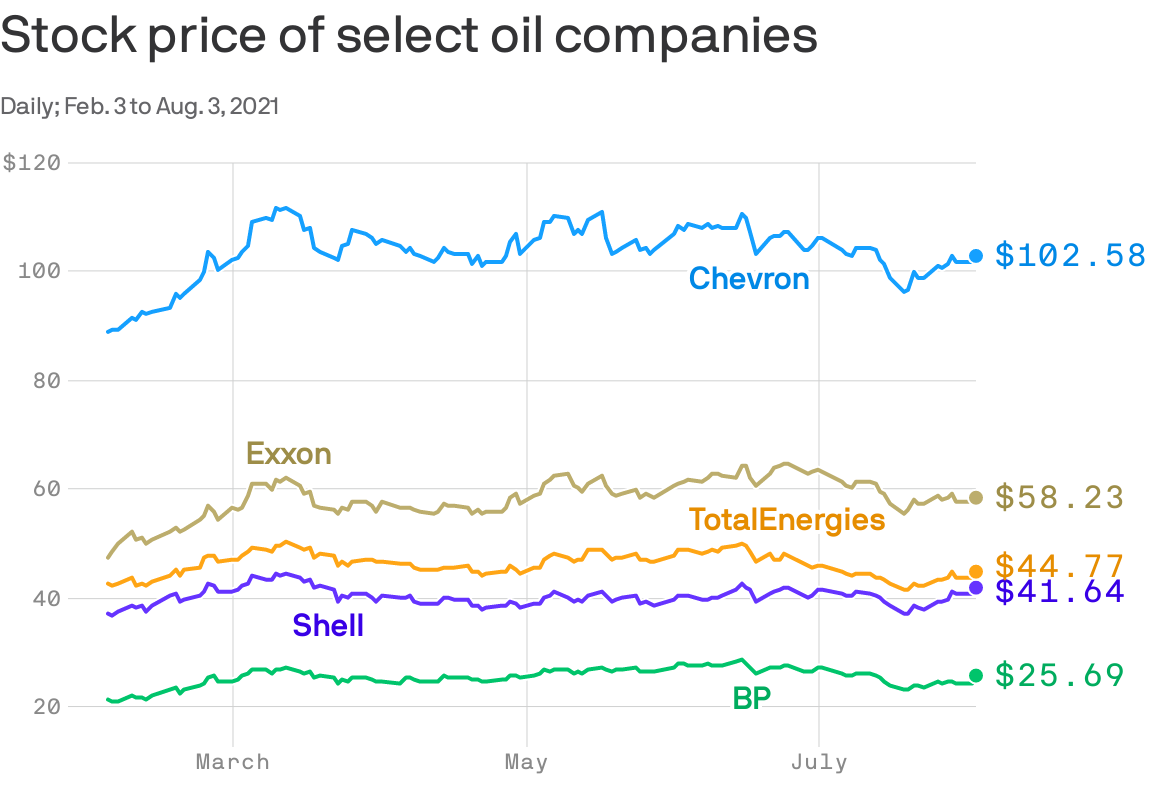 The just-concluded Big Oil earnings season highlighted two things at once: The sector's on far more solid footing than last year, but still faces big headwinds.
Driving the news: BP's stock rose 7% Tuesday after it reported a $2.8 billion Q2 profit after losing $6.7 billion that period last year, and announced higher dividends and new share buybacks.
Shell and TotalEnergies saw increases after they reported multibillion-dollar earnings last week alongside new plans to return more cash to shareholders.
U.S.-based Exxon ($4.7 billion compared to a $1.1 billion loss this period last year) and Chevron ($3.1 billion compared to an $8.3 billion loss in Q2 2020) saw little movement despite profit reports Friday.
For the U.S. giants, it's "a sign that winning back investors remains an uphill fight," the Financial Times reports. Of note: Chevron unveiled new buybacks and Exxon didn't.
CNN points to the uncertainties facing the majors in this piece.
Where it stands: Overall, the last two quarters show that Big Oil has recovered significantly from the pandemic that brought huge losses during 2020.
But their limited share price movement is one sign that the industry still faces challenges.
The near-term future is clouded by the spread of the Delta variant, which could slow the demand recovery. The oil price recovery has been losing ground in recent days.
Looking further out, the majors' ability to navigate the global move to lower-carbon energy is another question mark — and one that varies by company as they employ different strategies.
The big picture: "The fundamentals are improving, but it's possible that that COVID-related demand concerns and longer term questions related to the energy transition are playing a role in the investor response," Ben Cahill, an oil expert with the Center for Strategic and International Studies, said via email.
OK, sure, any snapshot of share price movements, like the six-month window above, is an incomplete story.
For instance, zoom out a little further and Exxon's up 40% this year, but still nowhere near its mid-2010s salad days, while the other giants are also well below prior peaks.
What they're saying: Oil analyst Ellen Wald cited several things keeping investors hesitant despite a recovery in prices and profits.
"Part of it may have to do with money-managers' reluctance to invest in oil for environmental reasons, which is compounded by non-environmentally motivated investors who simply don't want to buy into stocks that they don't think others will buy," she said via email.
While huge pension funds are still significantly invested in oil companies despite fund managers' climate pledges, Wald notes the perception of share dumps could be making investors wary.
Turning to market fundamentals, she said that "investors may see this as the peak for oil prices," due to more OPEC+ barrels arriving and COVID hitting demand anew.
Go deeper