What more space flights would actually mean for emissions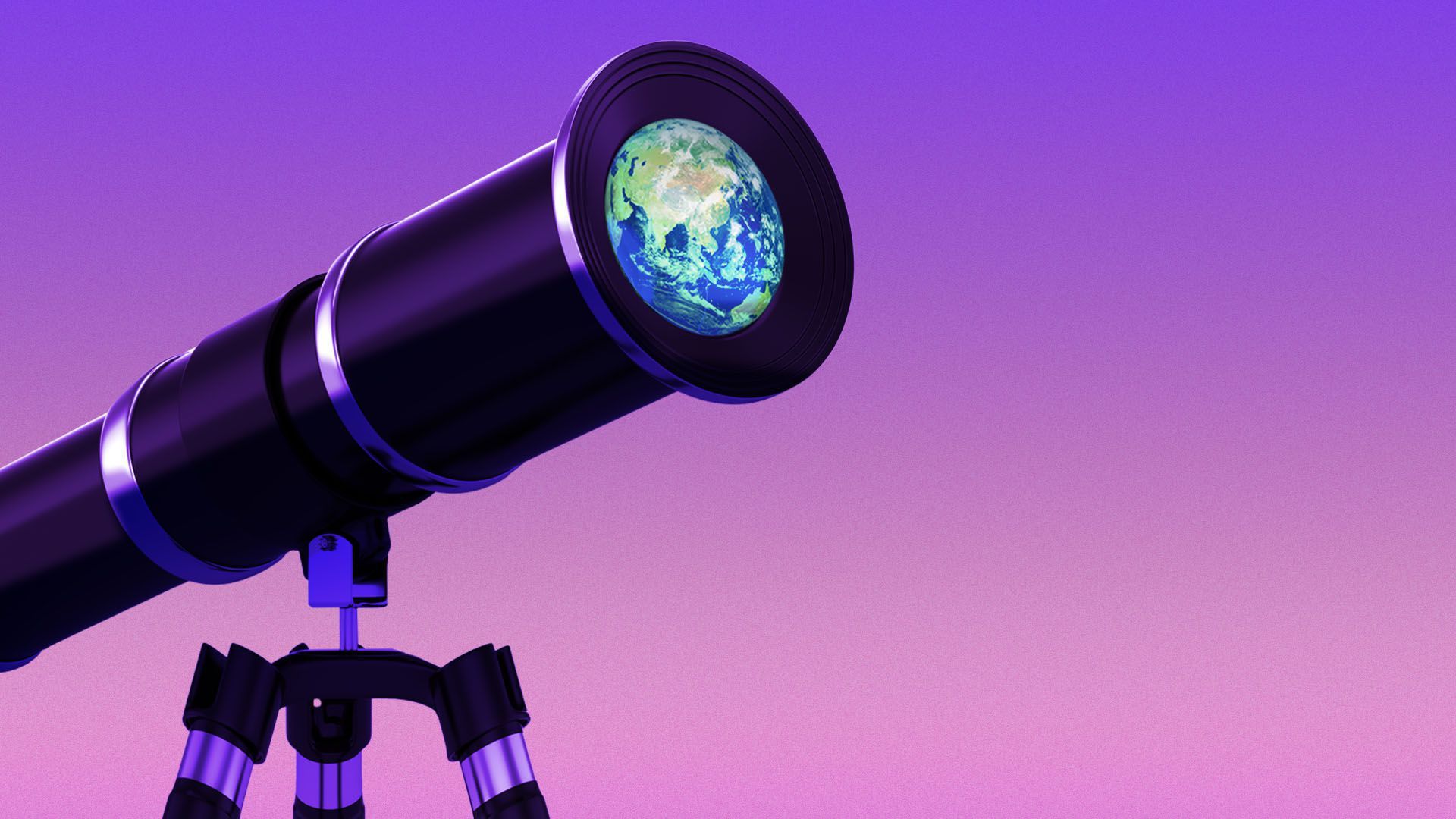 Jeff Bezos says his suborbital space flight Tuesday reinforced his commitment to fighting climate change, but growth of this kind of travel planned by multiple companies would also add new sources of greenhouse gas emissions.
The big picture: The flight comes as Bezos' Blue Origin, Virgin Galactic and SpaceX are all planning significant increases in launches.
By the numbers: S&P Global Sustainable1 offered some perspective on the amount of fuel burned and corresponding emissions from commercial space launches using conventional fuels.
The sustainability intelligence provider said it's roughly akin to...
One car traveling 1.8 million miles.
The average travel of 157 cars in the U.S. per year (based on Transportation Department data).
"A full passenger roundtrip flight in commercial aircraft from London to New York."
Yes, but: Bezos' Blue Origin rocket used a mix of liquid hydrogen and liquid oxygen that produces water vapor, not CO2, when burned.
However, water vapor is also a planet-warming gas, while hydrogen production can also produce substantial CO2 emissions, depending on the process used. Blue Origin did not respond to a request for comment.
How it works: Steven Bullock of S&P Global Sustainable1, in a statement to Axios, said the firm based its analysis on disclosed data from launches of Space X's Falcon 9 rockets.
"Although different, both SpaceX Falcon and Virgin Galactic use hydrocarbon-based fuel, while New Shepard uses a mix of liquid hydrogen and oxygen," said Bullock. "With all three talking about ramping up space travel, we wanted to indicate the GHG emissions for hydrocarbon-based fuel types — as two out of the three produce Scope 1 CO2 emissions."
"However it is worth noting that the source of the hydrogen fuel is unclear, i.e., if it is blue or brown hydrogen, produced from fossil fuel or renewables and there is no disclosure from Blue Origin on this."
Our thought bubble: Axios space reporter Miriam Kramer notes that the number of launches each year is increasing but still relatively low.
In the future, however — if companies like Blue Origin and Virgin Galactic have their way — launches could increase dramatically, she notes. Richard Branson's Virgin Galactic envisions 400 flights per year.
Reckoning with exactly how bad emissions from rocket launches are today could pay off in the future as more launches occur worldwide.
Reality check: Even a major increase in space flight would not create a big greenhouse gas emissions source compared to CO2 output from power, industry and other forms of transport, including traditional commercial air travel.
But it's another emitting sector at a time when emissions steep cuts are needed to keep Paris Agreement goals within reach.
The launches can also harm stratospheric ozone.
Of note: Bezos is a major funder of efforts to fight global warming, unveiling the $10 billion Bezos Earth Fund in early 2020 and in November announcing initial grants totaling $791 million across 16 organizations.
Editor's note: This story has been corrected to note that combustion of Blue Origin's fuel produces water vapor (not CO2 as implied) and has been updated with new comments explaining how S&P arrived at its conclusions.
Go deeper