Over 1,100 people sent to hospitals in Pacific Northwest amid record-breaking heat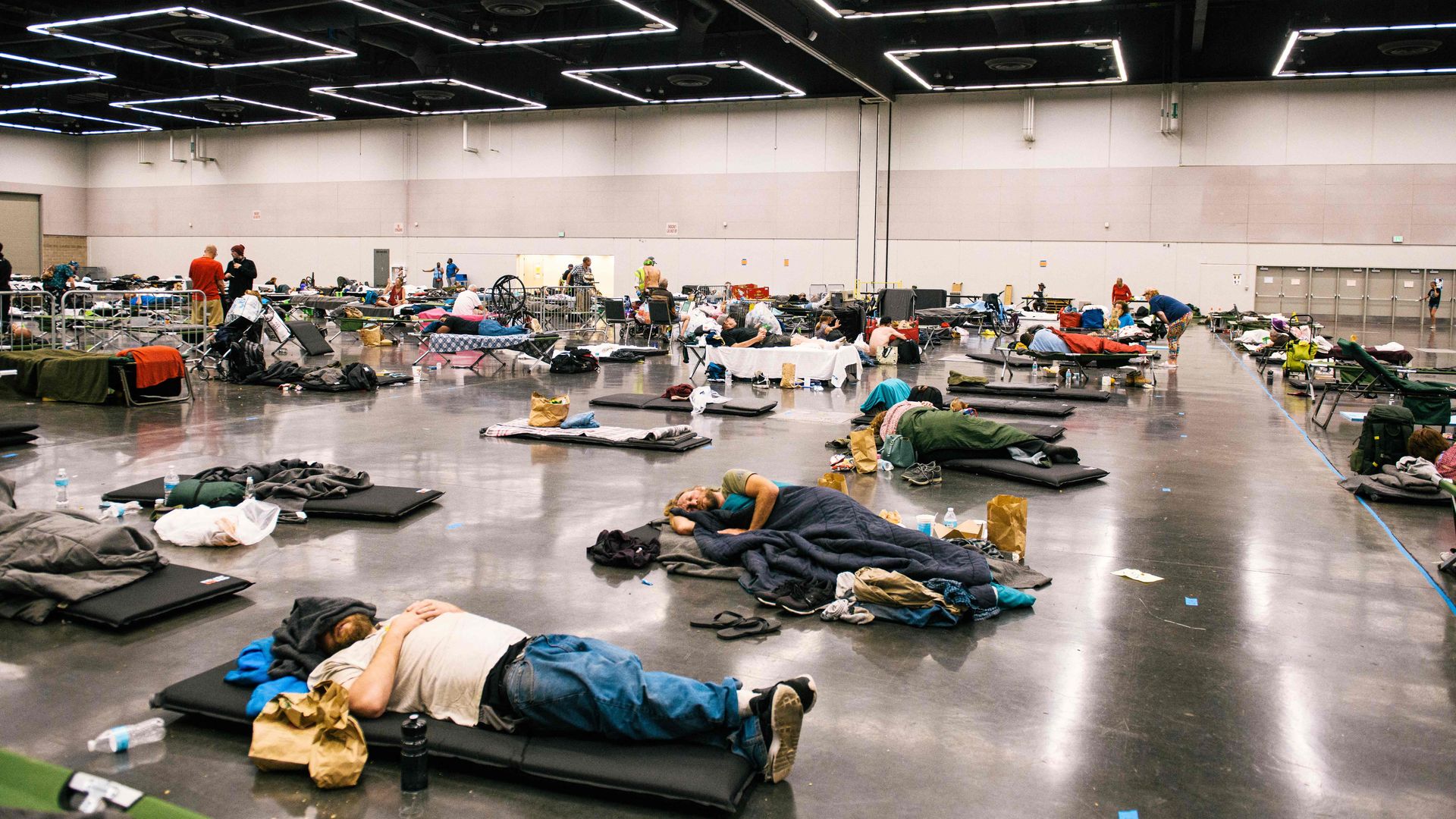 The worst heat wave on record in the Pacific Northwest has resulted in more than 1,100 people going to the hospital for possible heat-related illness as of Tuesday, BuzzFeed reports.
Why it matters: Despite reaching an unprecedented peak on Monday, this event is not finished, given continued record-high temperatures in areas further away from the coast. Extreme heat threatens lives, ranking as the nation's top weather-related killer annually, according to the National Weather Service.
By the numbers: Since Friday, Washington state hospitals have reported 676 emergency department visits for suspected heat-related illness, per BuzzFeed. Of those, 81 led to inpatient admission.
By contrast, total heat-related hospitalizations in Washington have only exceeded 51 twice between 2000 and 2018, state data shows.
Oregon has tallied 459 emergency department or urgent care visits for heat illnesses, with at least 97 occurring in Portland and the surrounding Multnomah County between Friday and Sunday.
Normally "it is not unusual for the County to have zero visits for heat illness on a typical summer day," county spokesperson Kate Yeiser told BuzzFeed. But the heat wave has led to a record number of calls to the county's emergency medical services department, Yeiser noted.
Extreme heat has killed more than 11,000 people in the U.S. since 1979, according to the Environmental Protection Agency.
Heat exhaustion and heat stroke can lead to fever, nausea or vomiting, loss of consciousness and even death.
Between the lines: People in the Pacific Northwest region are not used to heat of this magnitude, which has made this event an acute health risk, Axios' Andrew Freedman writes.
The heat event is a direct result of climate change, experts say.
"Climate change is a health emergency and reducing greenhouse gas emissions is literally a matter of life and death," Jeff Duchin, a public health officer for Seattle and King County, Washington, said in a statement.
The big picture: The heat wave has also damaged public transit infrastructure and raised the risk of wildfires.
The unusual weather pattern, colloquially known as a "heat dome," will continue to yield unusually hot temperatures throughout parts of Canada and Washington, Oregon, Idaho and Montana in the coming days.
Go deeper... In photos: Roads buckle as record-setting heat wave grips Pacific Northwest
Go deeper