EVs are surging, but not enough to meet climate goals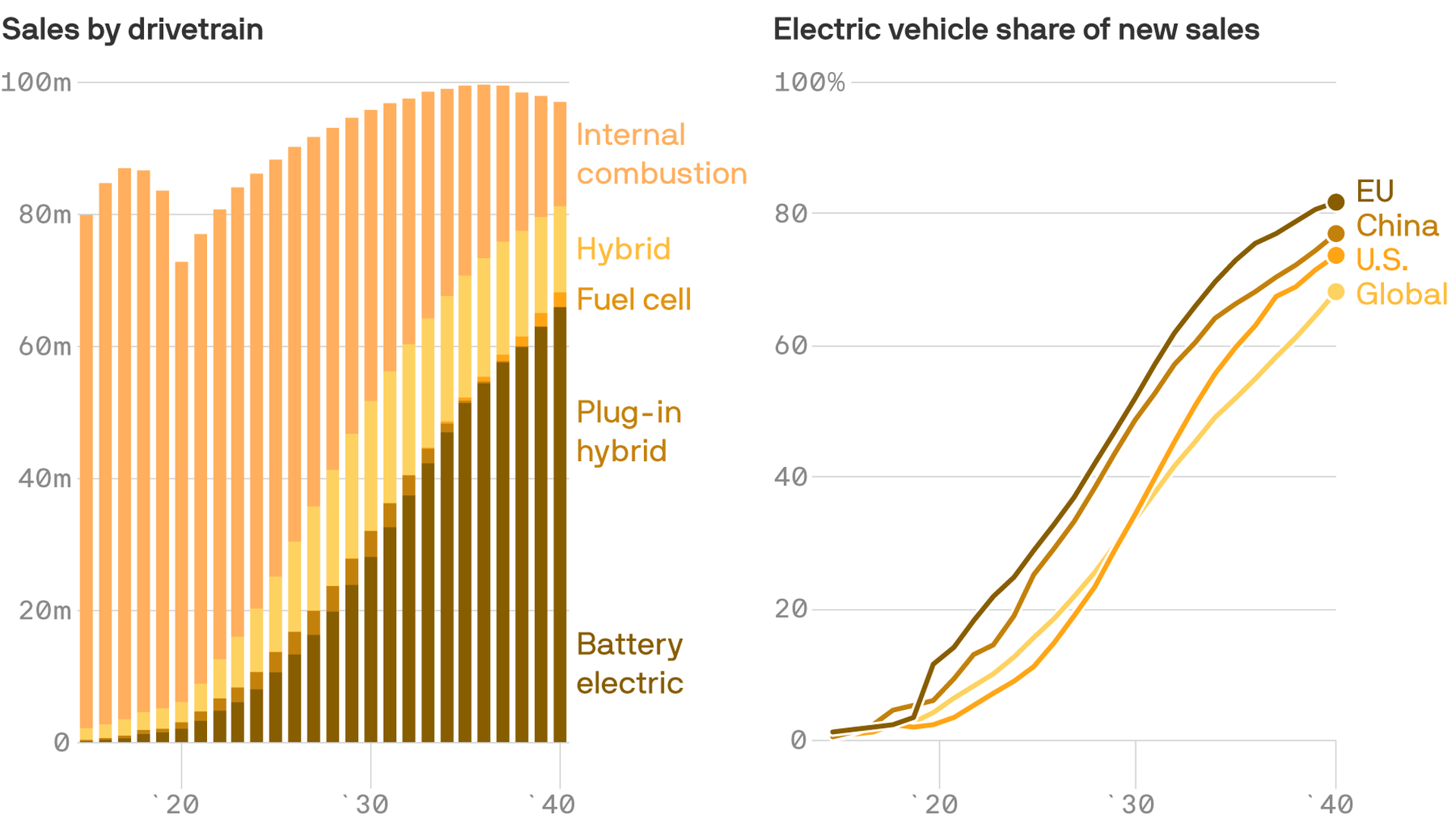 A new analysis finds the outlook for electric vehicle deployment is "getting much brighter," but it's off pace for meeting aggressive midcentury targets for cutting carbon emissions from transportation.
Why it matters: The research firm BloombergNEF provides closely watched analyses on the evolution of the battery-electric and fuel cell sector — not only passenger cars but also buses, heavy trucks and more.
The big picture: The BloombergNEF analysts project that sales of electric passenger vehicles will rise from 3.1 million in 2020 to 14 million annually in 2025.
That's about 16% of new car sales in 2025, though there's lots of variation by country.
In China, the world's largest market, they see electric vehicles reaching 25% of new passenger vehicle sales in 2025, while it's nearly 40% in Germany.
What's next: After 2025, they break the analysis into two segments.
The "economic transition scenario" estimates market evolution under existing policies at the time. You can see the passenger car portion above.
A new "net zero scenario" models what's needed to meet the type of midcentury targets consistent with fully decarbonizing the vehicle sector.
Where it stands: It's a mixed picture. Two- and three-wheeled vehicles and buses are almost on track for the net-zero pathway.
The trajectory for passenger cars is also positive but insufficient. Their "economic transition scenario" (ETS) sees zero-emissions cars at 34% of global sales in 203. They would need to be at 60% in the decarbonization path.
Projected medium- and heavy-trucks deployment, meanwhile, is nowhere near what's needed, BloombergNEF said. "By 2040, zero-emission medium and heavy commercial vehicles are 95% of sales in our Net Zero Scenario, but just 30% in the ETS," they note.
Threat level: "Despite the rapid rise in EV adoption, road transport is still not on track for carbon neutrality by 2050 and aggressive action from policymakers will be needed, especially on heavier vehicles," BloombergNEF finds.
Go deeper: Read the full report
Go deeper