Key Senate Dem fears climate is falling off the radar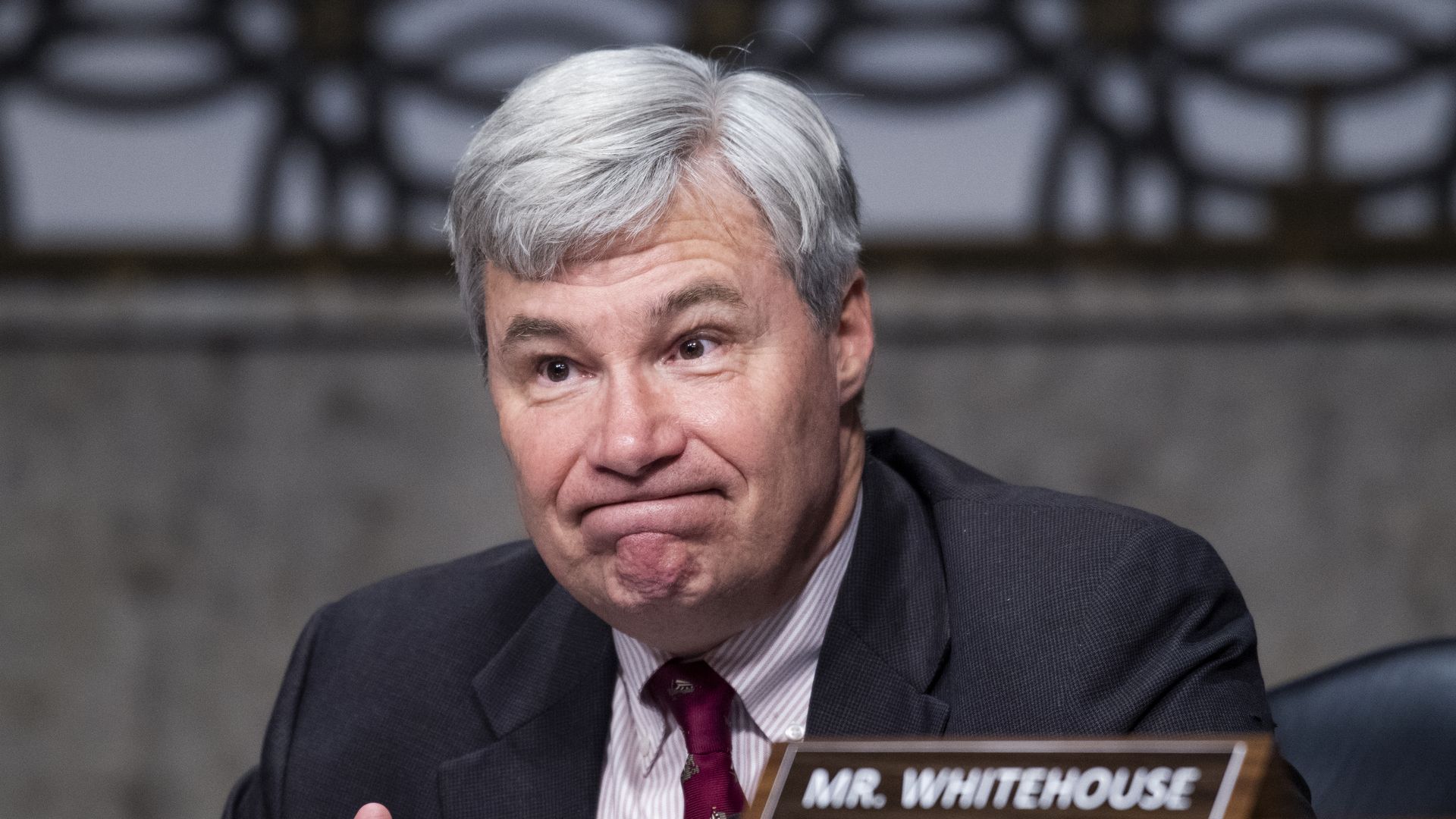 Sen. Sheldon Whitehouse (D-R.I.), one of Capitol Hill's most vocal members on climate change, went public on Monday about his fear that chances to enact major legislation on the topic are slipping away.
Why it matters: His tweets reflect wider angst on the left that large clean energy and climate investments will be jettisoned in infrastructure negotiations between the White House and Congress.
Driving the news: "I'm now officially very anxious about climate legislation," Whitehouse tweeted.
"Climate has fallen out of the infrastructure discussion, as it took its bipartisanship detour. It may not return. So then what?," he tweeted.
"I don't see the preparatory work for a close Senate climate vote taking place in the administration. Why not marshal business support?," Whitehouse added.
He also expressed concern about "quarreling" among groups and activists, while claiming that corporate American is "AWOL" and "all the major corporate trade associations suck."
Catch up fast: President Biden in late March proposed a $2 trillion-plus infrastructure package that included major provisions on electric vehicles, low-carbon power, mass transit, efficient housing and more.
The White House also wants an array of new and expanded tax incentives.
But Republicans oppose both the plan's price tag and expansive definition of infrastructure beyond traditional areas like roads and bridges.
Negotiations are continuing. Democratic leaders can look to move some provisions with no GOP backing through the budget reconciliation process, but it's far from clear whether they can get every member of their caucus on board.
What they're saying: "The President is engaged in good faith with both parties in Congress to deliver historic infrastructure investments that will drive economic growth, produce the clean technologies of the future and create good paying jobs," a White House official tells Axios.
The official added that Biden is "emphatic that inaction is not an option" and that he is "open to other conversations about infrastructure happening in the Senate."
And White House Press Secretary Jen Psaki told reporters Monday that the most recent offer from Sen. Shelley Moore Capito (R-W.Va.), the lead Republican on infrastructure negotiations, "did not meet the president's bar of growing the economy, tackling the climate crisis and creating new jobs."
Go deeper