Lucid Motors CEO says its tech could push EVs mainstream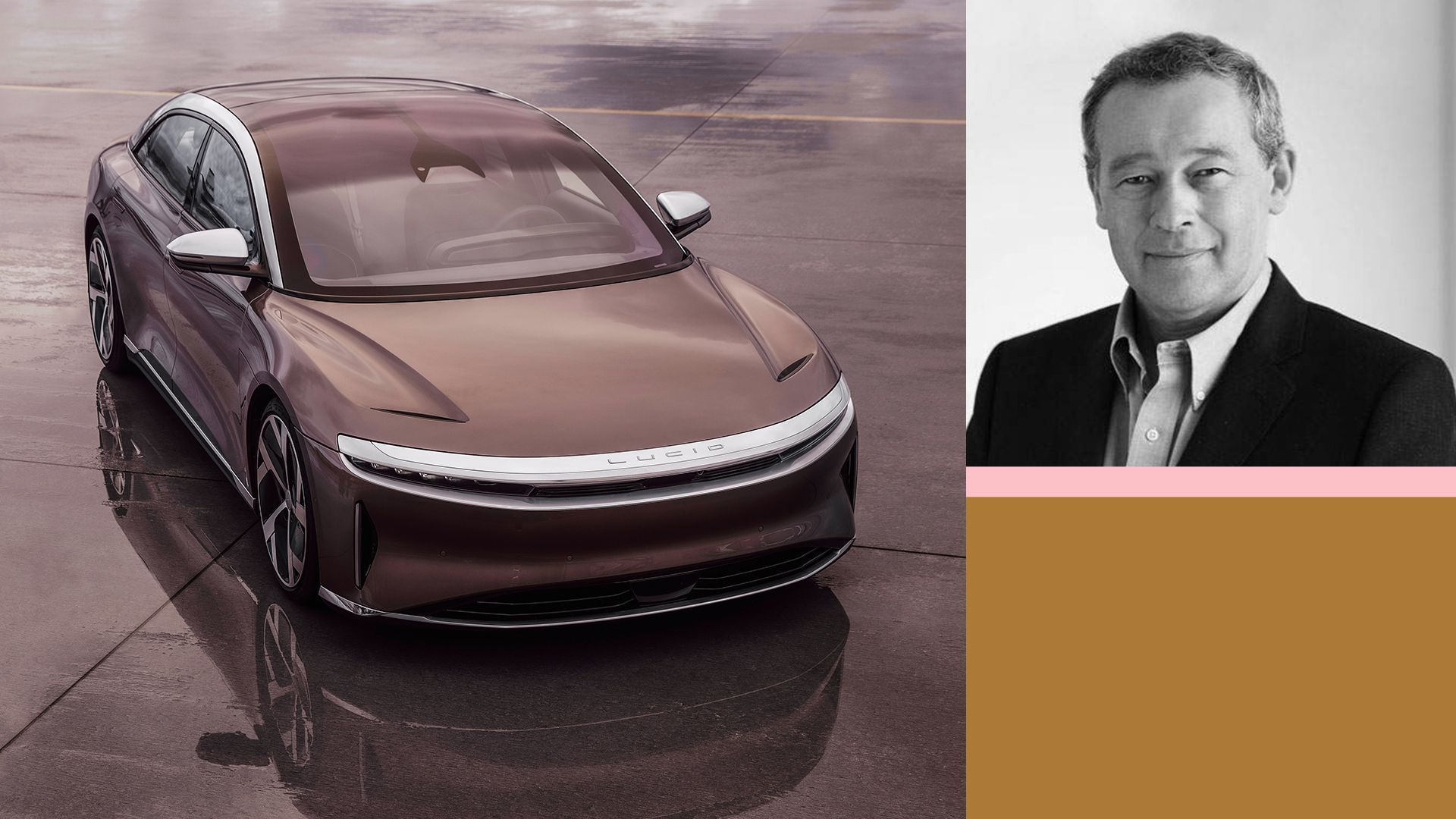 Lucid Motors CEO Peter Rawlinson is about to start producing a high-performance luxury electric sedan that costs far north of $100,000, yet claims Lucid can help EVs become an affordable mass-market — and wants federal help.
The big picture: "My passion, and the vision and the mission for the company, is to truly mass industrialize the electric car, the electric powertrain in a way that no one has done," Rawlinson said in an interview in Washington, D.C.
What they're saying: The former senior Tesla engineer says Lucid's tech can help spur widespread EV deployment from the industry as a whole at much lower costs.
Part of the argument centers on what he calls Lucid's efficiency advantage — the amount of range enabled per unit of power. The Lucid Air achieves 4.5 miles per kilowatt-hour, he said.
That, in turn, creates the possibility of smaller, cheaper, lighter, less space-consuming battery packs. "It's that which will make the future EVs, the $25,000 EV possible. It's the efficiency because it means that we can go a certain distance with a smaller pack, which will cost less," said Rawlinson.
He sees opportunities to license the tech to other manufacturers to help bring new low-cost EVs to market at scale.
Why it matters: Lucid is among the buzziest startups in the EV world. In February it announced plans to go public via merger with the special purpose acquisition company Churchill Capital Corp. at a $24 billion valuation.
Catch up fast: Lucid plans to start modest amounts of deliveries later this year of the Lucid Air built at their Arizona factory and ramp up from there.
The "Dream Edition" is $169,000 before federal incentives, while the "Grand Touring" version starts at $139,000 and also has 500 miles of range.
Two versions that begin under $100,000 are slated to launch in 2022. Lucid plans to debut an SUV in 2023 and a less expensive sedan later in the decade.
The intrigue: Lucid is seeking a loan — Rawlinson didn't say how large — through the Energy Department's Advanced Technology Vehicles Manufacturing program, which also helped Tesla a decade ago.
He said it would help "accelerate" the expansion of its business, creating jobs in Arizona and Lucid's Silicon Valley HQ.
"We're talking not about survival of the company, but expansion and the opportunity to really cement our place, and secure so many more good jobs in the U.S."
Reality check: A bunch of EV startups have struggled after going public via SPAC deals.
And Lucid's entering an increasingly competitive market with new offerings from upstarts and legacy automakers. But Rawlinson said Lucid is better positioned.
"There's a whole phalanx of new EV startups. I don't know where they come from. It's like I'm reading about new ones all the time...Where's the technology? Who are these people?"
Rawlinson said Lucid's advantages include his "brilliant" team that includes other Tesla vets, its proprietary tech (he touted hundreds of patents), in-house manufacturing and more.
Other highlights
Storage: Lucid is eyeing stationary battery storage products for home, commercial and utility-scale markets.
"Right now it's probably, in terms of effort...one-half of 1% of our endeavor," Rawlinson said.
"But I wouldn't be surprised if in five years from now it was bigger than our automotive business. I wouldn't be surprised if ESS [Energy Storage Systems] didn't generate more revenue than our cars."
Profitability: Rawlinson declined to offer a target year for when Lucid would be profitable. "I'm a long-term thinker. I'm a chess player," Rawlinson said.
"Right now, we need to mass industrialize electric cars for the benefit of all mankind. And that may be at odds with short-term profitability, but it's certainly not at odds with long-term shareholder value."
Charging: He argues there's too much focus on the accessibility of public fast-charging stations.
More crucial, he said, is providing more home charging availability for people living in multi-unit buildings, i.e., people without garages.
Go deeper