Exclusive: Biden's economic team makes its case for big climate investments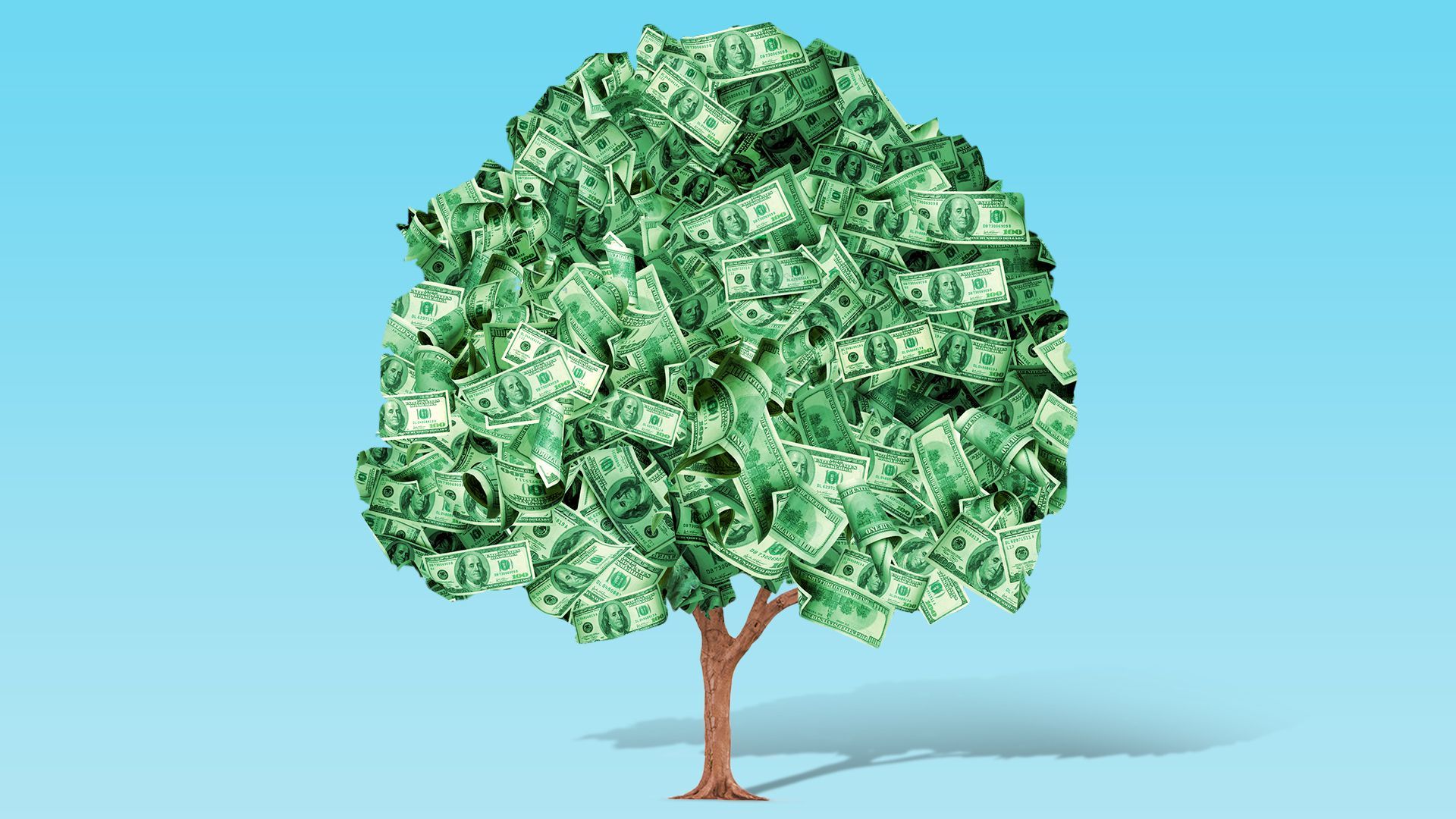 The White House Council of Economic Advisers (CEA) has prepared a detailed analysis arguing that big new investments in climate-friendly energy and infrastructure are crucial to U.S. competitiveness and to avoid increasing damage to the economy.
Why it matters: The forthcoming report is the most detailed White House effort yet to explain the economic case for its clean energy R&D and deployment proposals.
The analysis, obtained by Axios, is part of a wider effort to marshal support for President Biden's $2 trillion-plus infrastructure plan, which is heavy on climate-related spending.
Part of a White House messaging blitz around this week's global climate summit, the report slated for release Friday morning comes as Republicans argue Biden's energy policies will hurt the economy and bleed jobs in traditional energy sectors.
The big picture: The report warns that unlike major trading partners, the U.S. lacks an effective strategy around R&D, deployment and supporting workers through the transition to lower-carbon energy.
"Absent such a strategy, workers could be hit by the dual negative effects of declining jobs in high-carbon industries alongside too few new domestic jobs in the emerging carbon-free industries of the future," it states.
The CEA says a mix of investment, "targeted" regulations and policies to equitably spread benefits are all needed.
By the numbers: The report says failure to cut emissions is expensive, citing estimates that extreme weather events, which climate change is exacerbated, have already cost the U.S. $120 billion annually over the past five years.
It points to other estimates that large temperature increases could significantly sap per-capita GDP and hinder labor productivity.
Warning that the U.S. is falling behind in climate-related investment, it points to a World Economic Forum analysis that ranks the U.S. 28th out of 115 countries in "energy transition readiness."
It cites China's powerful position in several technologies, noting its companies have a 60% market share in wind turbine manufacturing and around 80% in solar modules and battery cells.
"The paper asks the fundamental question of whether the United States will lead in developing and producing innovative technologies to address climate change, or accept that others will dominate this field," a White House official stated.
The intrigue: Administration officials point to clean energy's growing market strength — such as steep solar and battery cost declines — to explain why their emissions-cutting goals are credible.
But the CEA report goes to some lengths to explain why significant government intervention and R&D support is still needed, citing:
Private sector under-investment in basic research that "drives economy-wide innovation." Why? One reason is that societal benefits are larger than the returns for individual firms conducting R&D.
Market underpricing of the costs of climate change from floods, droughts and other effects.
Private actors' failure to create enough energy infrastructure "due to their inability to coordinate sectors and workers on a large scale."
Overall, the report lays out a rationale for supporting not only R&D, but also initial commercial demonstration and deployment for emerging technologies such as large-scale CO2 capture projects and utility-scale storage.
"Otherwise, investors are wary of high capital costs and the risks of expensive project delays, and firms would prefer to benefit from innovation fostered by others' efforts," the report says of demonstration projects.
It makes the case for the policy tools for wider market commercialization, such as tax credits and procurement policies, to help overcome the market's failure to price the cost of emissions.
Extending existing tax credits for clean energy is part of the White House proposal to Congress — as is creating new incentives, such as credits for large stationary storage projects.
Of note: Another pillar of the White House economic case is that federal policy should not only look to create larger clean energy markets, but steer who participates in them.
"Without an intentional focus on equity, the benefits and costs of the energy transition will not be fairly distributed among those of different income levels, geographic regions, races, and occupations," it states.
Andrew Freedman contributed reporting.
Go deeper