The finance sector links arms on climate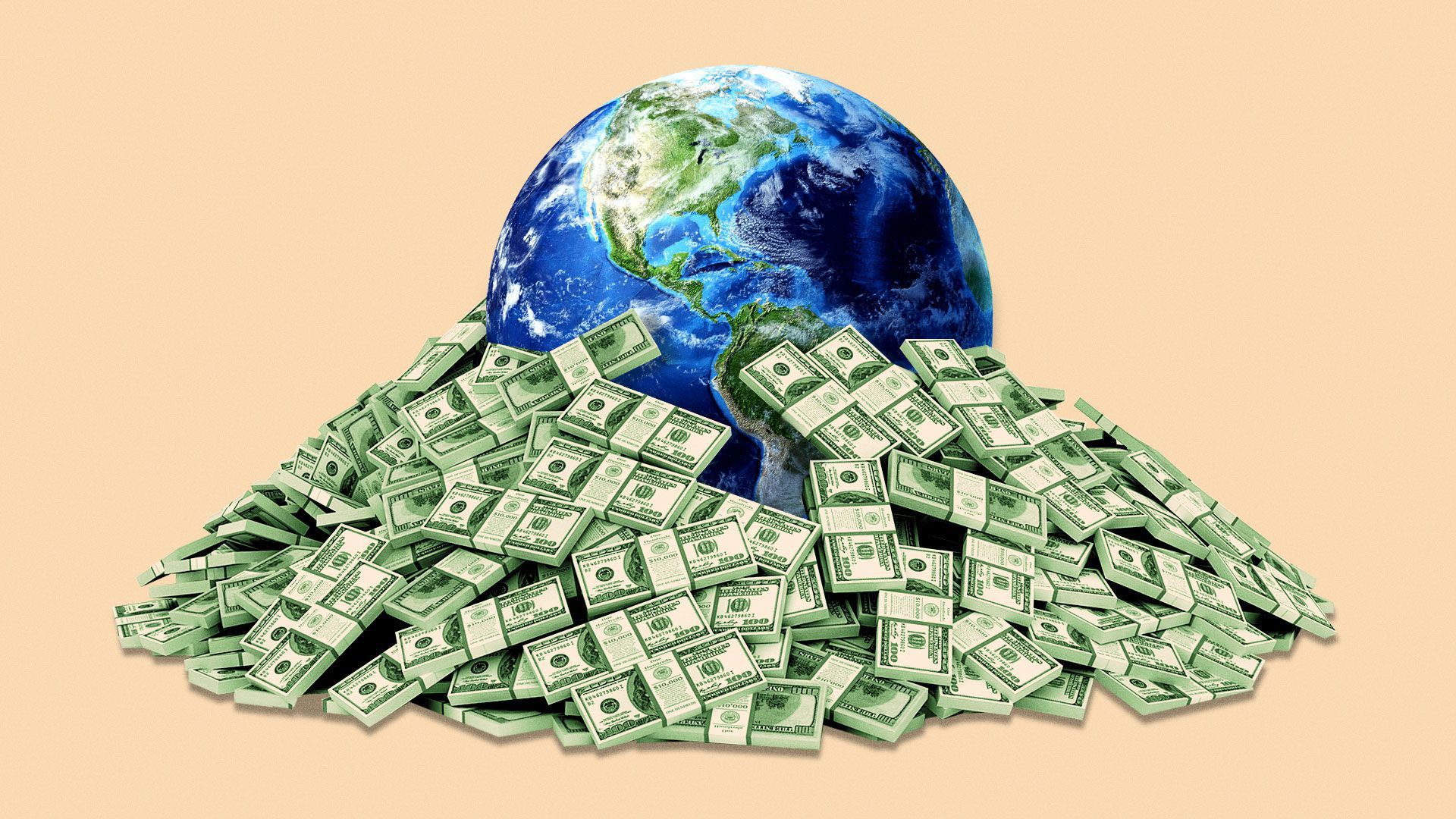 A big, UN-backed umbrella group of banks, asset managers, investors and insurers launched Wednesday to boost private clean tech finance and press polluting industries that use their services to cut emissions.
Why it matters: The Glasgow Financial Alliance for Net Zero (GFANZ) is the broadest financial industry effort yet on climate change.
The group's 160-plus members are responsible for over $70 trillion in assets, organizers said.
"GFANZ will work to mobilise the trillions of dollars necessary to build a global zero emissions economy and deliver the goals of the Paris Agreement," the announcement states.
The big picture: It coordinates various industry initiatives and seeks to add methodological rigor to pledges to decarbonize lending portfolios and other practices.
It's led by Mark Carney, a UN climate ambassador and climate finance advisor to the U.K., which hosts a big UN climate summit late this year.
Biden administration officials support the effort that arrives just ahead of this week's White House climate summit.
Participants include Barclays, Morgan Stanley, Citigroup, Munich Re, the Zurich Insurance group and many others.
How it works: The new group combines some existing financial sector initiatives and adds new efforts.
Today brought simultaneous rollout of the Net-Zero Banking Alliance of 43 banks from 23 countries.
GFANZ will provide "strategic coordination" across financial sectors to "accelerate the transition to a net zero economy" it states.
Signatories must set "set science-aligned" interim and long-term goals for net zero emissions by 2050.
The banks involved agree to ensure emissions from their lending and investment portfolios are on a "pathway" to net zero by 2050, with interim targets beginning no later than 2030.
The banks will especially focus on the most emissions-intensive industries in their portfolios, like oil-and-gas, aluminum, cement, power and others.
What they're saying: Several environmentalists were critical of GFANZ and the banking portion in particular this morning, noting the voluntary efforts don't do nearly enough to move finance away from fossil fuels.
"All that glitters is not gold. What seems at first glance to be quite ambitious, actually lacks the urgency and ambition that the climate crisis demands," said Becky Jarvis of the advocacy group Bank On Our Future in a statement.
"Net-zero means fossil fuel phase out, a term which this alliance seems to be allergic to," Jarvis said.
Jeanne Martin of the sustainable investment advocacy group ShareAction said net zero plans aren't credible without setting dates to end financing for fossil fuels and deforestation. "It is time for regulators to step in to prevent financial and planetary instability," Martin said.
Go deeper