Senate Democrats float climate diplomacy plan ahead of White House summit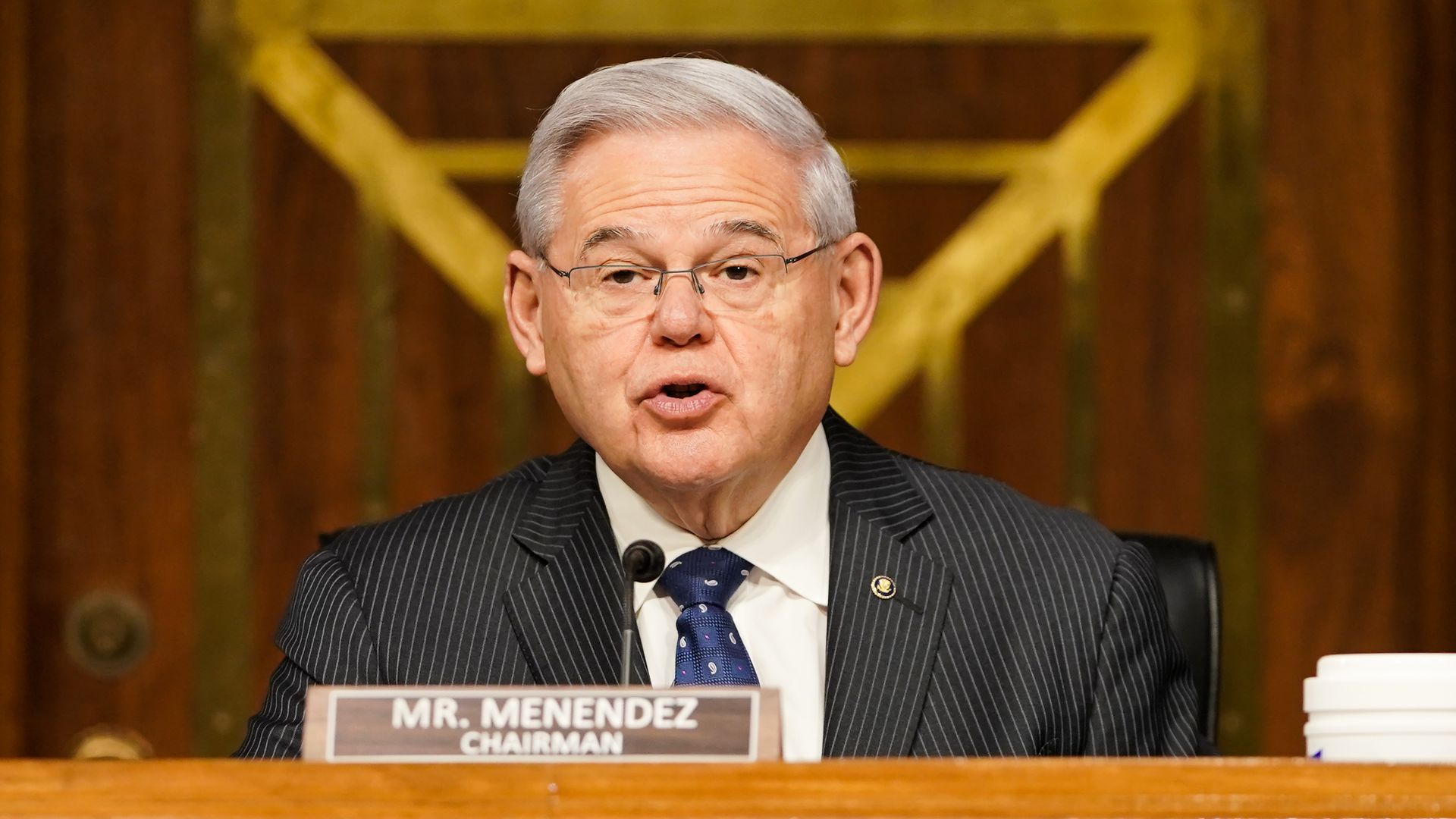 Senior Senate Democrats will introduce legislation on Thursday designed to make climate change a pillar of U.S. diplomacy, boosting initiatives to help other nations cut emissions and adapt to a warming world, Axios has learned.
Why it matters: The bill, led by Foreign Relations Committee Chairman Robert Menendez (D-N.J.), aims to put momentum on Capitol Hill behind President Biden's efforts.
It arrives ahead of a major White House international summit on April 22-23, where Biden hopes to showcase U.S. reengagement in global climate efforts and spur other countries to take tougher steps.
The bill faces significant political hurdles, but if enacted would stitch climate deeply into the U.S. diplomatic and security fabric even after the Biden era.
How it works: The bill seeks to infuse climate into everything from export and development finance decisions to Arctic policy-planning to creating new international pressure on China — and a lot in between.
Provisions of the 200-plus page legislation include...
New work to assess how climate change can affect security by causing disruptions that fuel instability; affect global food and water systems; affect military operations and more.
Authorizing $14 billion in U.S. contributions to the multilateral Green Climate Fund over a half-decade.
Boosting U.S. participation in multinational efforts to cut emissions from transportation, improve land-use planning, crack down on methane, and more.
Implementing a new USAID program, which also involves EPA and the Agriculture Department, to combat international deforestation.
Provisions to more clearly make clean energy part of the existing Power Africa program that works to boost electricity access.
A new "Women and Climate Change Act" focused on addressing the impacts of warming on women and girls.
What they're saying: Menendez, in a statement, said the bill would help ensure "Congress does its part in providing resources, programs and policy to expedite the restoration of our nation's climate diplomacy and leadership."
He introduced it with several other Democrats on the Foreign Relations Committee, including Sens. Cory Booker (N.J.), Ben Cardin (Md.), Jeanne Shaheen (N.H.) and others.
The intrigue: The bill is meant to highlight a shift in U.S. posture and argue that stronger climate efforts are in the U.S. economic interest.
It name-checks ex-President Trump twice — criticizing his withdrawal (since-reversed) from the Paris agreement and his opposition to G7 and G20 initiatives.
Yes, but: The overall bill faces huge hurdles in the deeply divided Senate, given many Republicans oppose the Paris climate deal and allege that Democratic climate priorities create economic risks.
But a committee spokesperson for Menendez said there are "plenty of provisions that Republicans may very well want to join in pushing forward, so this is more about finding a way to garner bipartisan support for these broader reforms."
Go deeper