NBA commissioner Adam Silver's 11th-hour choice on COVID suspension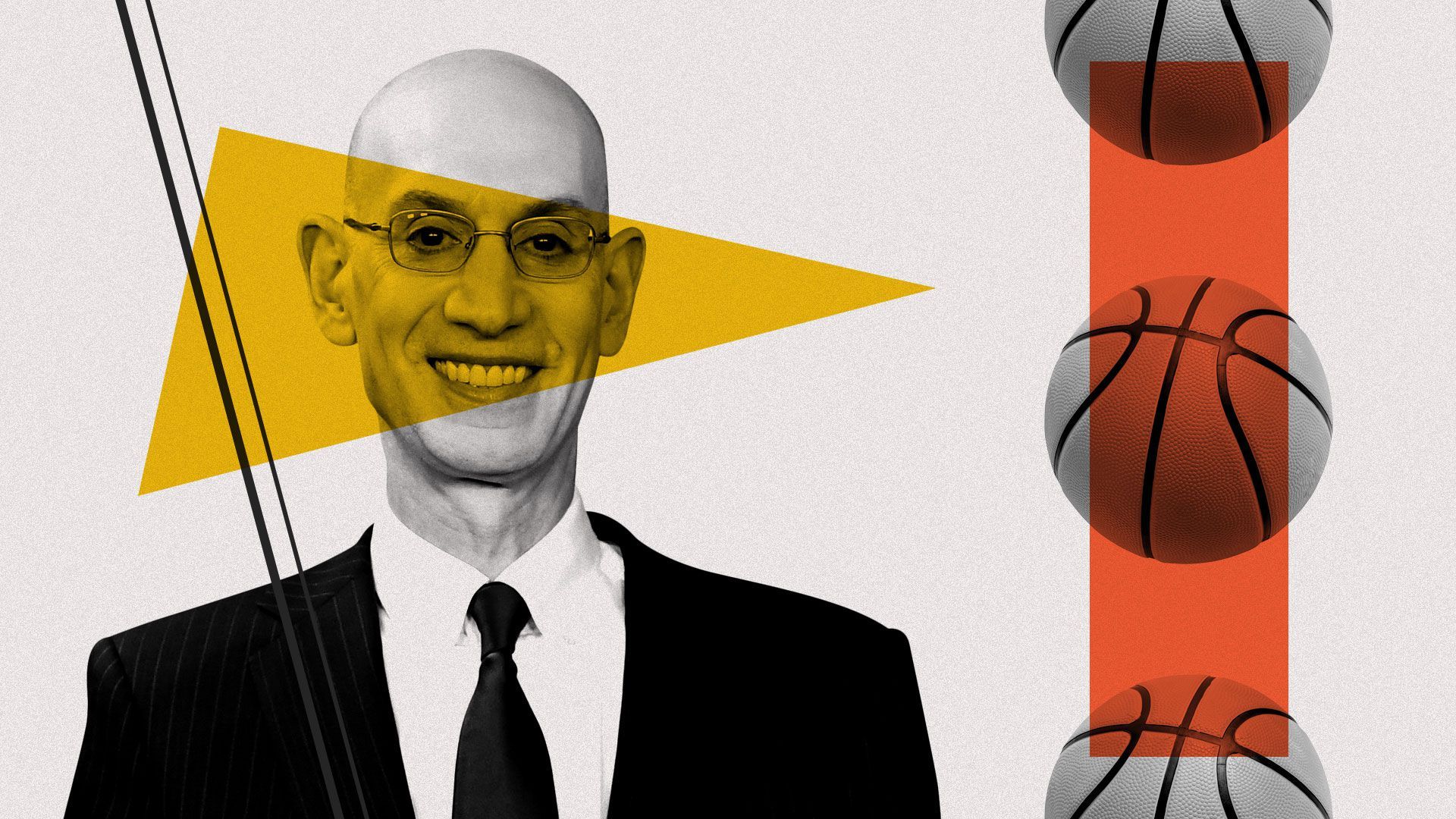 NBA commissioner Adam Silver said his decision to suspend all NBA games on March 11 came without input from the board, the benefit of guidance from major health organizations, or public understanding of the coronavirus.
Why it matters: In an interview Wednesday with Axios Re:Cap, Silver recalled staring down the barrel of an 11th-hour choice — made well before the dire reality of the pandemic had taken root — that would impact the livelihoods of 55,000 people and millions of fans around the world.
Flashback: "We also recognized that we had 19,000 people in that arena. And so part of the decision was what do we tell those people?" Silver said, reflecting on the March 11 game between the Oklahoma City Thunder and the Utah Jazz that sparked the shutdown.
"There wasn't a lot of information around the terms of this virus. Like meaning if one person had it in a building, did that mean it would spread to everyone?"
"We then conferred with the Oklahoma City health authorities. The first question was, have we been ordered to shut down? And the answer was that order hasn't come yet. But I think it was in that moment that I realized we didn't have any more time to deliberate."
"We didn't have time to have a board meeting, but that was within my authority to say, we are hereby suspending operations in the entire NBA."
What happened: Silver got a call from the NBA's general counsel saying that Utah Jazz player Rudy Gobert had tested positive. Gobert's game was scheduled to start in 15 minutes.
Silver realized "an immediate decision" needed to be made. Both teams were sent to their locker rooms until the game was canceled.
Mid-progress games across the country were allowed to continue, since "no one had even suggested we shut down." The Sacramento Kings game also needed to be stopped, since a referee had been at a Utah Jazz game earlier in the week. "It then became clear to me ... we needed to suspend the season."
The big picture: Silver said he was envisioning a 30-day period to revise testing protocols before getting back to normal.
The bottom line: He figures his decision directly impacted the livelihoods of 55,000 people working with the NBA — not to mention nearly 2 billion fans connected on social media.
"On a global basis, 1.9 billion people connect with the NBA in some way."
More than a year into the coronavirus pandemic, Axios is looking back at the week of March 9, 2020 — the week high-profile leaders were forced to make consequential choices that upended our lives and society. Subscribe to Axios Re:Cap here.
Go deeper