What Biden's moves on oil leasing mean for Permian Basin production
President Biden's freeze on new federal lands oil leases will deter Permian Basin output to a limited degree but will also push development from the New Mexico side of the basin to Texas, per a new Dallas Fed forecast.
Why it matters: It's an attempt to gauge the impact of emerging federal policies in the country's most prolific shale basin.
The big picture: The recently imposed leasing moratorium, combined with slower approvals of permits on existing acreage, would lower projected oil output compared to what's expected without those policies.
Check out the "hybrid" above, which shows Permian production in 2025 around 200,000 barrels per day less than the "reference" case.
That's hardly nothing, but not huge compared to the millions of barrels per day produced in the Permian.
They also modeled aggressive restrictions that bars new drilling permits on existing leases ("restrictive" above), which lowers projected recovery from the pandemic decline even more.
Threat level: Restrictions have a much bigger future effect in New Mexico, which produces far less than the Texas side but is still a key source of revenues for the state.
Half of New Mexico's Permian production is on federal lands, while in Texas production occurs on state and private lands.
Under the leasing freeze combined with slower permit approvals, New Mexico's production in 2025 is 400,000 barrels per day lower than in the reference case.
"With an expected shift in drilling from federal acreage, employment moves across state borders from New Mexico to Texas."
The intrigue: While the Biden administration has frozen new federal lands leasing, it has not moved to end permitting on existing tracts.
Interior officials say large numbers are still going out the door despite tighter scrutiny.
Of note: Their analysis is based on WTI at $50 per barrel, which is well below current levels, so the production estimates should be considered conservative.
Charted: Visualizing New Mexico's oil future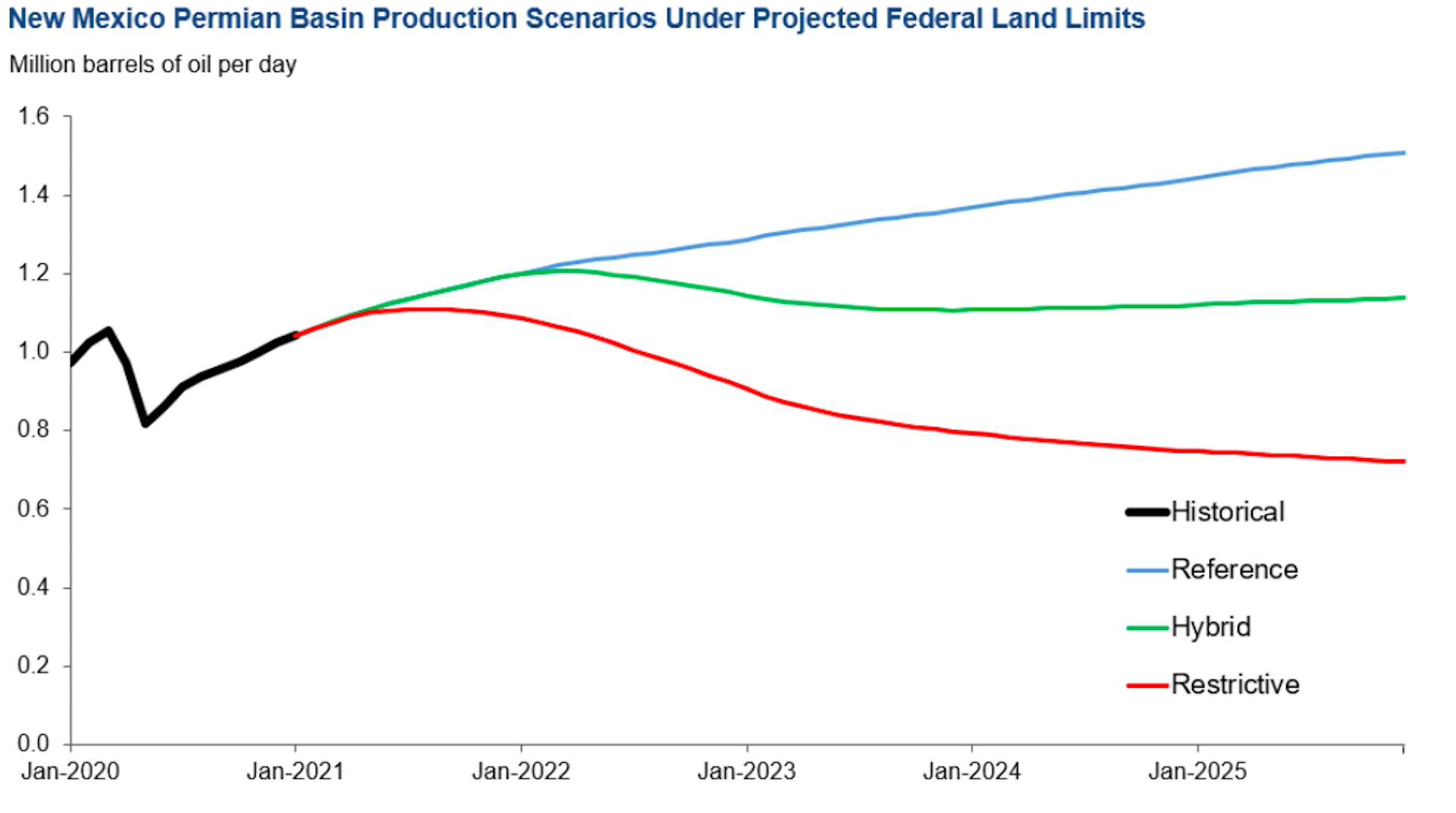 This chart from the Dallas Fed analysis looks at New Mexico's projected Permian output under the leasing freeze and hypothetical permitting ban.
By the numbers: In the fiscal year ending in mid-2020, New Mexico received $2.6 billion from industry fees, royalties and taxes.
Over $800 million came from the state's cut of revenues from federal acreage, the analysis notes.
Under the leasing freeze case, production keeps returning from the pandemic decline this year, dips a bit in 2022, and then stabilizes and "preserves state royalty and tax revenue closer to current levels."
If permitting ended as well, much more revenue would be at risk.
Go deeper