Mounting emissions data paints bleak picture on Paris climate goals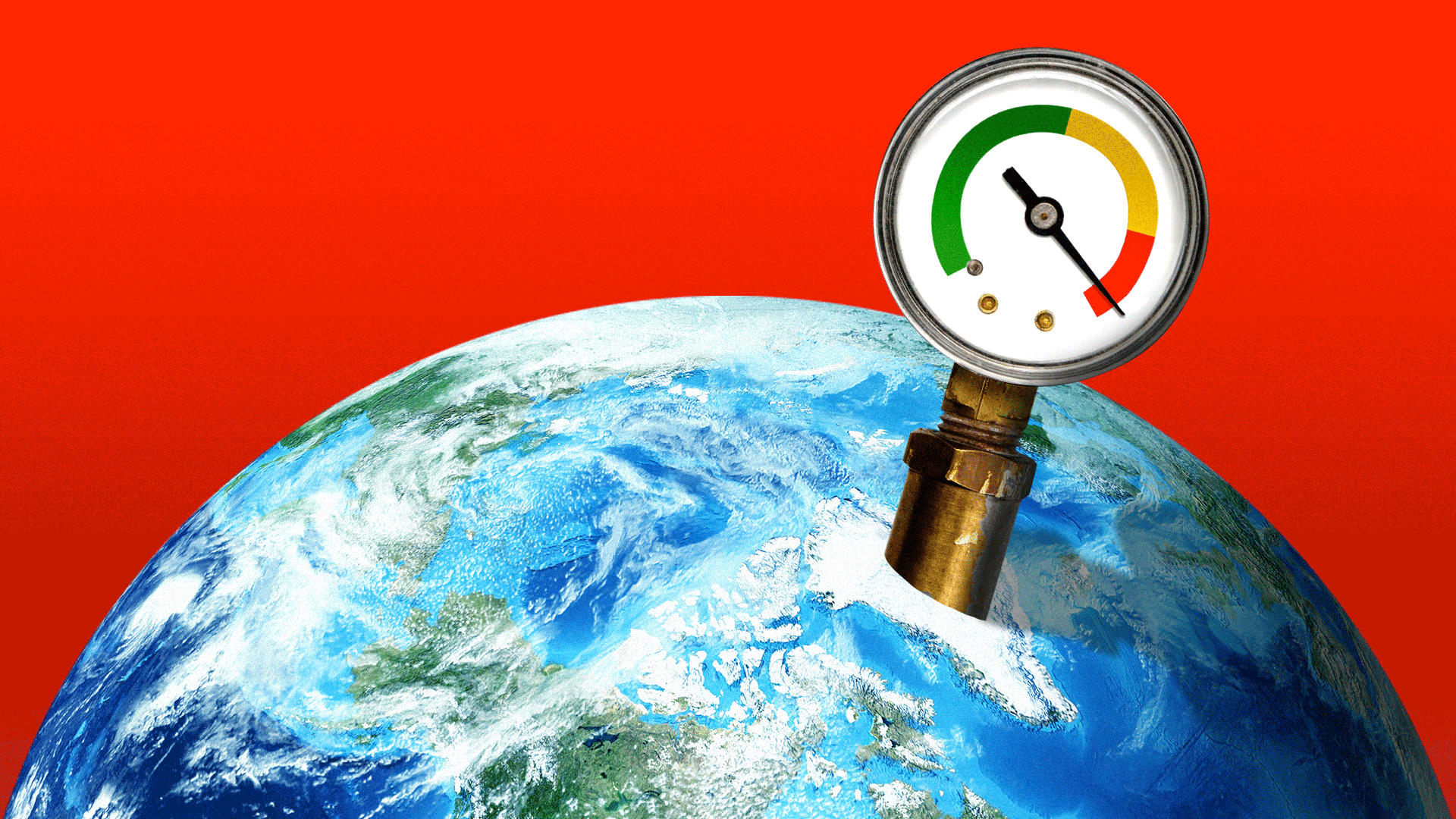 Researchers keep finding new ways to reveal that nations are together showing very few signs of getting on track to meet the Paris Agreement's goals.
One big question: That's whether a spate of recent analyses to that effect, and scientific reports coming later this year, will move the needle on meaningful new policies (not just targets).
What's new: Analysis Wednesday in Nature Climate Change offers a new window onto progress in the years since the Paris deal and the results are ... not great.
The big picture: It finds that 64 nations cut their fossil fuel-related CO2 emissions from 2016-2019 compared to the 2011-2015 period.
But don't pop the corks. Average cuts were "a tenth of what would be needed at the global level to meet the Paris climate goals," the tally notes.
And 150 nations together increased emissions slightly on average, per researchers from the University of East Anglia, Stanford and the Global Carbon Project.
By the numbers: Those 64 nations cut CO2 emissions by an average of 0.16 gigatons annually in 2016-2019, while the average increase in 150 nations with rising emissions was about twice that amount.
But basically, it's all pretty static, as this line makes clear: "[C]uts of 1–2 GtCO2 per year are needed throughout the 2020s and beyond to avoid exceeding warming levels in the range 1.5 °C to well below 2 °C, the ambition of the Paris Agreement."
Why it matters: It's a pivotal year for climate efforts, with United Nations officials hoping for aggressive new national goals ahead of a pivotal late-year summit — and concrete steps to back them up.
Catch up fast: It's just the latest analysis that shows the gulf between nations' current actions and emissions cuts needed to meet the Paris targets.
New International Energy Agency data this week showed that global emissions have rebounded from cuts during the pandemic.
An interim UN analysis Friday of nations' Paris pledges so far finds that they would bring only a 1% decline in emissions by 2030 compared to 2010 levels.
However, the UN noted that many large emitting nations had yet to submit revised pledges.
The intrigue: HSBC Global Research suggests those UN numbers, combined with looming scientific analyses from the UN-led Intergovernmental Panel on Climate Change, could create new pressures.
"We think these reports could be used as foundations for governments to formulate various policies, by influencing decisions and highlighting the urgency of action required to both curb emissions (mitigation) and prepare for the impacts (adaptation)," they said in a note.
Charted: 2020's historic (and temporary) carbon decline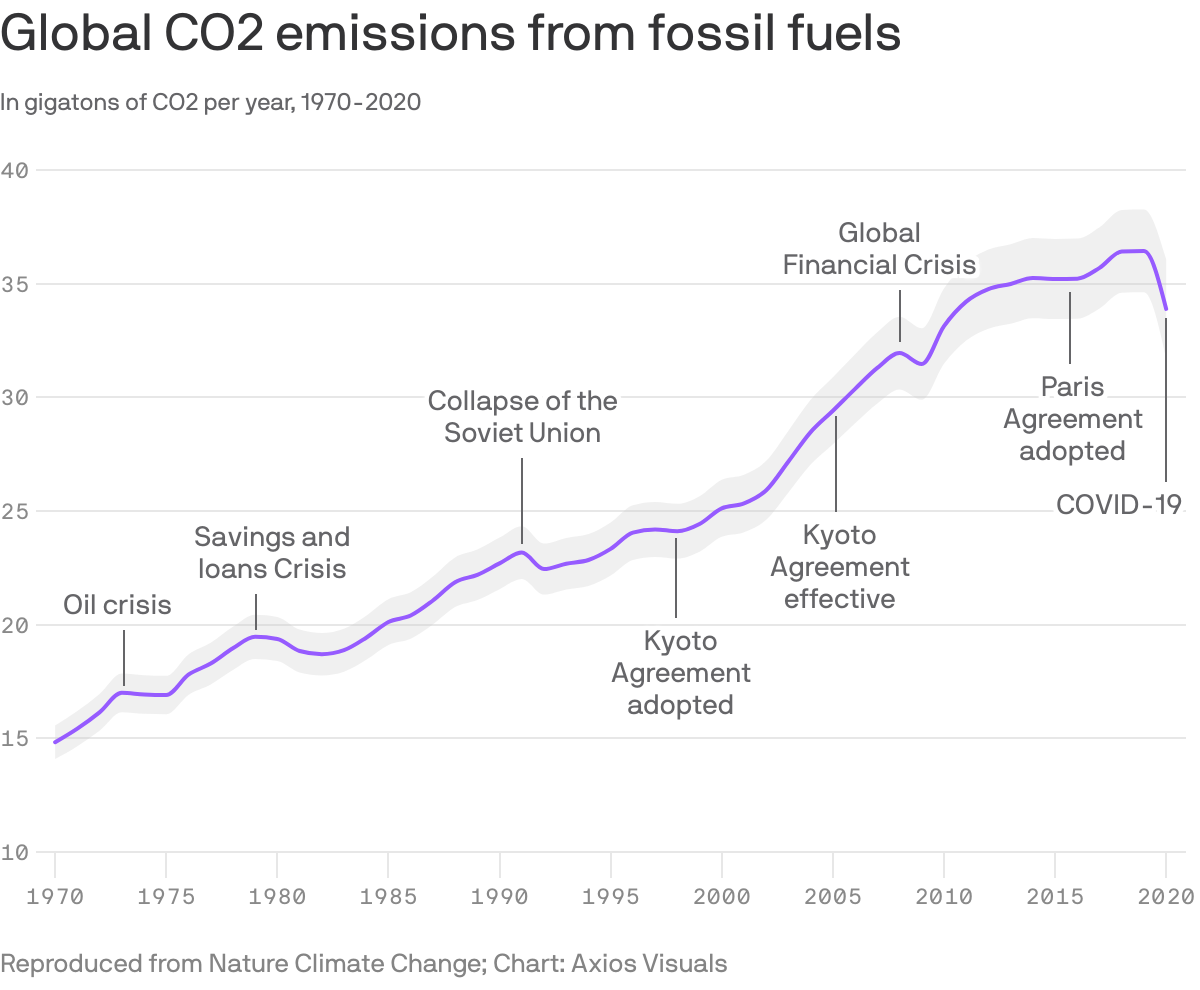 The same analysis in Nature Climate Change is also a window onto last year's historic decline in CO2 emissions.
It finds that global emissions from fossil fuels declined by about 7% last year. The chart above shows the historically steep annual drop.
Yes, but: They're already rebounding to pre-COVID levels, per IEA.
Go deeper