Oil prices plunge as market absorbs OPEC-Russia split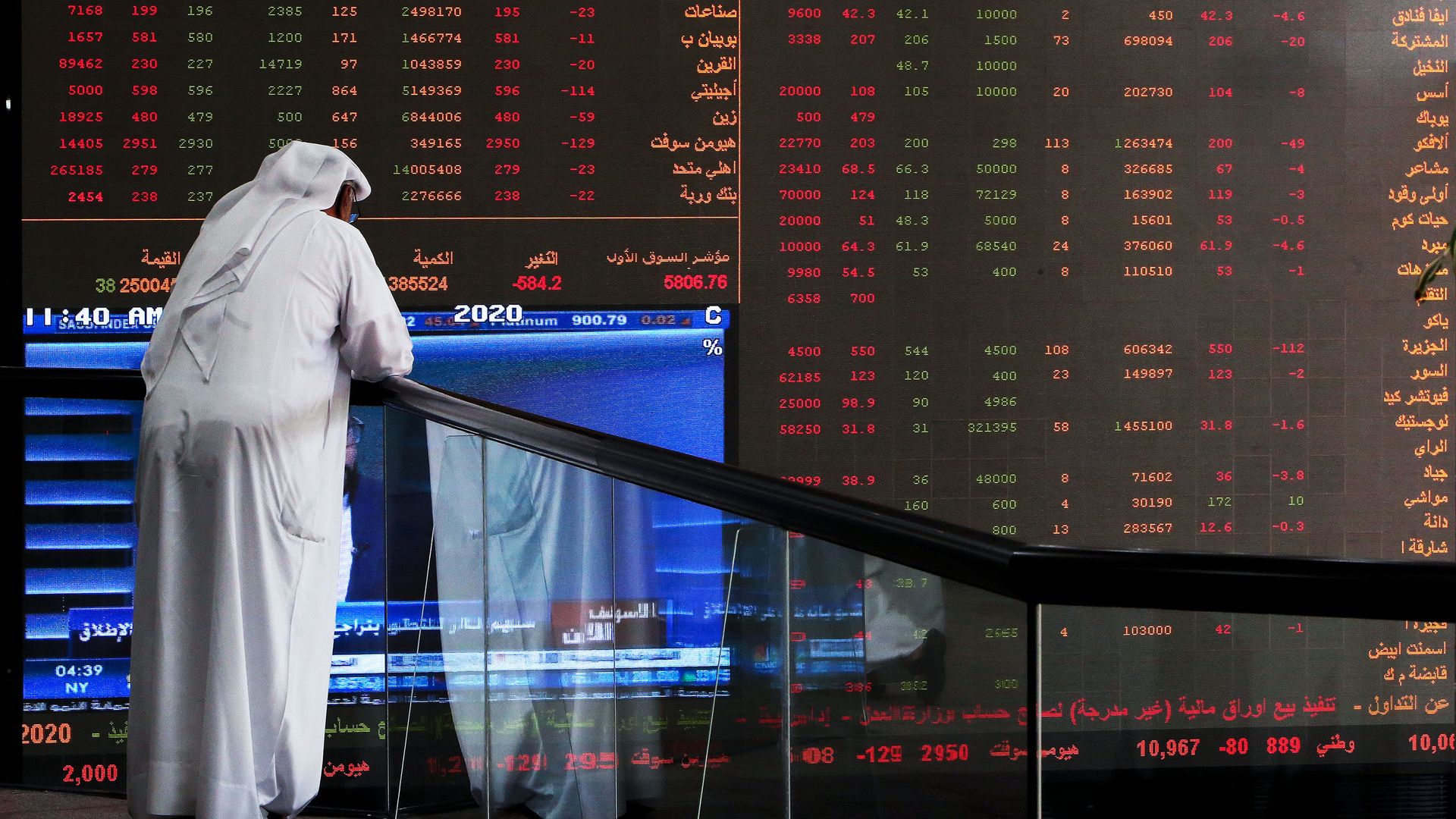 Oil prices nosedived to four-year lows Sunday as trading resumed after Friday's collapse of the OPEC-Russia production-limiting pact, a rupture slated to increase supplies at a time when the novel coronavirus is sapping demand.
The state of play: The immediate 31% collapse when trading resumed last night was the second-largest on record behind the 1991 Gulf war, Bloomberg reports.
Brent crude was trading at roughly $34.94 on Monday morning, which is actually above the troughs reached since trading resumed Sunday night.
But consider that it was pushing $70 in early January and began Friday around $50.
What's new: The International Energy Agency slashed 1.1 million barrels per day from its 2020 oil demand forecast on Monday as the coronavirus outbreak crimps travel and economies.
The agency now sees a year-over-year drop in demand for the first time since 2009.
Their central case sees a slight 90,000 bpd annual drop, but they warn it could be significantly more. On the other hand, in a more optimistic virus containment scenario, there could still be demand growth.
Three things to watch to make sense of the oil market's unraveling...
1. A break or a breakup: It's not clear whether or when the OPEC+ alliance might resume cooperation.
"The lines of communication between Russia and Saudi Arabia are always open," oil analyst Ellen Wald tells Axios, noting their energy ministries are in touch on topics beyond oil production.
But, but, but: "Saudi Arabia and Russia have fundamentally different priorities when it comes to oil production and oil sales," says Wald, author of the book "Saudi, Inc."
"Whereas Saudi Arabia sees great benefit in maintaining its position within OPEC, Russia is not a member and does not care about the communal benefits of OPEC decisions," she says.
The question now is "which producer blinks first," per S&P Global Platts' Chris Midgley. He says in a note that while low prices will test Saudi finances, their low production costs and low debt means they can "pull on sovereign reserves and take the pain."
2. Shale patch pain: The price collapse will hurt U.S. shale producers, who are already facing tough economics and Wall Street pressure to show returns, not just boost output.
Look for producers to scale back. How much depends on how low things go and for how long, although companies' hedging strategies provide some cushion.
Goldman Sachs analysts, in a note this morning, gamed out a scenario in which U.S. oil prices were in the $30–$45 range into 2021. Producers would "meaningfully cut back activity" to preserve cash flow and balance sheets, although it depends in specific companies' hedging positions.
And per a note this morning from the risk analysis firm Verisk Maplecroft's Niamh McBurney: "The impact of this on U.S. shale producers, and how much they may retrench, is what OPEC, and specifically Saudi Arabia and Russia are banking on to be able to return them to their pre-2016 positions, or at least close."
3. U.S. political fallout: It's certainly a new wrinkle in the 2020 election.
Falling crude prices will push gasoline prices even lower, which would presumably favor President Trump.
But, but, but: Oil production is vital to the economy in a bunch of states, including the swing state of Colorado and of course Texas.
Texas hasn't voted in favor of a Democratic White House hopeful since 1976 but could be a longshot hope for Trump's opponent.
Democrats could make the case that the industry's pain underscores the need to push more quickly into clean energy.
Go deeper:
Go deeper