Big Finance is having its climate moment in 2020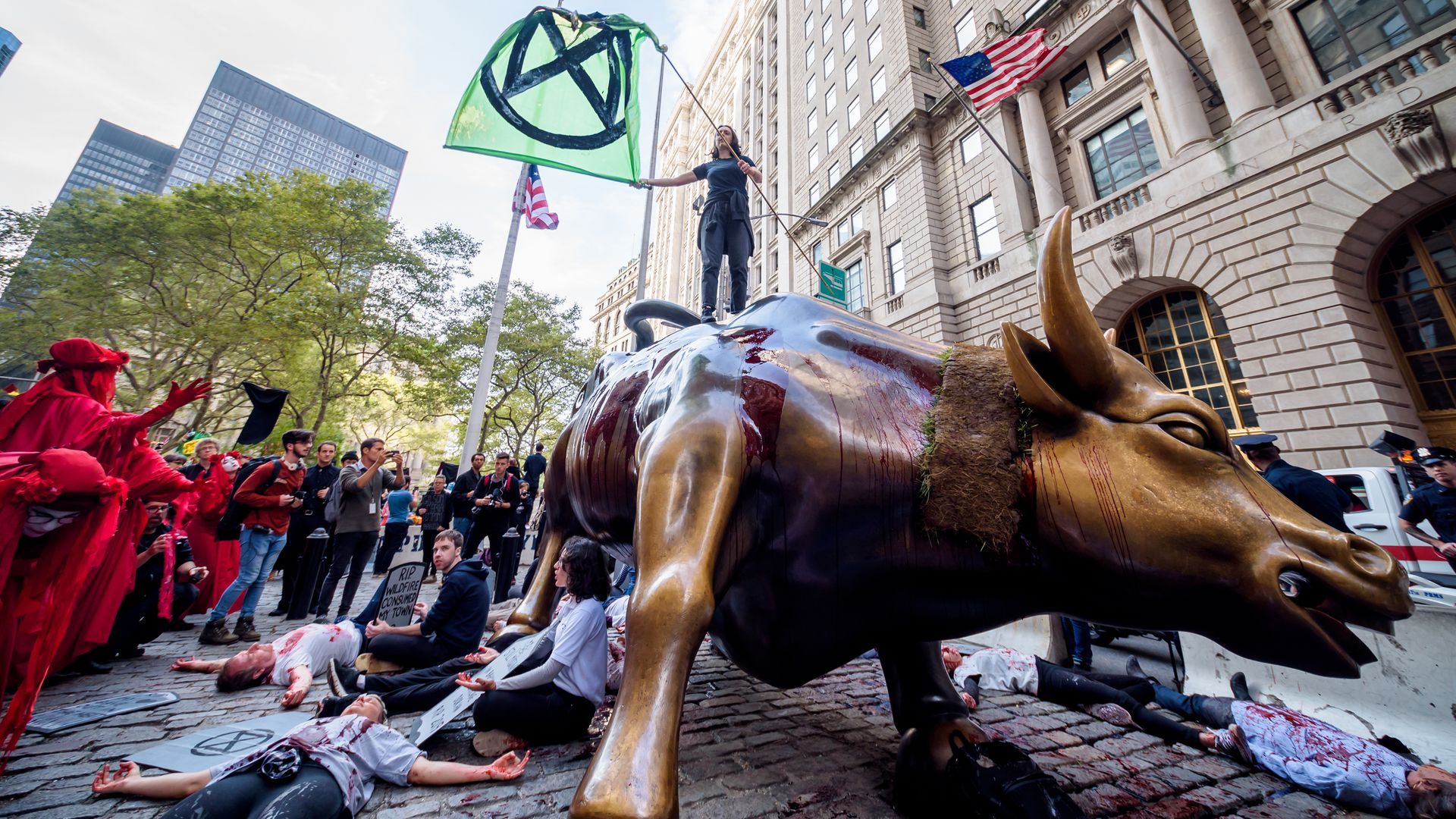 Big Oil often takes center stage, but big finance is having its climate moment this year, between the 2020 presidential elections and events at Davos.
Why it matters: It's the latest sign of how Wall Street is increasingly at the center for climate advocacy in at least two ways — and how White House hopefuls are part of those efforts.
Beyond pressing banks to assess climate risks, which large swaths of the sector are doing on a voluntary basis, a more confrontational set of campaigns is pushing banks to abandon fossil fuel finance.
Driving the news: Sen. Elizabeth Warren is pressing eight banking giants on what they're doing to assess climate risks to their investments and the financial system.
Her new letters to the banks, which Reuters covered here, point to how a Warren presidency would push the financial sector.
Her Senate office rollout of the letters touts proposals to force public companies to make detailed disclosures about climate risks to their businesses.
Warren also backs legislation to require the Federal Reserve to add climate to "stress tests" for the financial sector.
Threat level: Climate activists could have White House allies, depending on how the election shakes out.
Sen. Bernie Sanders' climate platform backs the divestment movement, promising rules to push it forward and overall vowing, "we will support these movements in the White House."
Warren's plan also vows to "hold the financial industry accountable for its role in the climate crisis."
But, but, but: Reporting from the World Economic Forum in Davos, Switzerland, highlights banks' pushback against wholesale divestment and work with fossil fuel industries, even as some banks are abandoning finance for projects like coal mines and Arctic oil. Here's the Financial Times...
"The leaders of some big banks and other financial companies have rejected suggestions that they are not doing enough to combat climate change and resisted calls that they should refuse to work with clients that are major polluters."
Go deeper:
Go deeper