Venezuela's Maduro survives 2019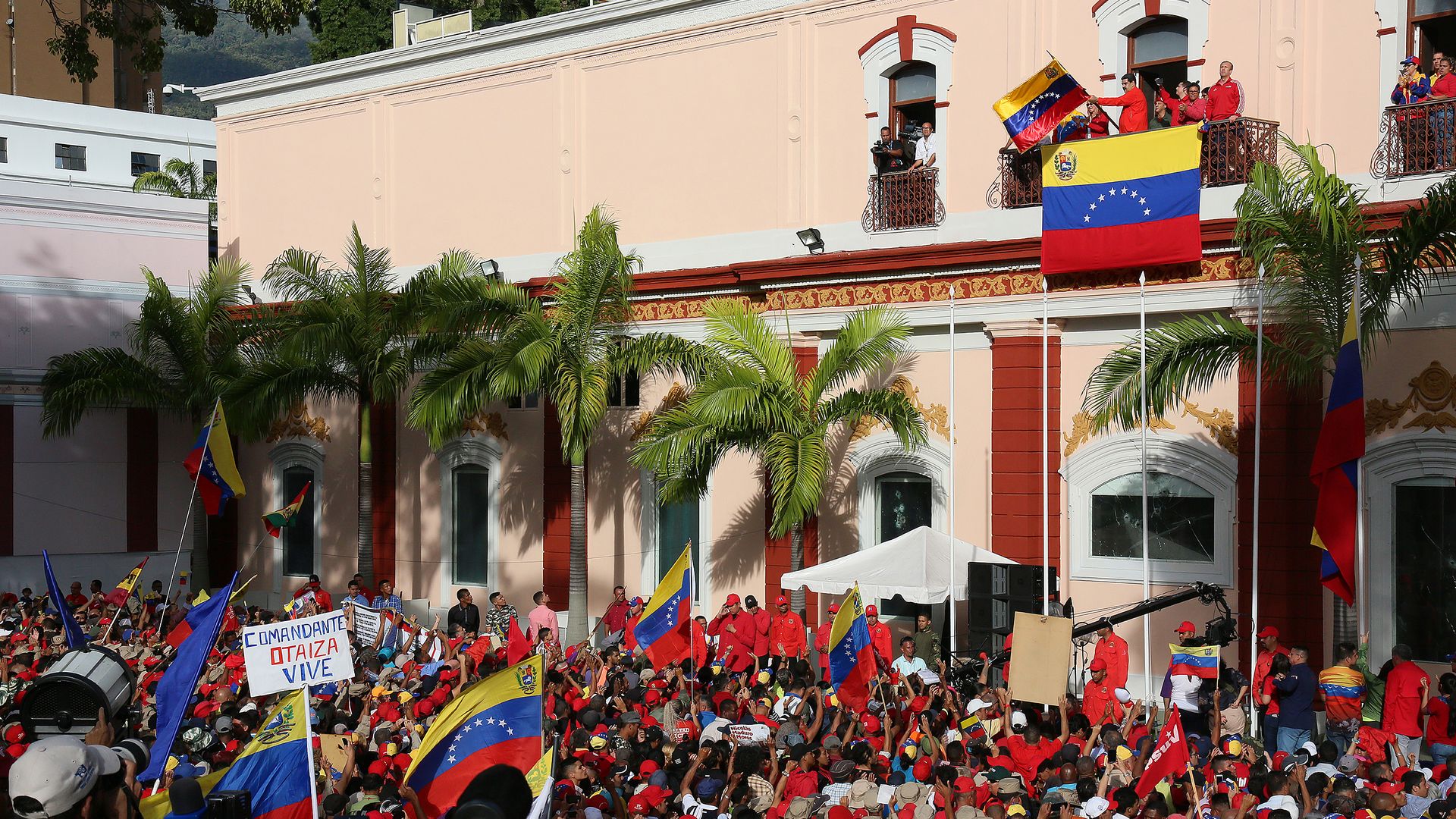 The Trump administration and the Venezuela opposition believed — insisted, in fact — that 2019 would be the year President Nicolás Maduro would fall.
The big picture: For a time it seemed Venezuela would be the international story of the year — an unfathomable economic collapse, a refugee crisis fast becoming the world's gravest, and an international drive for regime change involving threats of military force.
How we got here:
May 20, 2018: Venezuela's presidential election, won by Maduro, is widely condemned as a sham.
Jan 23, 2019: National Assembly President Juan Guaidó declares himself interim president and is quickly recognized by the U.S. and dozens of other countries.
April 30: Weeks of efforts to oust Maduro culminate in a dramatic but ultimately failed uprising, led by Guaidó and vocally supported by Secretary of State Mike Pompeo, John Bolton and other top leaders.
Between the lines: Maduro has never again looked as vulnerable as he did that day, but U.S. officials continued to declare his ouster "inevitable."
Elliot Abrams, President Trump's Venezuela envoy, said in July that Maduro would "absolutely" fall by year's end.
"The administration over-promised, and I think it over-believed," says Fernando Cutz, who served as South America director on the White House National Security Council earlier in the Trump administration.
"They tried a high-risk, high-reward approach," he says, pairing an embargo with bellicose rhetoric. "They really believed the actions they were taking were going to lead to regime change in Caracas, and they could have, to be honest."
Now, Cutz says, "there has been an indisputable and noticeable decline in attention being paid to Venezuela," in large part because Trump — who he says showed great personal interest in Venezuela, frequently raising it unprompted — realized "this won't be an easy win for his foreign policy."
The flipside: The Venezuelan opposition has begun to fray and was recently hit by a corruption scandal. Guaidó himself — once portrayed in almost messianic terms — is becoming less popular and drawing ever-smaller crowds.
"The people are tired of protesting and not obtaining what they ask for," Guaidó admitted to the Washington Post.
His supporters are losing hope, and many have joined the flood of refugees leaving the country.
"Maduro has an incredible escape valve that he's figured out, which is to allow everyone who doesn't like him to flee. That is a win-win for him: Not only do you get the crowds down, but that's less people you have to worry about not having food and medicine," Cutz says.
"You keep the supporters at home, you keep the ones benefiting from the corrupt regime at home, and everyone else, you know, that's now Colombia's problem, and Peru's problem, and Argentina's problem and Chile's problem."
"Particularly Colombia, which has now done more for refugees than any other country in the world recently."
Behind the scenes: Over lunch at his stately Washington residence, Ambassador Francisco Santos told reporters Wednesday that Colombia is struggling to cope.
More than 5,000 Venezuelans migrate across the border every day, he said, while another 40,000 cross to get health care or go to school (Colombia grants full access to those services) and then return.
"We have more than 1.7 million refugees, that's the official number and I think it's under-reported. Bogota has 375,000 — that's like the size of New Orleans."
Colombia is desperate for help from the U.S. and others, but is not considering changing its "open door" approach, he said.
Still, Santos rejected the suggestion the U.S. should reconsider a sanctions-first strategy that has exacerbated the humanitarian crisis. "We need to keep the pressure on," he said.
Asked by Axios about a potential leadership change in Venezuela's National Assembly — Guaidó is up for re-election next month — he said Colombia stands firmly behind Guaidó but will recognize whomever leads the assembly as the country's legitimate leader.
Given allegations of bribery by the Maduro regime, what if Guaidó loses under questionable circumstances? "We don't even want to think about that," he said.
The bottom line: Santos acknowledged that change in Venezuela had not come as fast as many hoped.
"We hope that the that 2020 will be the year."
Go deeper: South America's uprisings are about more than politics
Go deeper