Inside the McConnell-Trump impeachment trial playbook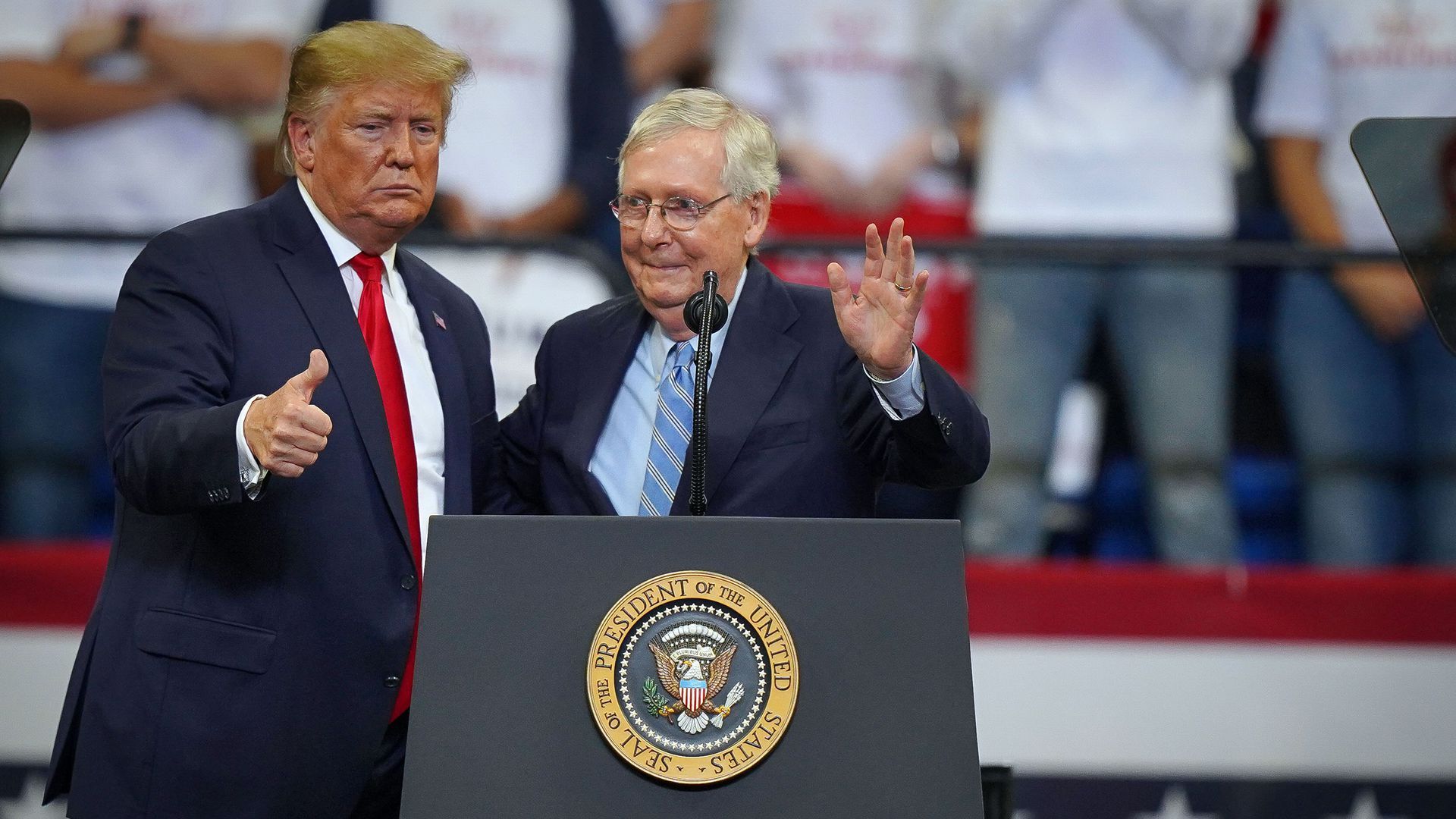 The Senate trial is poised to be short — perhaps two weeks — and to involve no new witnesses, and Trump has largely come around on this plan, according to two sources familiar with the discussions.
Why it matters: That would represent a significant evolution in the president's posture, after a flurry of private and public urging by McConnell and Judiciary Chair Lindsey Graham. Sources caution that nothing has been decided yet.
McConnell has said publicly that he would be surprised if there are 67 votes to convict Trump. Privately, he has signaled even greater confidence of acquittal, according to a Republican senator.
McConnell has also indicated he sees nothing but political downside in the futile exercise of calling up controversial witnesses and drawing out a messy Senate show trial.
Besides, all witnesses need 51 votes in the Senate, and it's highly unlikely that moderate Republicans will cater to Trump's desires to call up witnesses like Adam Schiff and Hunter Biden.
The backstory: Initially, POTUS "genuinely wanted a long trial with all the witnesses to push back," said a source who's discussed the matter with Trump.
"But now he thinks we're winning," the source said. "He's been talked into being a lot more comfortable with what the Senate wanted all along, which is a short trial and no witnesses."
A second source familiar with the discussions added: "As far as length of time, it really depends on how long the Senate gives the House to present. Remember, it's a presentation now. ... The [House] managers will be the witnesses."
Between the lines: Sources familiar with the internal discussions say they expect White House counsel Pat Cipollone to lead Trump's defense in the Senate, but they caution that the president hasn't made his final call on the composition of his legal team.
"This is going to be a White House counsel-led hearing because the two counts are all official acts," said a source familiar with the discussions.
"It's the flip side" of the Bill Clinton impeachment, the source added. "Clinton was private matters and therefore his personal lawyers took the lead. But I will say it's also very fluid. Who is going to be the presenting team is a work in progress. ... Things can change."
"I think this gets figured out this week," the source added.
Go deeper: Schumer's opening pitch for the Senate impeachment trial
Go deeper