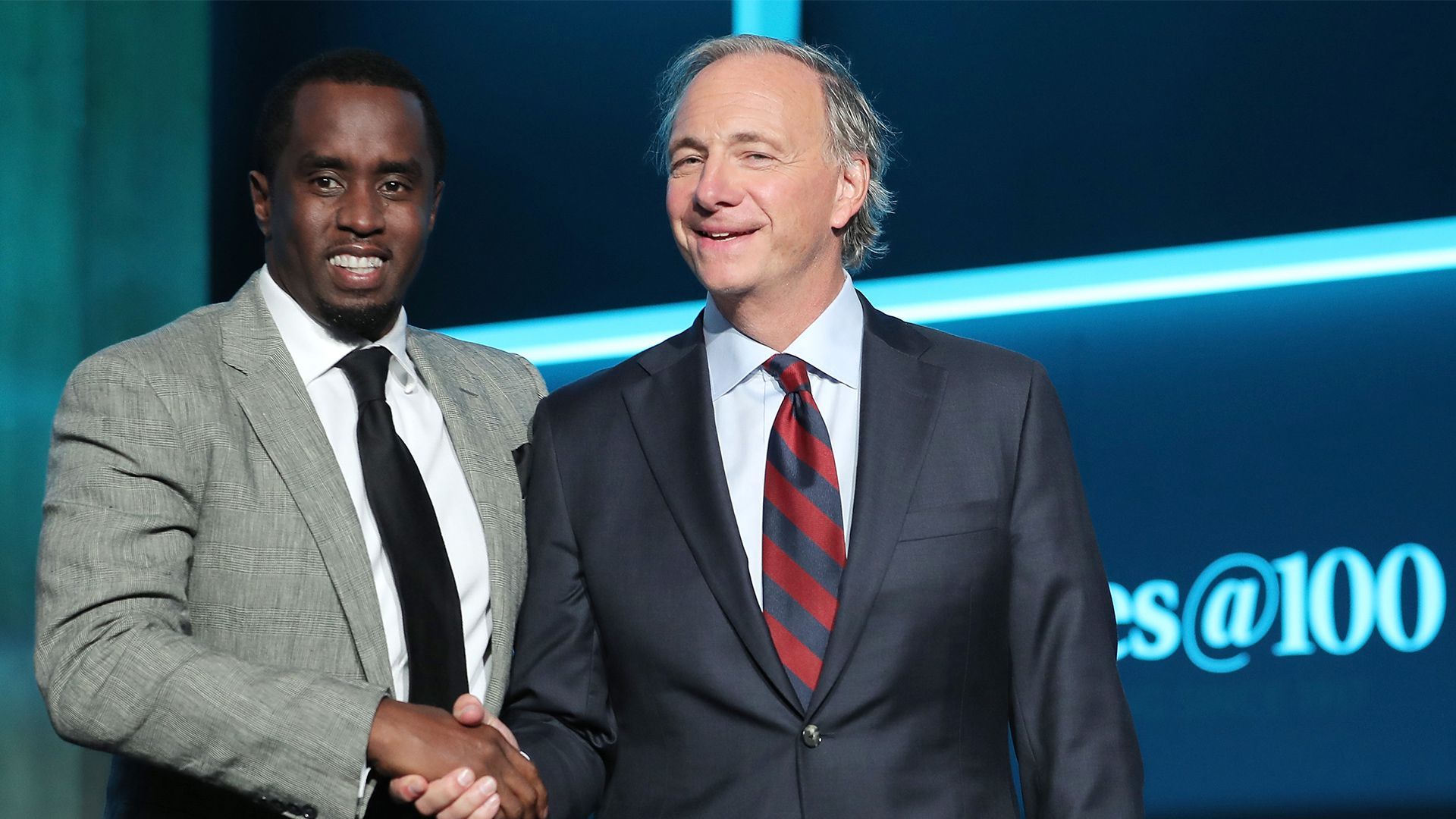 Ray Dalio is more investor than businessman. Still, after making billions in the rarefied world of finance, he found himself on Forbes magazine's list of "100 Greatest Living Business Minds," which in turn led to him being introduced to entrepreneur and rapper Sean Combs (aka Diddy) — who also made the list.
Driving the news: Dalio released a 24-minute video of a "mentor session" he had with Combs, all part of his quest to "help other people." It's even more excruciating than the Blackstone holiday mascot video, if only because it's longer.
Given the opportunity to ask questions of the world's third wealthiest hip hop artist — the marketing genius who's behind Cîroc vodka and who also founded Bad Boy Entertainment, Revolt and the Sean John clothing line — Dalio instead talked to Combs about spec sheets, "radical open-mindedness," and how "pain and reflection equals progress."
The racial dynamics are hard to ignore: A white billionaire explains to a successful black entrepreneur the ideal "formula for success" — despite the fact that Dalio has just as much to learn from Combs.
This is a rather stark contrast to the genuine and symmetrical friendship seen between Martha Stewart and Snoop Dogg.
What they're saying: Axios asked for a comment from Bridgewater about what Dalio learned from Combs. Dalio replied he "learned that [Combs] has that powerful combination that exceptionally successful people have of humble open-mindedness, intelligence and determination."
Dalio's response points out what he learned about Combs, not from him.
Our thought bubble, via Axios' Felix Salmon: A one-on-one mentoring session with Dalio can be looked at as an invitation to the world's worst VIP room. It's something extremely exclusive, and certain people would pay a lot of money to experience it, but it ultimately provides nothing of real value.
Go deeper: Teaching the ethics of entrepreneurship
Go deeper