John Bolton lays into Trump's foreign policy approach in private speech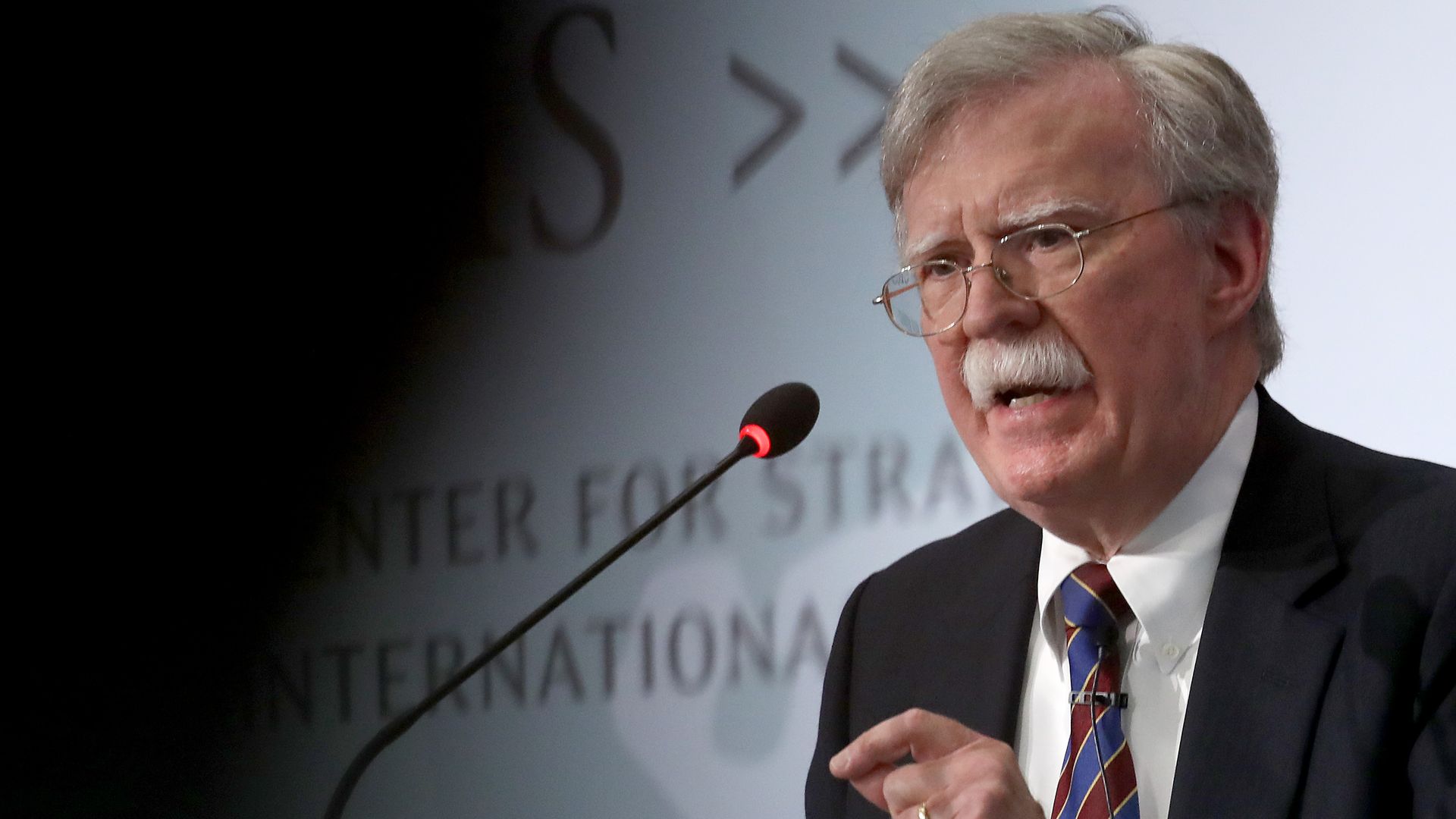 Former national security adviser John Bolton suggested in a private speech last week that President Trump's experience as a businessman colors his relationships with foreign leaders — often for the worse, NBC News reports, citing six people who were there.
Between the lines: Bolton suggested that Trump believes his personal chemistry with foreign leaders, including authoritarians like Turkish President Recep Tayyip Erdoğan and North Korean leader Kim Jong-un, means that the U.S. relationship with those countries is a positive one, a source in the room told Axios' Jonathan Swan.
Details: Bolton was especially critical of Trump's handling of U.S. policy toward Turkey, telling the private gathering of Morgan Stanley's largest hedge fund clients that the president's approach does not align with that any of his advisers.
NBC sources who attended the event said Bolton criticized Trump's resistance to bipartisan support in Congress for sanctions on Turkey after President Erdoğan purchased a Russian missile defense system.
If Trump gets re-elected, Bolton said the president could withdraw the U.S. from NATO and other international alliances in alignment with the isolationist foreign policy positions of people like Sen. Rand Paul (R-Ky.), per NBC.
Bolton also reportedly took shots at Jared Kushner and Ivanka Trump, suggesting he doesn't take them seriously but that they may convince the president to nominate a liberal to the Supreme Court in an effort to show they have real influence.
The big picture: Bolton, who has signed a $2 million book deal, is a wildcard in the House impeachment inquiry. Former and current administration officials told Swan that Bolton was a prolific notetaker and would have more details on Trump's Ukraine dealings than any other witness thus far.
Bolton's willingness to discuss internal White House matters in a private speech and in a forthcoming book is likely to raise questions about his decision not to comply with the impeachment inquiry on the basis of executive privilege.
Go deeper: Trump aides fear John Bolton's secret notes
Go deeper