Macron says NATO faces "brain death" as U.S. steps back under Trump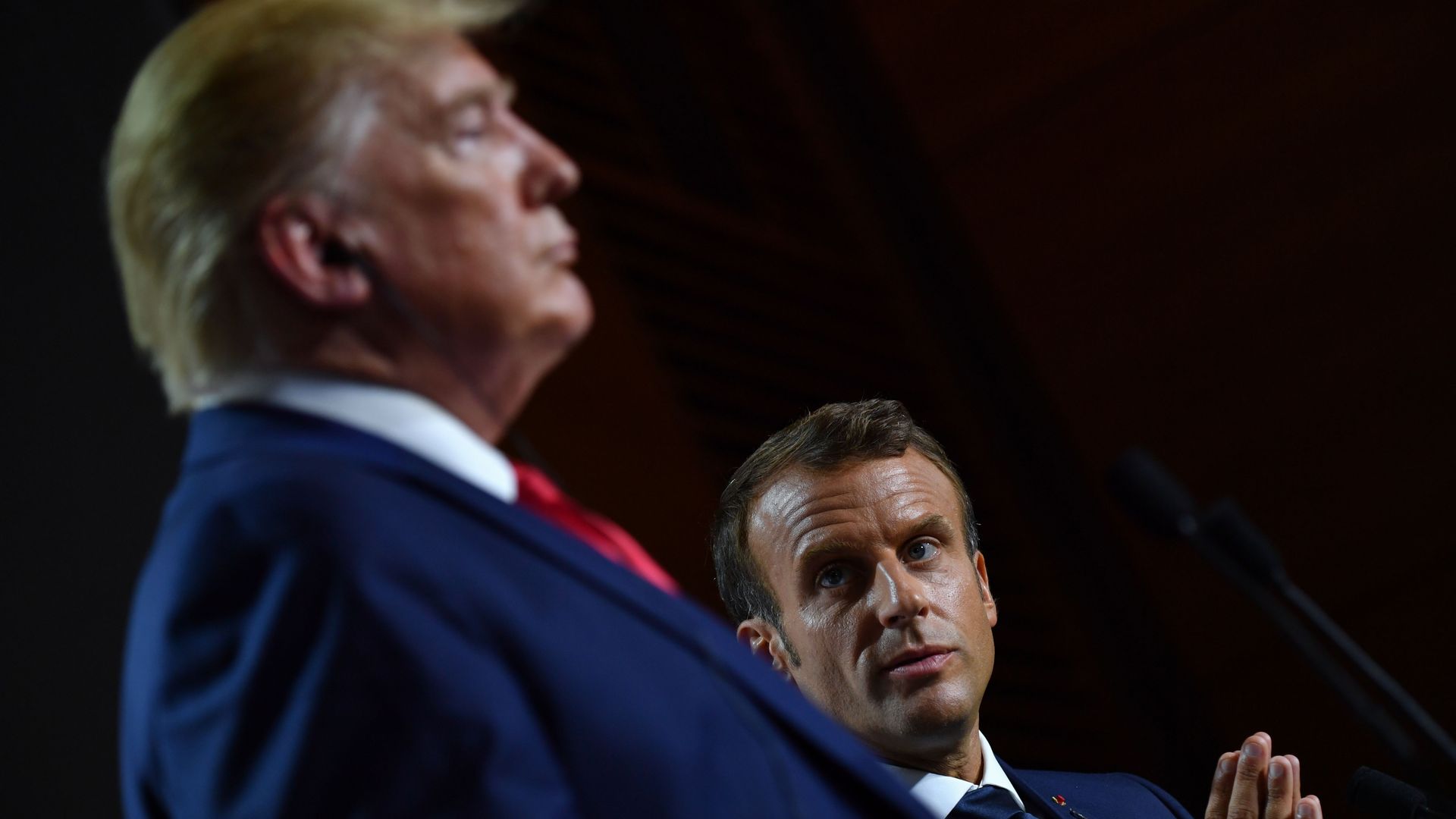 In a lengthy interview with The Economist, French President Emmanuel Macron referred to NATO as brain dead and questioned whether the alliance is still fit for purpose now that America's commitment has come into question under President Trump.
The big picture: Macron argues that the consensus behind the trans-Atlantic alliance is obsolete, and that Europe will "disappear geopolitically" if it fails to become a unified, effective and far more assertive world power in its own right.
"Europe was basically built to be the Americans' junior partner. ... And this went hand in hand with a benevolent United States, acting as the ultimate guarantor of a system... based on the preservation of world peace and the domination of Western values. There was a price to pay for that, which was NATO and support to the European Union."
More highlights from the interview
1. The risk of European irrelevance has arisen due to:
America's shifting strategies — first Obama's pivot to Asia and now Trump's disregard for alliances.
The "bipolarization" of the world between the U.S. and a rising China, which "clearly marginalizes Europe."
"The re-emergence of authoritarian powers on the fringes of Europe," namely Turkey and Russia.
"An internal European crisis" that has raged for a decade.
2. Europe is playing catch-up.
Macron said Europe drifted into a "trade-maximizing" mindset, believing "there will be no more great wars, tragedy has left the stage, all is wonderful."
Now the world is "breaking up again" and the U.S. is doing the unthinkable — turning its back on the alliance and the world order it shaped.
That reality requires a far more assertive and independent Europe, Macron argues. In his view, that means integration but not EU expansion (France controversially blocked accession talks with North Macedonia and Albania).
3. France must be a "balancing power," with "the right not to be outright enemies with our friends' enemies."
Macron has sought to salvage the Iran nuclear deal in spite of the U.S. withdrawal and revealed during the G7 summit that he had been working to broker a meeting between Trump and Iranian President Hassan Rouhani.
"We can speak to people and therefore build balances to stop the whole world from catching fire."
4. Russia should be a partner.
Macron argues that Russia probably can't rebuild itself as a go-it-alone superpower and is unwilling "to be China's vassal," so must therefore move toward "a partnership project with Europe."
He admits that's based on logic, not on Vladimir Putin's behavior. But he asserts nonetheless: "we have the right to autonomy, not just to follow American sanctions, to rethink the strategic relationship with Russia."
Go deeper: Macron sticks the landing at G7 as Trump takes softer line on Iran
Go deeper