Automakers caught in political crossfire over tailpipe emissions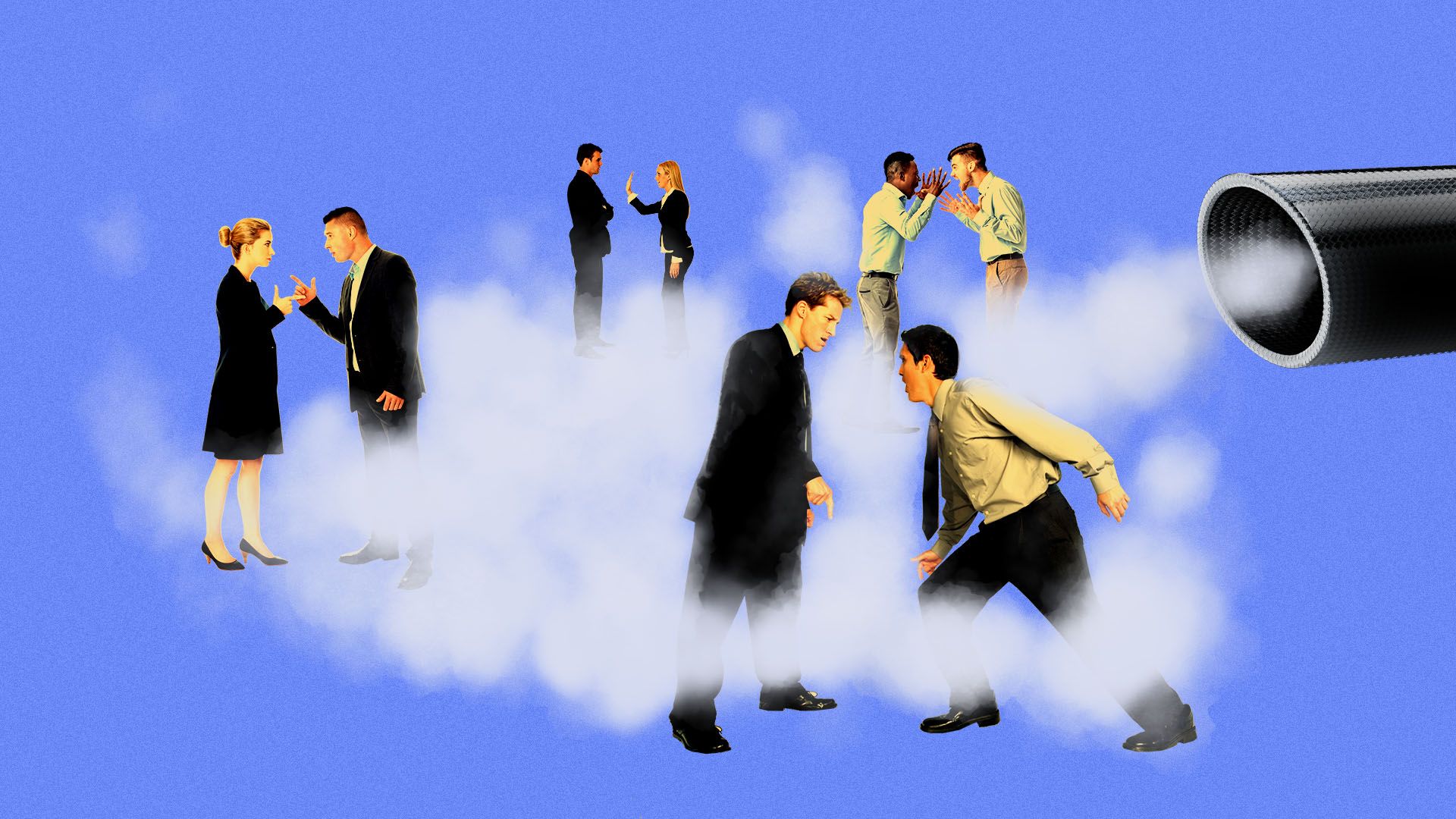 Automakers are choosing sides in the increasingly heated political debate over vehicle emissions and fuel economy standards in an attempt to protect the investments they've made in a clean energy economy.
The big picture: President Trump is at war with California on multiple fronts, and carmakers are caught in the crossfire. Despite their differences, the carmakers are united on this: only one emissions rule should apply across the country.
Driving the news: GM, Toyota, Fiat Chrysler, Hyundai, Nissan and others this week announced they are joining the Trump administration's side in litigation to block California from setting its own emissions rules.
Critics pounced, accusing the companies of hypocrisy for promising to deliver cleaner cars while siding with Trump, who wants to roll back strict Obama-era federal standards.
Four other big automakers — Ford, VW, Honda and BMW — had already made a deal with the California Air Resources Board (CARB) to cut emissions about 3.7% a year between 2020 and 2026 (vs. roughly 5% under the Obama rules).
Between the lines: Automakers are reluctant to talk openly about the politically sensitive topic. Privately, though, nearly a dozen companies on both sides claim their approach is the quickest way to settle the regulatory uncertainty that is hampering future product development.
"This is a once-in-a-lifetime chance, with this administration, for a federal program —and with a Supreme Court that just might side with him," a vice president at one automaker tells Axios.
Others look at stricter regulations in China and Europe and say California's more aggressive stance will help achieve global harmonization on emissions rules.
Toyota North America CEO Jim Lentz warns of unintended consequences: If tougher rules put new technologies out of reach for already-stretched consumers, they'll hold onto their polluting cars even longer, defeating the goal of fighting climate change.
Yes, but: The issues are complex, and each company's position is not as black-and-white as it seems.
The latest: Where they line up depends mostly on their sunk investments in future powertrains and how they think consumer demand will evolve. To date, most consumers don't want hybrids or EVs; they want trucks and SUVs.
Toyota, which sells more hybrids than all other carmakers combined, says it's supporting Trump to gain leverage for a regulatory compromise.
Worth noting, however: Under California's rule, Toyota stood to lose 71.4 million federal greenhouse gas credits it had stockpiled from selling all those Prius hybrids, potentially worth billions of dollars.
GM, meanwhile, touts its commitment to zero emissions, but sided with Trump, too. Insiders say one reason is GM's belief that the California plan favors hybrids — which it doesn't plan to sell — over electric vehicles. (CARB officials dispute that assertion but until the rule is finalized, it's hard to say.)
Volkswagen, like GM, plans a slew of EVs but it sided with CARB partly because it's still in the doghouse for cheating on diesel emissions standards several years ago.
Foreign carmakers, in particular, are worried about angering Trump, who is still weighing big tariffs on auto imports that could wreak havoc on their business.
What to watch: The Trump administration may be willing to bend.
The Wall Street Journal reported Thursday night that the White House is backing away from a plan to freeze tailpipe-emissions targets at current levels and is now considering requiring a 1.5% annual reduction instead.
California says that's not enough, the Sacramento Bee reports.
Go deeper: Trump's war with California leaves automakers with nowhere to hide
Go deeper