Protests around the world aimed squarely at existing governments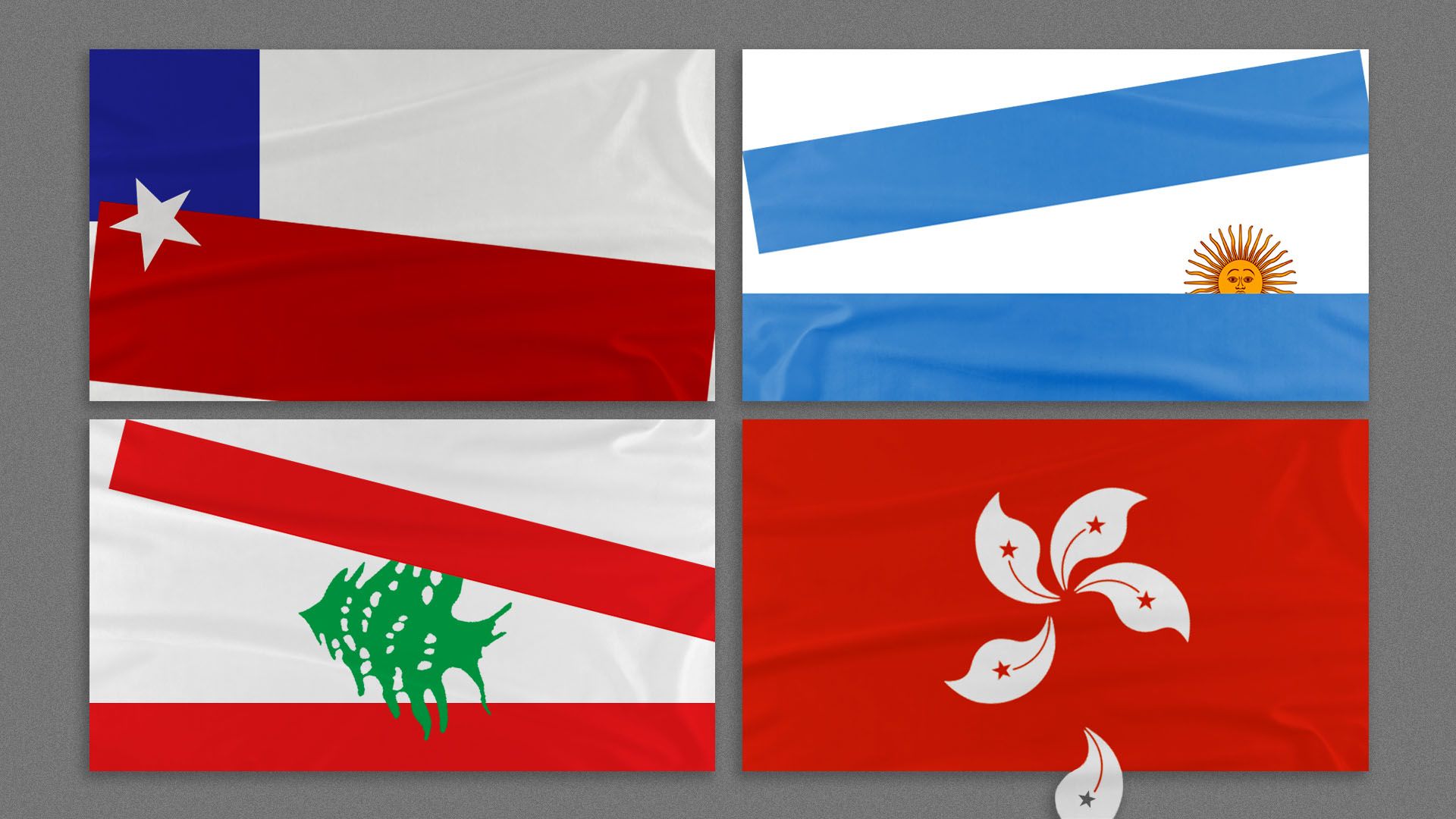 The world is angry. Millions have taken to the streets not only in countries like Egypt and Iraq, which are beset by poverty or ravaged by war, but also in places like Chile and Hong Kong, previously known mostly for their boring prosperity.
Driving the news: Protests reminiscent of the Arab Spring have toppled the billionaire prime minister of Lebanon and forced the billionaire president of Chile to cancel the upcoming APEC and UN climate summits.
Hong Kong leader Carrie Lam, now mired in recession, might not last past March, and Iraqi Prime Minister Abdul Mahdi announced his resignation on Thursday.
Argentina's peaceful and democratic transition of power is orderly only by comparison. The mass renunciation of incumbent President Mauricio Macri, which will probably be accompanied by yet another sovereign debt default, reflects just as much anger as can be seen on the streets of demonstration-racked countries like Spain, Haiti, Russia, Egypt or Ukraine.
Why it matters: Just like the Arab Spring, most of these protests are aimed squarely at existing governments.
The spark that sets off the mass protests is often the kind of thing that would normally elicit no more than generalized grumbling — a modest rise in subway fares, a cut in gasoline subsidies, a new tax on WhatsApp. Invariably, even when those moves are reversed, the protests continue anyway.
Taking a leaf from the gilets jaunes in France, the protestors tend to express anger at the entire political system, rather than having a clear political agenda or even identifying with a political party.
Peronism, always more of a state of mind than a coherent political ideology, is particularly well suited to this kind of moment. Countries that aren't Argentina don't have a Peronist political leader that the disaffected can rally behind.
My thought bubble: The anger sweeping the globe is more destructive than constructive. Anybody attempting to "harness" it will inevitably fail.
One big quote:
"Monsters walk among us. Corruption is normal. Trust, outside a narrow circle of friends or kin, is unthinkable."
— NYT film critic
A.O. Scott
, on how Bong Joon Ho's films reflect reality
Editor's note: This piece was corrected to show that protests have toppled the billionaire prime minister of Lebanon (not president).
Go deeper