Trump confirms death of ISIS leader Abu Bakr al-Baghdadi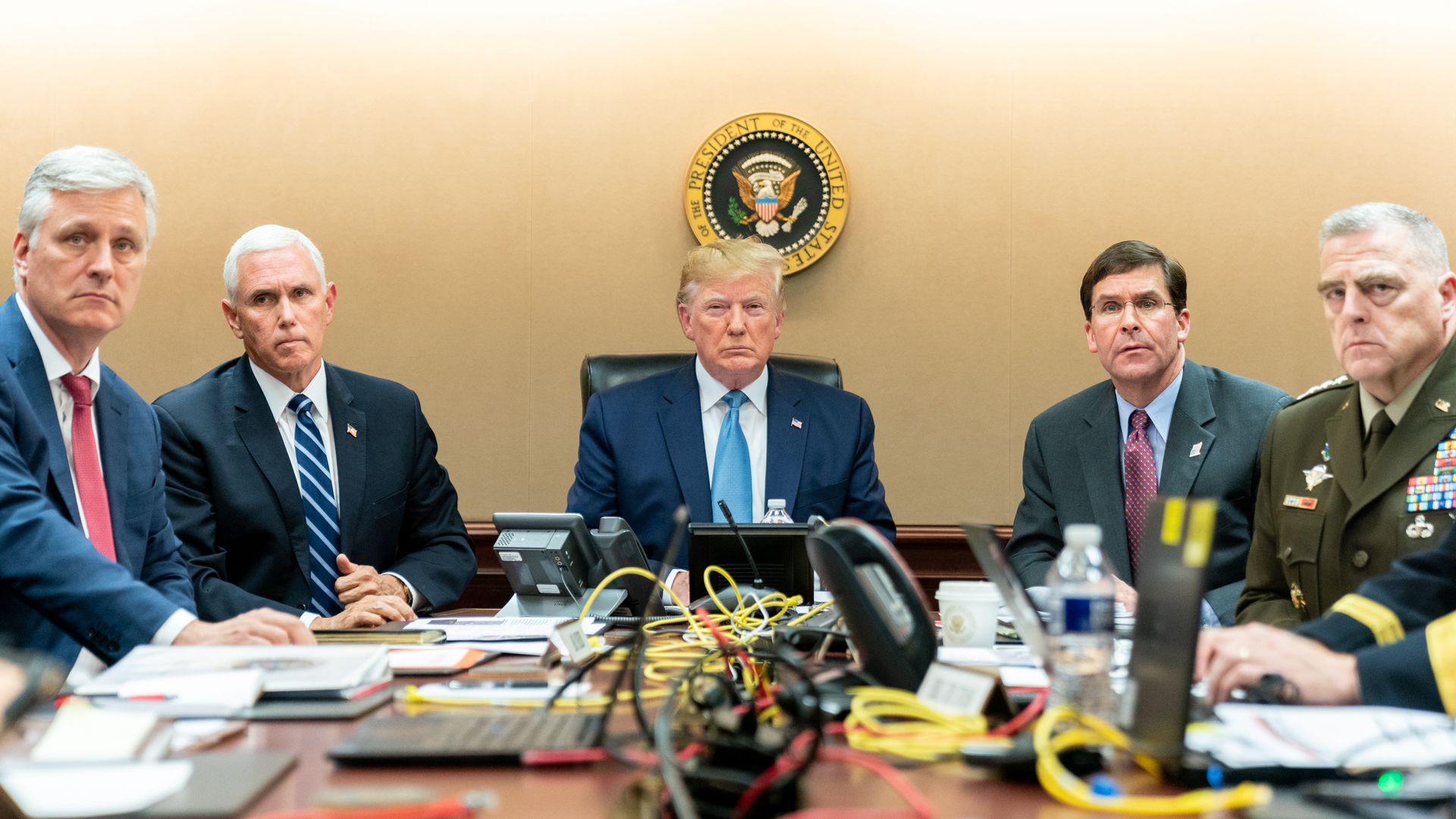 President Trump announced on Sunday morning that shadowy ISIS leader Abu Bakr al-Baghdadi was killed in a U.S. operation in northwestern Syria.
Why it matters: A man who inspired mass murder and multinational terrorism is now dead. The killing also, ironically, underscores the importance and effectiveness of U.S. special forces stationed in Syria, a couple weeks after Trump said it was time to bring them all home and end the endless wars.
"Last night, the United States brought the world's No. 1 terrorist leader to justice. Abu Bakr al-Baghdadi is dead. ... U.S. special operations forces executed a dangerous and daring nighttime raid in northwestern Syria and accomplished their mission in grand style. ... He died after running into a dead-end tunnel, whimpering and crying and screaming all the way."
— President Trump
The big picture: The Baghdadi raid demonstrates the value of continued U.S. engagement in the region, and it helps explain why Iraq's president and others are so worried about Trump's planned retreat.
🎥 See a clip of my conversation with Iraqi President Barham Salih in Baghdad on tonight's edition of "Axios on HBO."
The story began emerging late last night, with Trump tweeting at 9:23 pm: "Something very big has just happened!" Here are details from AP:
In significant detail, Trump explained that Baghdadi, who presided over ISIS' global jihad and became arguably the world's most wanted man, had been under surveillance for several weeks.
Baghdadi was chased by dogs down a dead-end tunnel and detonated an explosive vest, killing himself and three children that he had dragged with him, Trump said.
Trump thanked Russia, Turkey, Syria, Iraq and Syrian Kurds for their assistance in the operation. Kurdish commander Mazloum Abdi tweeted on Saturday night: "For five months there has been joint intel cooperation on the ground and accurate monitoring, until we achieved a joint operation to kill Abu Bakir al-Bagdadi. Thanks to everybody who participate in this great mission."
The operation's success could prove a major boost for Trump. The recent pullback of U.S. troops he ordered from northeastern Syria raised a storm of bipartisan criticism in Washington that the militant group could regain strength after it had lost vast stretches of territory it had once controlled.
The backstory, from AP: "The Islamic State group erupted from the chaos of Syria and Iraq's conflicts and swiftly did what no Islamic militant group had done before, conquering a giant stretch of territory and declaring itself a 'caliphate.'"
"Its territorial rule, which at its height in 2014 stretched across nearly a third of both Syria and Iraq, ended in March with a last stand by several hundred of its militants."
Go deeper