Watchdog finds Chicago police covered up details of Laquan McDonald shooting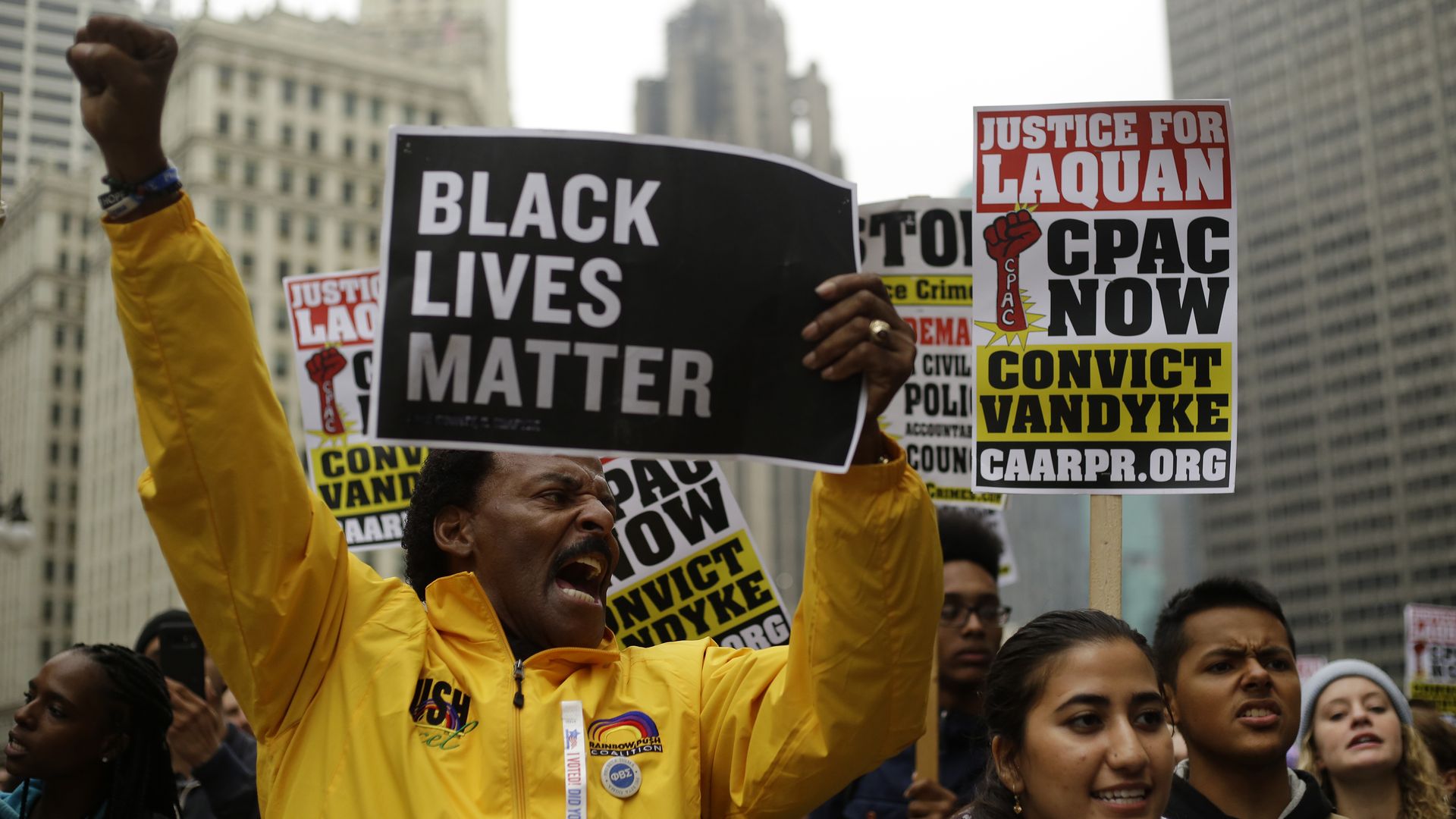 Chicago Mayor Lori Lightfoot has released an inspector general's report that found that officers took part in a massive cover-up after the 2014 police shooting of Laquan McDonald, an unarmed black teenager.
Why it matters: "The documents offer an even closer look into the shooting and subsequent investigations that have dominated Chicago's consciousness for nearly five years," the Chicago Sun-Times writes. The disclosures affirm the degree to which the police made false statements about the events on the night of the shooting, highlighting another instance of police using excessive and fatal force against African Americans.
Background:
On Oct. 20, 2014, Chicago police officers responded to reports of someone breaking into vehicles. Seconds after arriving at the scene, Officer Jason Van Dyke shot 17-year-old McDonald 16 times. Initial reports indicate that Van Dyke said McDonald lunged at him with a knife, but dashcam footage, released in 2015 after a court order, contradicts that narrative.
Van Dyke was indicted in December 2015. He was sentenced to 6 years and 9 months in October 2018 after being found guilty of second-degree murder. Three other officers who were tried for misconduct, obstruction of justice and conspiracy were acquitted.
Chicago settled with McDonald's family for $5 million in 2015.
Four officers, including Sgt. Stephen Franko who supervised officers handling the case, were fired earlier this summer.
What they found: Inspector general Joseph Ferguson recommended 16 officers be disciplined for their roles in covering for Van Dyke. The documents released include officer interviews, statements and summaries from Ferguson's 2016 report.
"Van Dyke's false reports, false statements, and material omissions all served to exaggerate the threat McDonald posed," the reports released by the Office of the Inspector General say.
The IG says officers lied when they claimed to have heard Van Dyke tell McDonald to drop his weapon. They would not have been able to hear such a warning from where they were standing.

The report also recommended the removal of Lt. Anthony Wojcik, who retired from the department in 2016, alleging he destroyed evidence and reports with officers' notes from witness statements.
Wojcik and a sergeant, Daniel Gallagher, also helped the lead detective on the case to develop false conclusions to support Van Dyke's narrative, the IG says.
Franko and 2 other supervisors approved Van Dyke's and other officers' description of events after the shooting, despite knowing the accounts were false, the report concludes.
Current CPD Superintendent Eddie Johnson, who was a senior member of the department at the time of the shooting, reportedly saw the video of the incident before it was publicly released. At a news conference last week, Johnson said, "So to be clear, I never thought and I never said the shooting of Laquan McDonald was justified," per TV station Chicago 5.
Where it stands: The report recommended that 12 officers be dismissed for their part in the cover-up, including Wojcik, who retired before the report was finished. It also recommended disciplinary measures for 4 other officers for failing to ensure their dashcams recorded the events, as CPD rules stipulate.
What they're saying:
"The Fraternal Order of Police has articulated in several instances our strongly-held belief that the Inspector General's office, particularly under Joe Ferguson, is often little more than a political witch hunt of our members, none more so than the manner by which his office generated criminal indictments of the three officers in connection with the Laquan McDonald shooting. Those officers, tried by special prosecutor Patricia Holmes, were acquitted."
— Chicago's Fraternal Order of Police, per the
Sun-Times
What's next: Three other officers and a sergeant, who were fired earlier this year for their role in the cover-up, have filed lawsuits fighting their terminations, the Sun-Times reports.
Go deeper