Airports embrace renewable energy to cut air travel emissions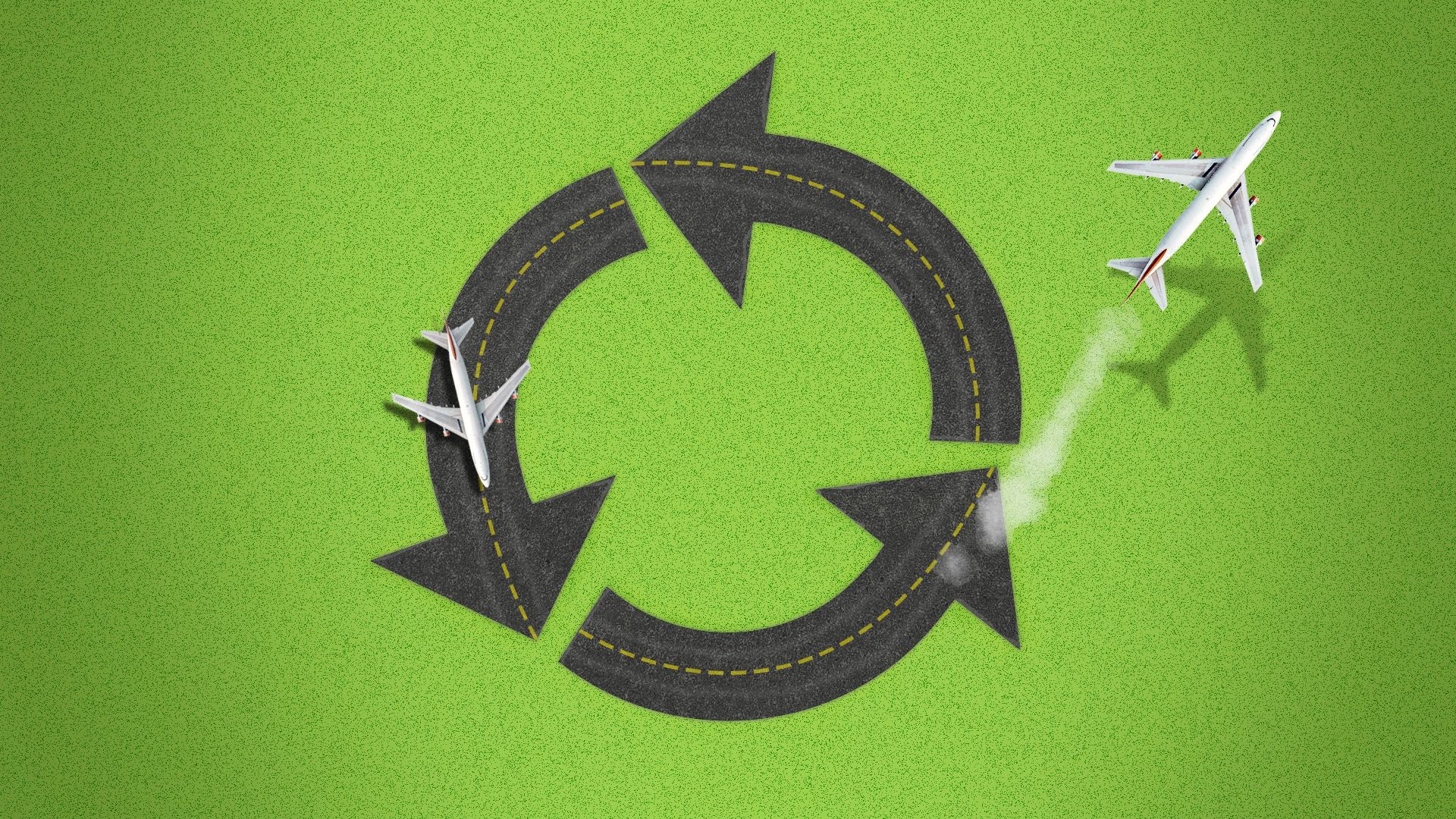 Airports in the U.S. are attempting to reduce emissions by replacing equipment with electric- and solar-powered technology.
Why it matters: Air travel accounts for 2% of global emissions, and cities and public agencies are uniquely positioned to use their relationships with airlines and terminal operators to impact emissions reduction practices at the airports themselves.
What's happening:
Airport operators in New York City, Washington state, Chicago, and Boston are partnering with airlines, including JetBlue and United, and making use of federal funding including a Federal Aviation Administration grant and an EPA grant to deploy electric-powered ground service equipment and charging infrastructure.
The major New York City-area airports, JFK, LaGuardia, and Newark, plan to convert to 100% electric shuttle bus fleets in the next year.
Airports in Chattanooga and Indianapolis have built solar farms to displace conventional electrical grid supply. JFK is developing solar generation for both on-site consumption and to supply clean energy to surrounding communities.
Between the lines: Despite the federal government pulling out of the Paris Climate Agreement, 25 states and hundreds of cities have committed to meeting greenhouse gas reduction goals.
The ways that airports adapt to conform to their communities' greenhouse gas reduction targets will become important parts of the climate action solution.
To date, 8 airports have been recognized by the FAA for reducing greenhouse gas emissions, including San Francisco, Austin-Bergstrom, Hartsfield-Jackson Atlanta, and Seattle-Tacoma.
What to watch: Achieving carbon neutrality is the next big milestone for airports to reach in reducing emissions.
But, but, but: The achievement of carbon neutral status at airports is controversial because it is virtually impossible to attain without the purchase of carbon offsets.
The Airport Carbon Accreditation program has awarded just two airports in the U.S, Dallas-Fort Worth and San Diego, with complete neutrality.
16 other U.S. airports, representing 24.4% of all North American air travel, have been recognized as one level under neutrality, including the Port Authority's 5 airports.
Christine Weydig is the director of environmental and energy programs at the Port Authority of New York and New Jersey.
Go deeper