At least 70 Iraqi protesters killed amid calls for prime minister to step down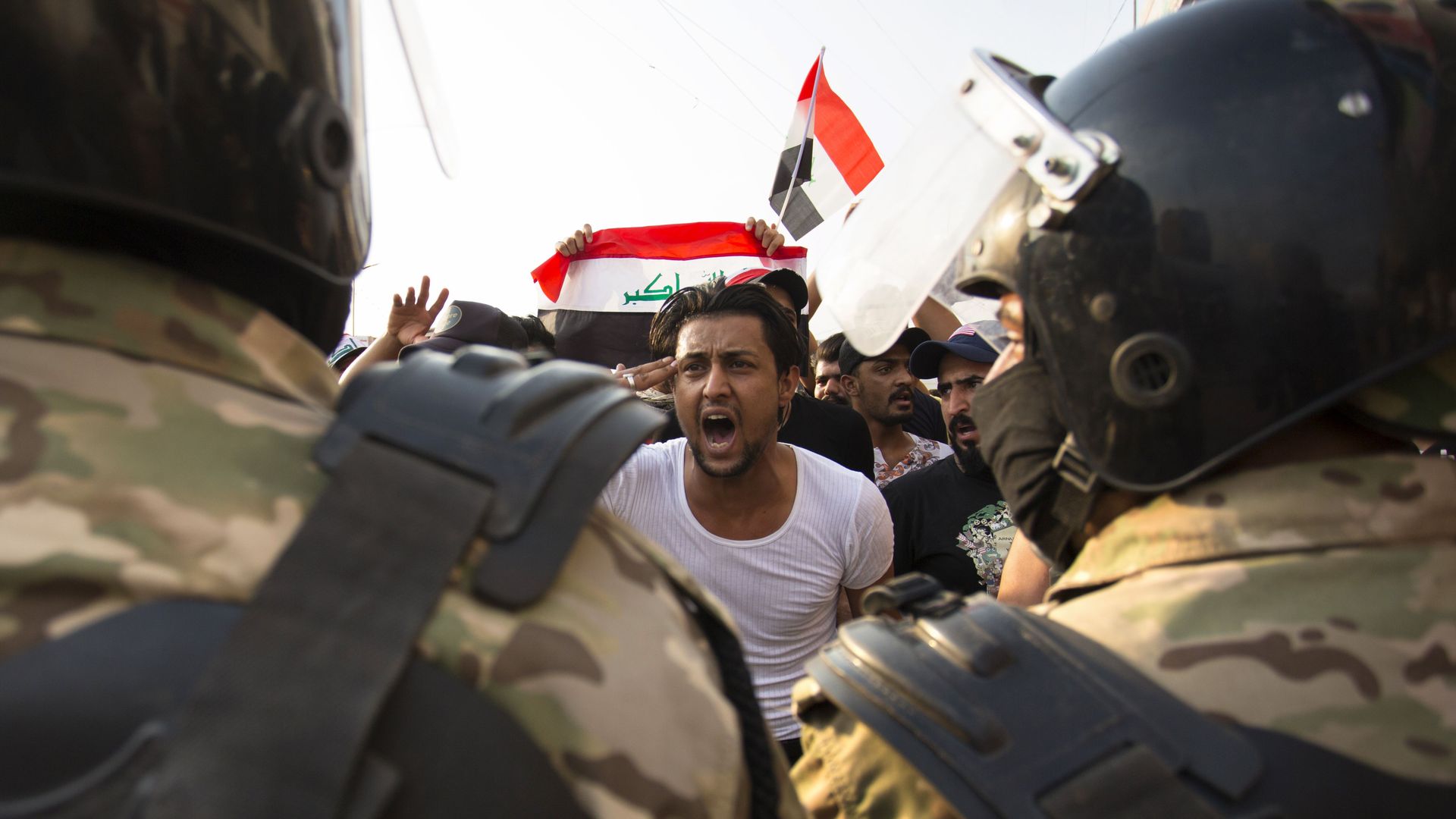 At least 70 Iraqis have died as thousands of protestors continue to demonstrate and call for Prime Minister Adil Abdul-Mahdi to step down, reports BBC.
Why it matters: These demonstrations are the "most serious" since 2016, and mark the largest public display of anger directed at Mahdi since he took office nearly a year ago, notes the Financial Times. Protesters, now in their 5th consecutive day, are demanding he resign amid a 25% youth unemployment rate, growing allegations of corruption and a lack of access to public services, according BBC.
The protesters are largely unaffiliated with any political party, per the FT.
Protesters in Baghdad have adopted a popular 2011 Arab Spring chant: "the people want the fall of the regime."
The big picture: Iraq remains fragile amid regional tensions and ongoing threats from ISIS.
ISIS is restoring strength in Iraq and Syria as it rebuilds its resources and finds new recruits, reports the New York Times.
Iraq could also find itself caught in the middle of inflamed tensions between Iran and Saudi Arabia, following an attack on Saudi Arabian oil facilities that some have accused Iranian proxies of carrying out, per the Times.
What we know:
Iraqi forces opened fire on protesters on the 4th day of demonstrations. The United Nations is calling on the Iraqi government to launch transparent investigations into the use of police force, reports the Washington Post.
Shia leader Muqtada al-Sadr, whose party has the largest number of parliamentary seats, announced his bloc will suspend its participation until the protesters' demands are met, reports Bloomberg. He is calling on Mahdi to step down.
There is a near-total internet blackout across Iraq, and curfews have been imposed in several cities, adding to the tensions between protesters and the government, per Al Jazeera.
The central government is struggling to contain the protests, which have spread to major cities around the country and are now in their 5th day, per Al Jazeera.
Thousands of people have been injured, per Al Jazeera.
Go deeper: Witnessing the fall of the Islamic State
Editor's note: This story has been updated with new information following the fifth day of protests.
Go deeper