Oil price spikes expected after attacks on Saudi facilities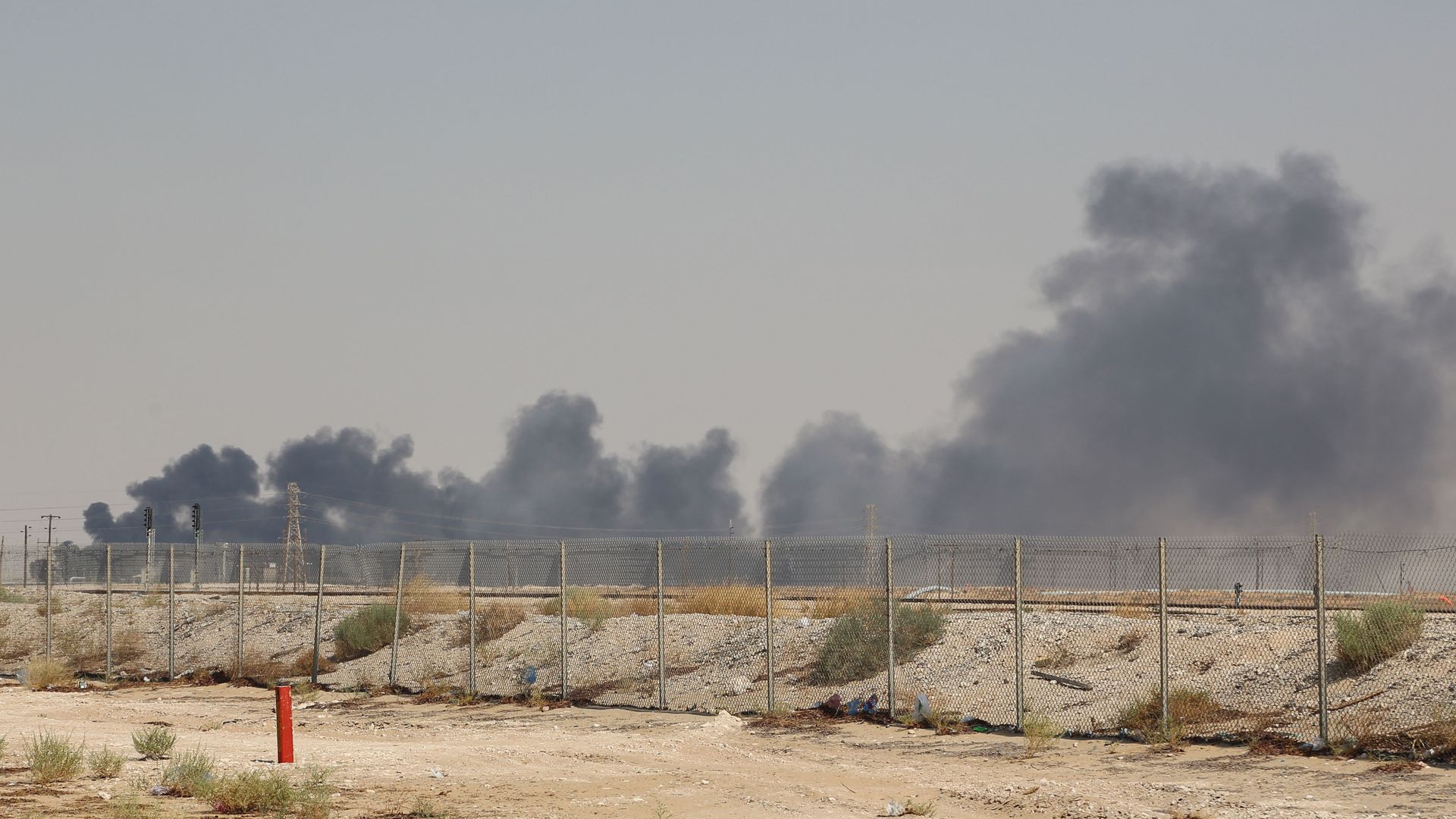 Crude oil prices are expected to surge when Asian markets reopen Sunday night (U.S. time) as traders respond to Saturday's attacks against major oil processing and production sites in Saudi Arabia.
Why it matters: The alleged drone strikes, which took large volumes of production offline, are stark evidence of security risks facing OPEC's largest producer and the world's largest crude oil exporter.
Saudi officials say the strikes have cut production by 5.7 million barrels per day — about 50% of the kingdom's total output and 5% of global supplies.
It's unclear how quickly production will resume, but Saudi officials say they will use their stockpiles to keep meeting customer demand.
Yemen's Iranian-backed Houthi rebels have claimed credit for the attacks, while U.S. Secretary of State Mike Pompeo directly blamed Iran.
What's next: Brent crude oil prices were roughly $60 per barrel heading into the weekend. The size and length of the expected spike will partly depend on how fast the Saudis can revive lost output.
Rapidan Energy Group said that even if that happens quickly, "such a brazen attack by an Iranian proxy on the crown jewel of the Kingdom of Saudi Arabia's energy system will raise the overall geopolitical risk premium."
The Eurasia Group, in a note Saturday night: "A small $2–$3 [per barrel] premium would emerge if the damage appears to be an issue that can be resolved quickly, and $10 if the damage to Aramco's facilities is significant [leading] to prolonged supply outages."
S&P Global Platts Analytics estimates a rise of at least $10 and perhaps much more. Dangers to Middle East supply and spare production capacity could "see prices test $80/b despite Saudi Arabia [on Saturday] claiming production and exports will not be significantly impacted."
The intrigue: The attacks could mean new headwinds for the Saudis' revived plans for the initial public offering of a slice of state oil giant Aramco.
The Atlantic Council's Randolph Bell told Axios in an email Saturday that if the disrupted output is not brought back online quickly, it would "raise questions about Aramco's resiliency to geopolitical threats."
Bell, who heads the think tank's Global Energy Center, adds:
"But even if the interruption is relatively short and Saudi benefited from the presumed bump in the price of oil — which, under other circumstances, would raise Aramco's IPO valuation — the attacks are far more likely to remind investors of the geopolitical risk the company faces and ultimately hurt the IPO."
Go deeper: Saudi oil sites hit by drone strikes: U.S. blames Iran
Editor's note: This post has been clarified to note that it's unclear whether the attacks were committed by drones or another means.
Go deeper