Report: 460 tons of lead burned during Notre Dame fire, posing public health risk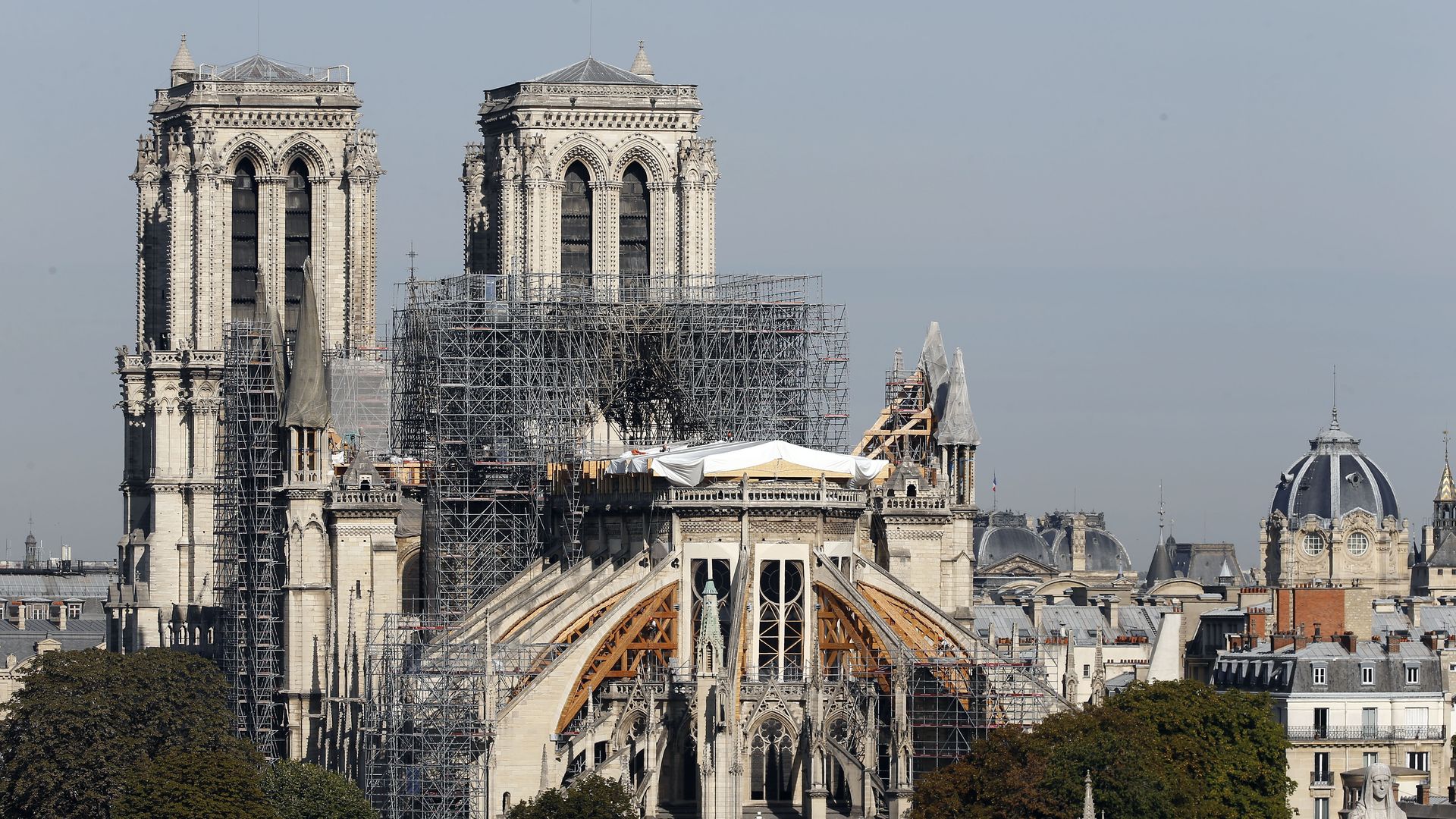 The fire that consumed the Notre Dame Cathedral this April subjected the public, including schools, day care centers and parks in Paris to "alarming levels [of] lead," and revealing a possible "failed official response," according to a new report from the New York Times.
The impact: After 460 tons of lead burned from the cathedral's scorched roof and spire, it left more than 6,000 children under age 6 vulnerable to lead contamination, found the Times. Children under 6 and pregnant women are the most vulnerable since it can interfere with the development of the nervous system and lead to cognitive problems.
Those exposed to the highest levels of lead are the cathedral's restoration workers, who wore no protection, and received no training about lead exposure when they began decontamination efforts.
The state of play: French officials ordered their first lead test a month after the fire, even though they understood exposure could be an issue within 48 hours after the fallout, per the Times. They waited 4 months to completely decontaminate the area around Notre Dame as children attended school.
The big picture: Public concern over lead contamination has increased since it became clear that French authorities have failed to fully share the results of lead contamination tests, says the Times.
"[D]elays and denials have opened the authorities to accusations that they put reconstruction of the cathedral" above the health of thousands of people, per the Times.
"They thought that they would protect people by not communicating about the lead issue," Anne Souyris, the city's deputy mayor in charge of health said, per the Times.
Souyris added with the age of the city's infrastructure, the lead problem "long predates the Notre-Dame fire."
Tests found levels of lead dust above French standards near at least 18 day care centers, preschools and primary schools.
Schools opened this month in Paris for the new academic year, but some private schools remained closed over fear of contamination.
The Regional Health Agency did not confirm there was lead contamination until May 9.
8.5% of 400 children tested had levels of lead above French regulations, per the Times.
Go deeper:
Go deeper