Italy's prime minister resigns amid coalition chaos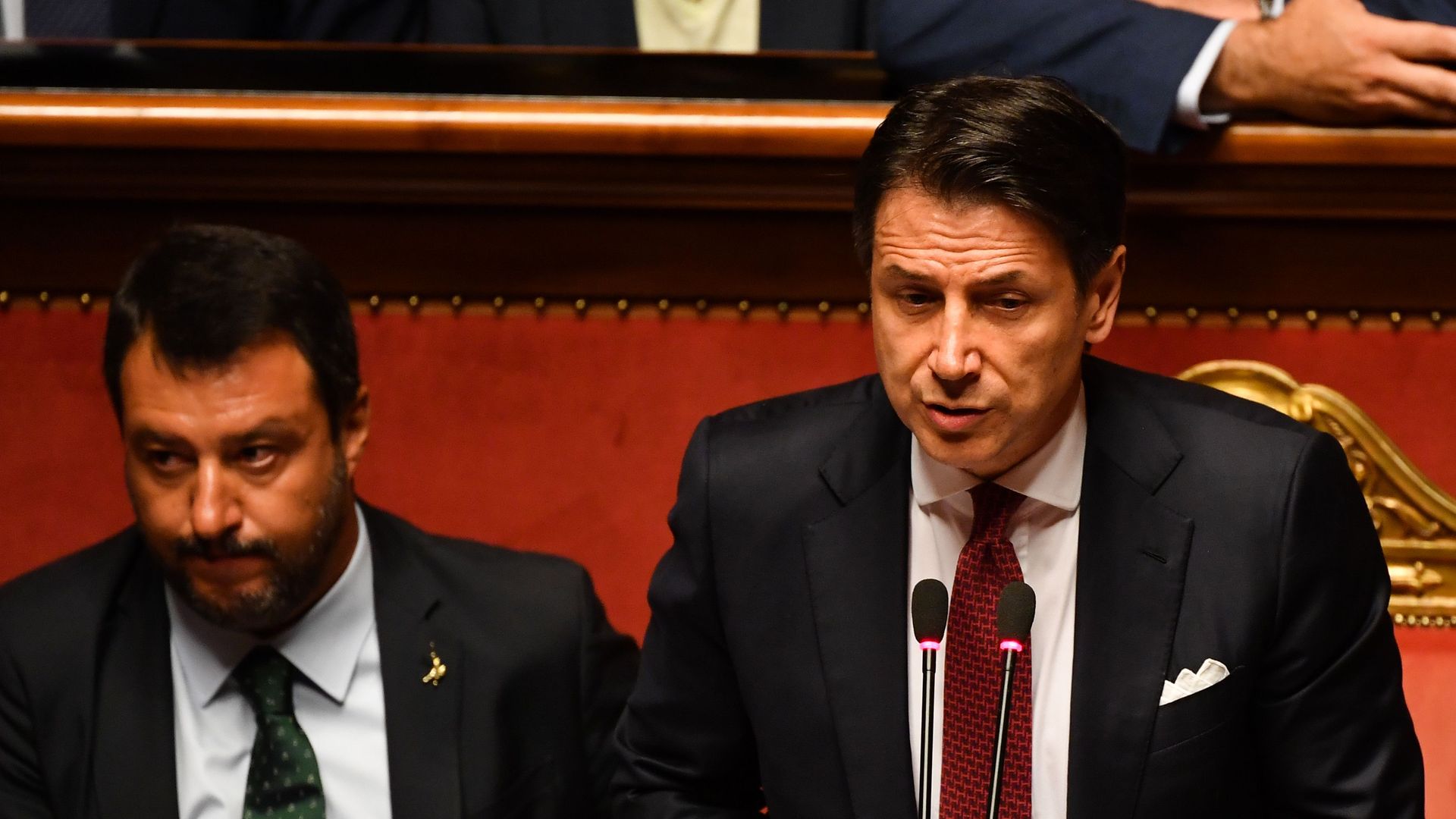 This is a summer of crises for Europe, with a political collision in Italy landing in the midst of Brexit chaos while the continent's top economies flirt with recession.
Driving the news: Italian Prime Minister Giuseppe Conte said Tuesday that he would submit his resignation amid tensions between the 2 populist parties that comprise his government coalition: the anti-establishment Five Star Movement and the far-right League. He declared that the ruling coalition of 2 populist parties "ends here."
Deputy Prime Minister Matteo Salvini, Conte's former coalition partner, Italy's interior minister and leader of the far-right League party, has been demanding fresh elections and could soon claim the prime minister's office for himself.
Why it matters: Italy has seen 16 leaders take power in the last 30 years. If Salvini is the 17th, Italy's crisis could spread far beyond its borders.
How we got here:
The League and the anti-establishment 5 Star Movement were the big winners from Italy's 2018 elections. They formed an uneasy ruling partnership, with Conte plucked as a compromise prime minister.
The parties almost immediately clashed with one another, and with the EU. Proposals from both would further inflate Italy's massive public debt, provoking threats and pleas from Brussels.
Salvini made his move on Aug. 8, calling for the government to break apart. Polls suggest the fiercely anti-immigrant League and a right-wing ally could likely form a majority government. However, his far-right party is still facing questions over a campaign finance scandal involving Russian funds.
What to watch: Salvini may have miscalculated.
With Conte's resignation, President Sergio Mattarella will now have to determine whether a stable government can be formed or fresh elections are needed. One possibility would see 5 Star and the center-left Democratic Party join together and expel the League from government.
The big picture: Italian politics are famously volatile, but the stakes here are high for Europe and for the global economy.
Salvini has floated an exit from the euro. Even short of that drastic step, the looming debt crisis is a greater source of concern even than Brexit for many in Brussels.
What they're saying:
Conte called Salvini "irresponsible" and said he didn't commit himself to "the government's good work" because "he was too focused on looking for an excuse to pull the plug on it."
Salvini said he would do everything over again: "I am a free man. I am not afraid of the judgment of Italians."
Matteo Renzi, a former prime minister, called for a government of national unity: "Populism has failed in this country."
The bottom line: Conte has lasted 14 months as prime minister. That's not a particularly short tenure by Italian standards.
Go deeper