Second major earthquake in 2 days jolts Southern California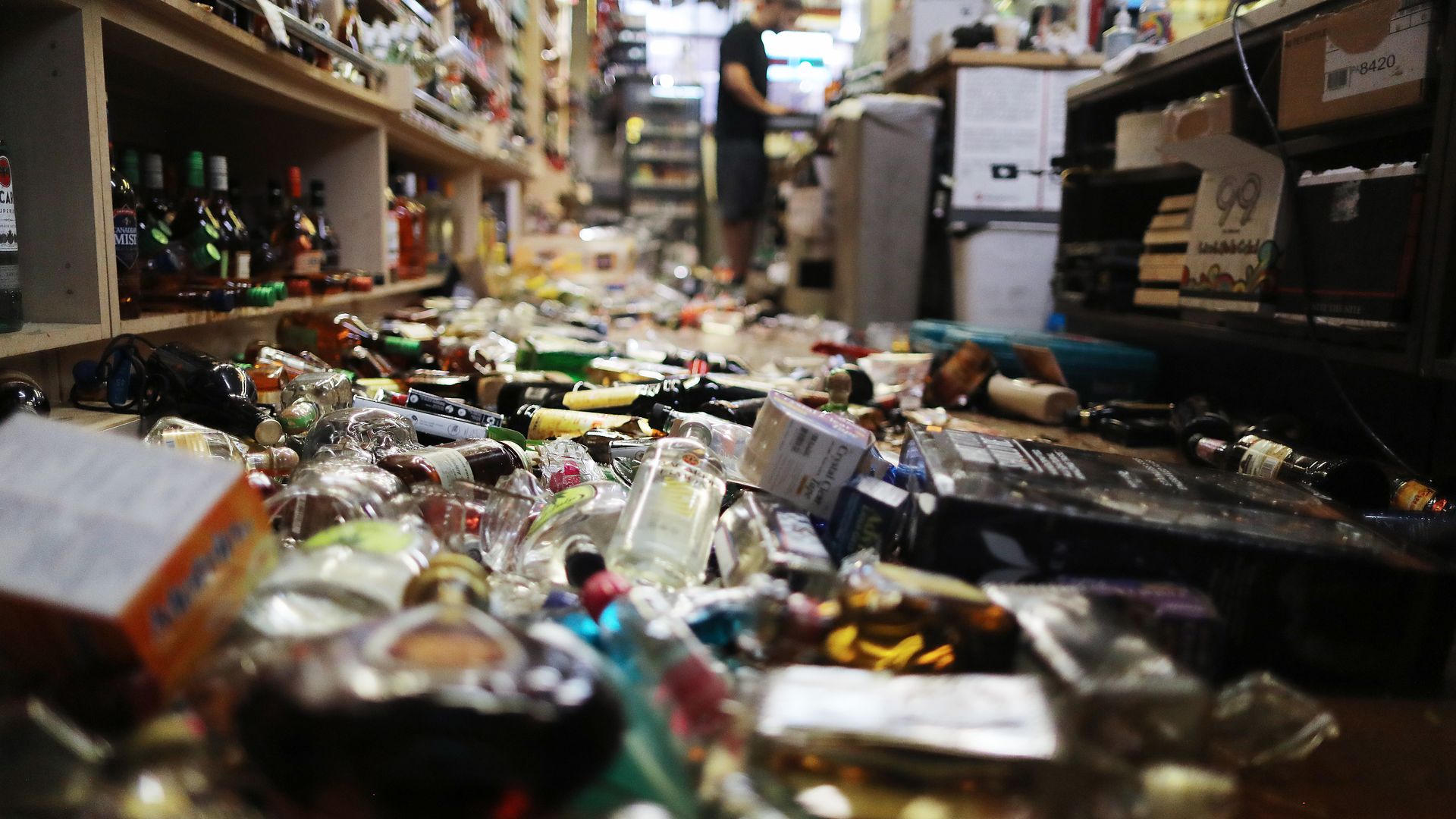 A magnitude 7.1 earthquake shook Southern California around 8:20 pm on Friday night — just one day after a 6.4 magnitude quake struck the Ridgecrest area on July 4, AP reports.
Why it matters: Following a quiet stretch in California's seismic history, these are the largest reported earthquakes to affect the state in nearly 20 years. Scientists say the fault causing the quakes seems to be growing, per the LA Times.
The big picture: Lucy Jones, a Caltech seismologist, said Friday's temblor was 10 times larger than Thursday morning's, and that "there's no reason to think we can't have more large earthquakes," the LA Times reports. In a tweet, Jones said another magnitude 5 quake is likely, and a magnitude 6 quake is possible. Aftershocks could continue for months, if not years, per the Weather Channel.
What we know:
There are no reported deaths, but some injuries. Several buildings and homes were damaged, along with fires and ravaged roads, according to the Washington Post.
"The quake was felt as far north as Sacramento and Reno, Nevada, as far south as northern Mexico and as far east as Phoenix and Las Vegas. The temblor was felt throughout the Los Angeles, San Diego and San Francisco Bay areas," the Weather Channel reports.
According to the U.S. Geological Service, more than 600 quakes of at least a magnitude of 2.5 have been identified since July 4 in the Mojave Desert. More than 20 were magnitude 4.5 or greater, per the Weather Channel.
A U.S. Navy weapons testing facility outside of Ridgecrest was harmed, rendering it incapable of completing missions, says the LA Times.
California Gov. Gavin Newsom mobilized the state's office of emergency services and requested an emergency declaration from President Trump to receive federal aid.
Go deeper: Biggest earthquake in 20 years hits Southern California
Go deeper