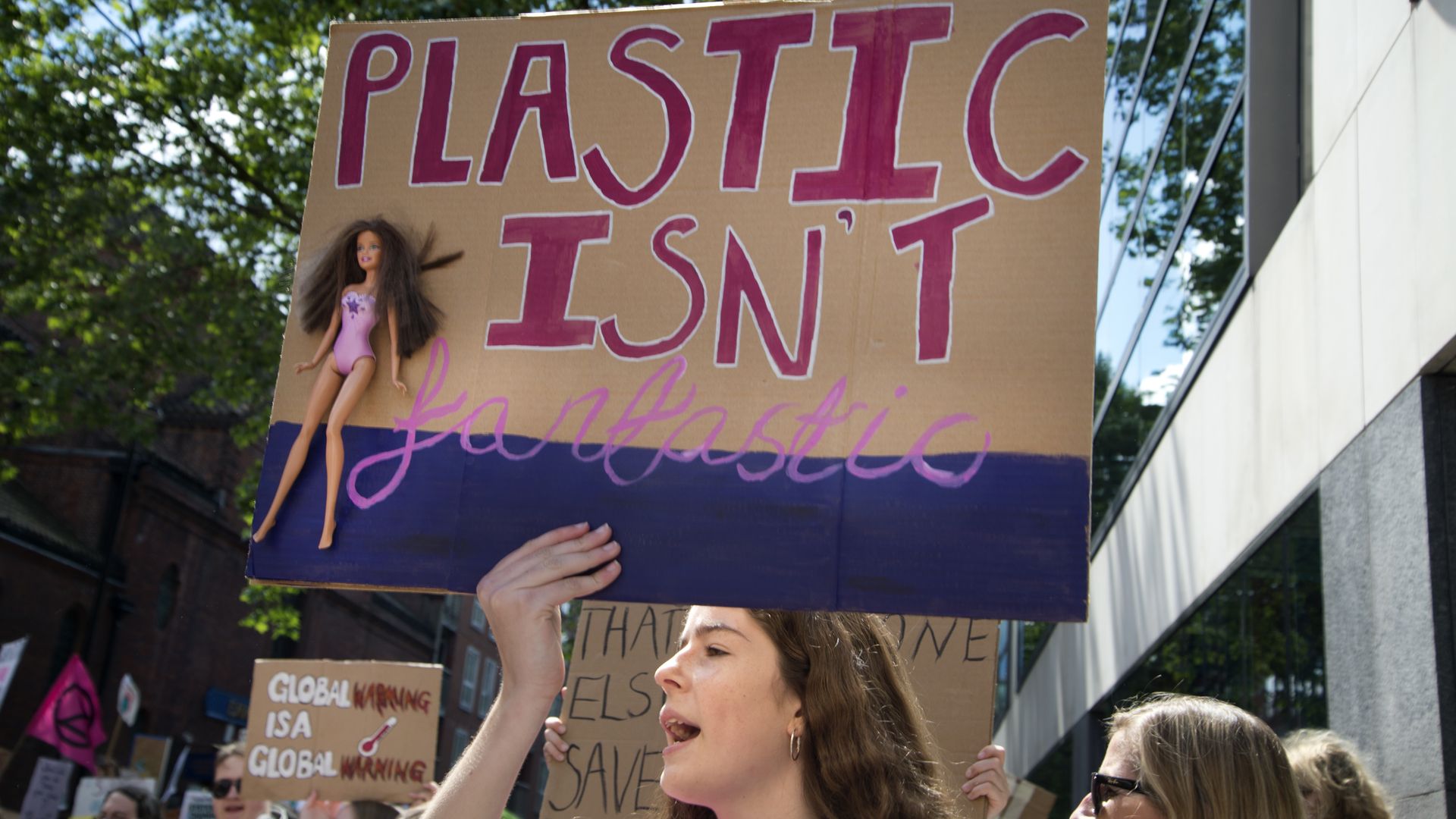 From Legos to Barbies, toys are an indispensable part of childhood — and plastics are an indispensable part of the toy industry. Some parents who are part of a growing zero-waste movement are refusing to buy plastic toys.
Why it matters: The global toy industry is worth $89 billion, and many toys today are made of plastic. It makes them inexpensive but also easily disposable once children grow out of them, and they're seldom recycled.
Many parents in a popular zero-waste Facebook group — with more than 100,000 members — opt for wood, fabric or paper toys.
Canadian Anna Muise avoids plastic and has passed building blocks and doll accessories handmade by her grandparents on to her children.
Some won't accept gifts of plastic toys. "If I can return the gift, I do," New York City parent Megan Kip-Holden tells Axios.
But the sustainable toy industry is still niche and products can be more expensive than conventional plastic toys. "I am financially comfortable enough to buy higher quality toys," says San Jose parent Karen Nguyen, "but I can't expect everyone to share my standards."
Some eco-conscious parents don't completely shun plastic toys if they are bought secondhand.
They also utilize toy libraries, or toyeries, which have operated across the country since 1935.
What to watch: Parents aren't the only ones fighting for sustainable toys. LEGO — which made $5.49 billion in revenue in 2016 — has committed to using sustainable materials in their products and packaging by 2030.
Tim Brooks, Vice President of Environmental Sustainability at LEGO, tells "Axios on HBO" they've experimented with more 200 types of material, including corn, wheat and sugarcane.
But they haven't found a suitable stand-in for their iconic bricks yet — currently, only 2% of their products are made of plant-based plastic.
Other top toy companies are focusing on their plastic packaging: Hasbro announced it would start using plant-based plastics and Mattel said it would start including How2Recycle labels, both in 2019.
Go deeper