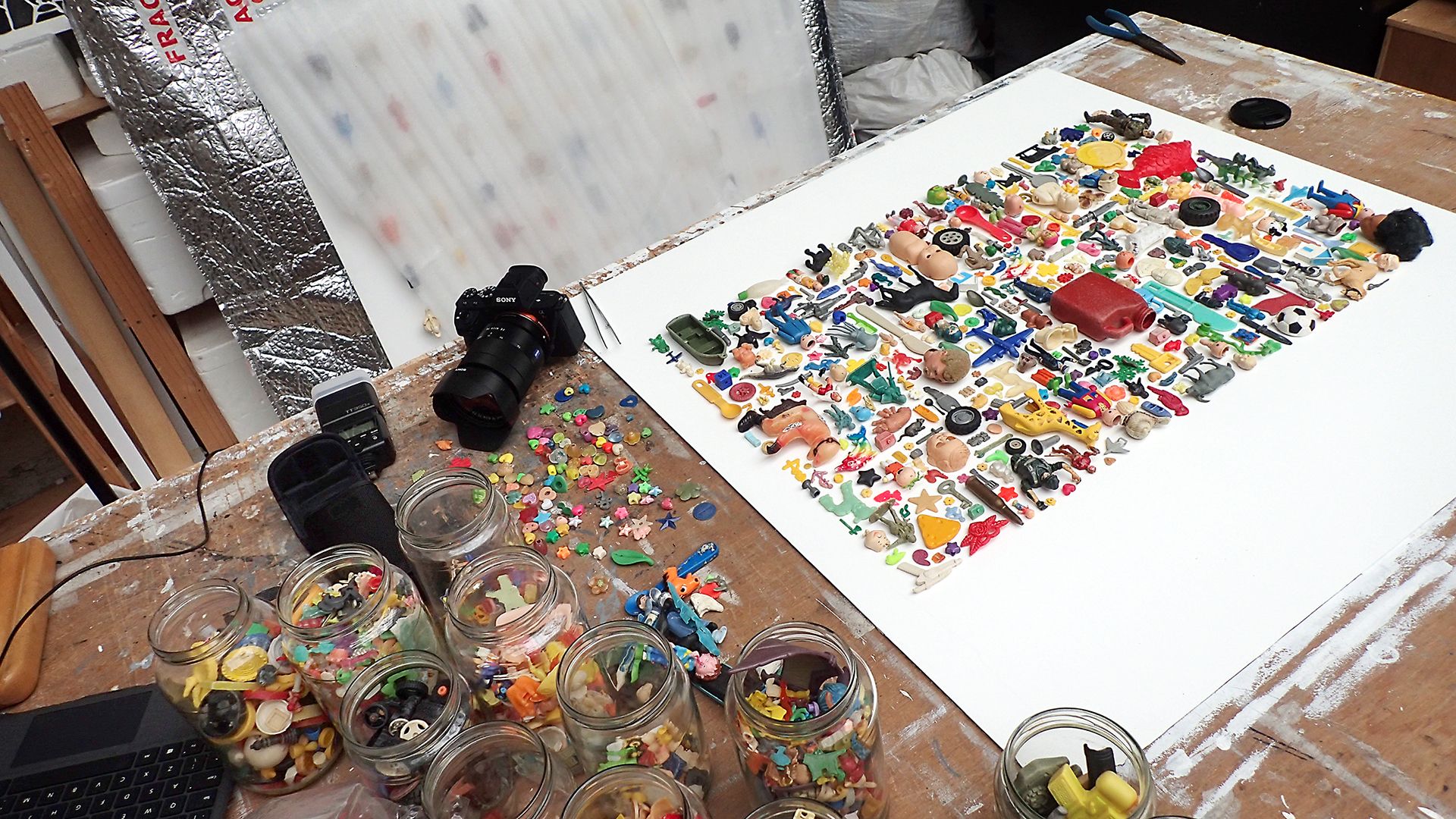 For our Deep Dive on plastics, Axios commissioned artist Steve McPherson to create a custom piece using plastics washed onto the coastline of England. McPherson transforms these discarded, forgotten plastic objects into vibrant, beautiful pieces — forcing the viewer to confront where these objects actually originated.
Why it matters: Plastic makes up more than 60% of ocean litter — millions of metric tons — and that amount is only increasing. Artists like McPherson are using their platform to address the complexity of the plastics problem and to urge people to examine their consumer habits.
Since he started picking up ocean plastic as a child, McPherson has amassed a shocking collection of objects: fragments of dentures, false finger nails, Lego heads, assorted doll limbs, plastic fruit swords, Scrabble pieces, computer keys, pencil sharpeners and ice cream spoons.
"The natural colors of the beach were confettied with these synthetic colors," McPherson tells Axios.
Part of what drives McPherson's art is how pervasive plastic is — from the paint in our houses to our clothing. "I don't think people understand the depth of the problem and the depth of their own use of plastic," he says. "We are literally saturated with this material."
By 2050, there could be more plastic than fish by weight in the ocean, the Ellen MacArthur Foundation projects. Meanwhile, marine creatures like seabirds are ingesting the debris.
Part of the hazard — and the appeal — of plastics is most of them can't decompose completely, which is why they've been found in growing concentrations across the oceans. McPherson uses his art to confront this idea of plastic objects as a record for how humans live in the world right now.
"These little objects are conduits ... to the Earth's memory," he says.
Where it stands: Manufacturers, suppliers and governments all have a responsibility to address the plastic pollution problem, McPherson suggests. But he hopes his art encourages people to reconsider their consumerism.
He says some people who have viewed his art tell him years later that they've since changed their habits, buying fewer plastic goods or thinking twice before purchasing certain products. "We're supposed to have power as consumers, aren't we?"
Go deeper