Exclusive: Inside Steve Bannon's bizarre, exaggerated populism bootcamp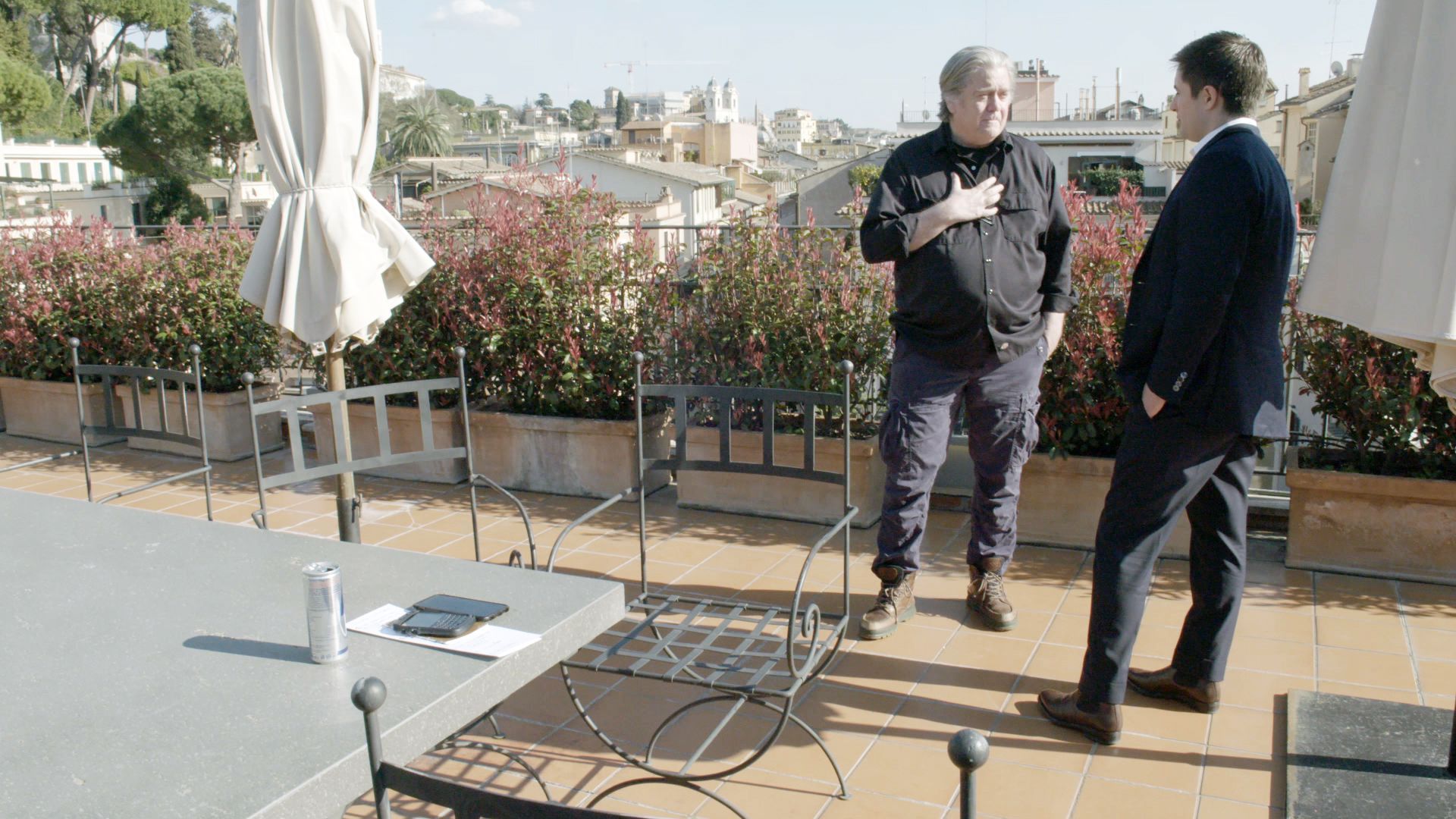 "Axios on HBO" got the first televised look inside Steve Bannon's Italian monastery — a breathtaking monument in a grand, cinematic setting outside of Rome — but in so doing we found that many of Bannon's other claims about his populist "movement" to roil Europe were overblown or false.
Why it matters: Over the past year, Bannon has received an extraordinary amount of international and U.S. media coverage for his European exploits. Bannon joined a group called "The Movement" — which the New York Times reported last year had enlisted Italy's most powerful politician Matteo Salvini.
Bannon also told the Times he would offer European populist parties the "fundamental building blocks for winning" in May's parliamentary elections, including, the Times reported, "expertise in polling, data analytics, messaging and get-out-the-vote efforts, along with the development of media surrogates and campaign war rooms with rapid response."
In his most dramatic move, Bannon leased a medieval monastery about two hours from Rome and announced he would use it to train up fearsome hordes of right-wing politicians who will eradicate globalism from Europe.
Between the lines: Our reporting showed that only one of these claims turned out to be true — the existence of the monastery. (Though the Italian government now says it will evict Bannon from the monastery.)
Bannon's relationship with Salvini is not what he sold it to be. "Axios on HBO" asked Salvini for an interview and he declined, so we drove six hours out of Rome to see if we could grab him at one of his rallies.
After the rally, I stood in the rope line with people who were waiting to take a photo with Salvini. I asked Salvini, on camera, whether he'd spent much time with Bannon and whether Bannon had been helpful. Salvini replied that he'd only spoken to Bannon twice in his life and that while Bannon had "interesting ideas" he had not used him as an adviser.
When I asked Bannon about this, he said he'd spoken to Salvini "maybe three or four times." He also admitted that because of European election laws he hadn't done anything like what he promised he would do for these European parties. (The Guardian first reported the legal problems with Bannon's European plans.)
Here are a couple of clips from the Bannon segment, but please watch the whole thing on HBO:
Go deeper