India's Modi poised for 5 more years in office after landslide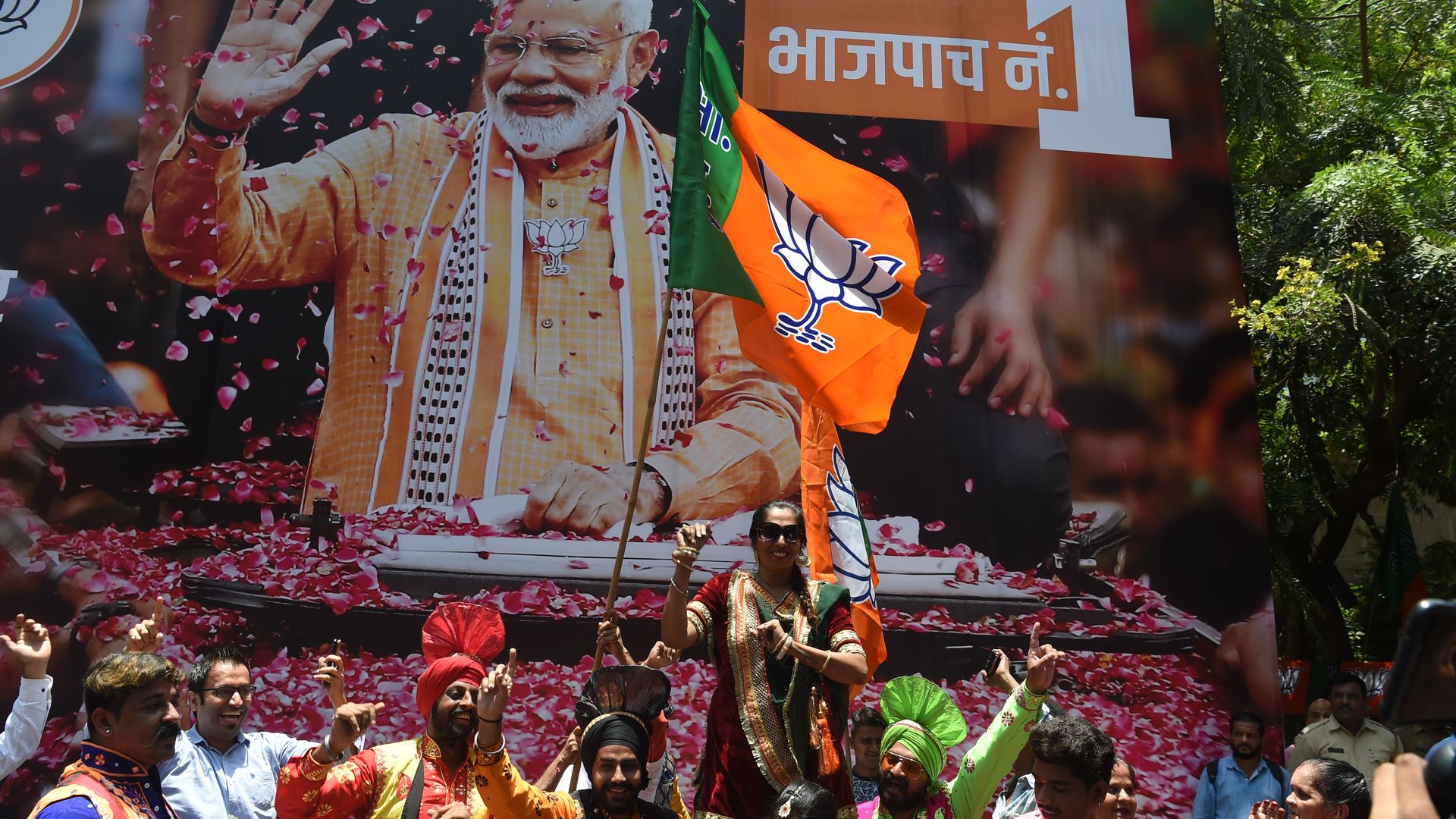 Indian Prime Minister Narendra Modi and his Hindu nationalist BJP are surpassing even the most optimistic predictions as election results pour in from across the country today.
Why it matters: Modi was able to make this election into a referendum on himself. He'll return to office for another five-year term with a massive mandate.
Catch up quick:
The massive election — with 900 million eligible voters and 1 million polling places — unfolded over five weeks.
With votes at last being tallied today, the BJP leads or has won in 293 of 543 total seats. That's five times as many as Congress, the primary opposition party.
Congress, the party of Mahatma Gandhi and Jawaharlal Nehru, led India for all but 12 years between 1947 and 2014. Modi has now established the BJP as India's dominant party by an enormous margin.
Flashback: Modi campaigned in 2014 as the man to invigorate India's economy. The results there have been mixed: growth is solid, but unemployment has ticked upwards and rural India has struggled on Modi's watch.
This time around, he whipped up nationalist fervor after a nuclear standoff with Pakistan in February.
Modi did make good on another campaign promise — to expand India's presence on the world stage.
Not since Nehru's era "has India been so engaged in such a wide range of global issues" driven by "the sheer personality of the prime minister himself," argues the Carnegie Endowment's Ashley Tellis.
But Tellis contends that India won't "realize its great power ambitions" unless Modi carries out economic reforms at home, strengthens institutions and protects "the nation's internal cohesion."
"At a time when India's external environment has grown more precarious because of the weakening liberal international order, China's continuing ascendancy ... and the prevailing capriciousness in Washington, continued stumbles in New Delhi will end up being cumulatively costly and will subvert India's larger ambitions," he writes.
What to watch: Modi's campaign was "heavy on ethno-religious dog whistles," leading to fears "a victorious, emboldened Modi would seek far-reaching changes to India's constitutional order," James Crabtree writes in Foreign Policy.
However, Crabtree argues that Modi's record thus far has been "of piecemeal rather than radical change."
"[T]he risk India faces is more of the same: a gradual continuation of the erosion of liberties and institutions and occasional religious thuggery."
Go deeper:
Go deeper