Green New Deal activists dismiss nuclear power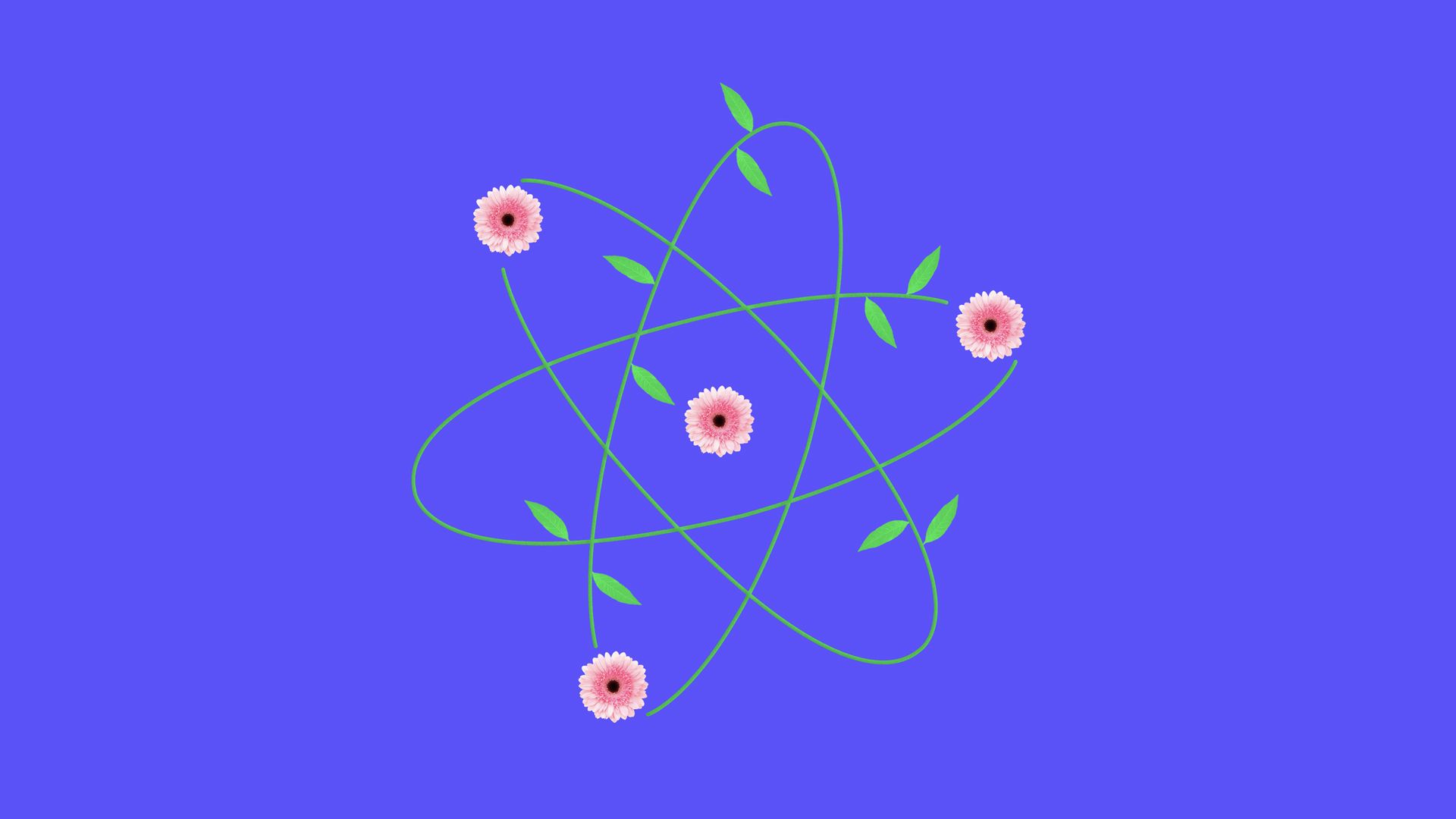 Backers of the Green New Deal say climate change is the world's most urgent threat, but supporters of that cause are not embracing the largest source of carbon-free power in America: nuclear energy.
Why it matters: Several nuclear power plants have or are set to shut down prematurely due to economic challenges. These plants are largely being replaced by natural gas or coal, increasing emissions at a time when climate activists say the world's energy mix needs to be going in the opposite direction.
Where it stands: The Sunrise Movement, a youth-led activist group, says the Green New Deal calls for America to reach net zero greenhouse gas emissions within 11 years — a feat many technical experts say is highly implausible in the best-case scenario, let alone one in which existing carbon-free sources shut down early.
"We have proven solutions to 100% renewable energy like wind and solar — we want to be prioritizing development of them. That said, we don't want to shut down nuclear power plants and replace them with coal-fired power plants."
— Stephen O'Hanlon, founder and spokesman for The Sunrise Movement, at a Green New Deal rally this week in Washington.
Reality check: Carbon emissions went up in Vermont when a nuclear plant shut down there in 2014, and coal and gas plants are likely to replace a Pennsylvania nuclear plant that announced its closure last week. Nuclear power provides 20% of America's electricity, more than half of the carbon-free kind.
By the numbers: Losing all of America's economically struggling nuclear plants — roughly half of the existing ones today — would remove so much carbon-free power from the electricity grid that it would take the next 11 years of renewables growth to make up for it. That's according to an analysis done for Axios by the think tank Third Way.
The backdrop: The resistance among climate activists to nuclear power, particularly maintaining existing plants, is at odds with some of the more established environmental groups, who have increasingly backed these plants in the name of climate change.
The Green New Deal resolution in Congress is silent on specific energy types, and Rep. Alexandria Ocasio-Cortez (D-N.Y.), the influential backer of the proposal, says it could "leave the door open" to nuclear. But the Sunrise Movement's O'Hanlon and other activists have been clearer that they don't support it.
The intrigue: I asked O'Hanlon if his group, which has been influential in shaping and advocating for the Green New Deal, would ever consider holding a rally to keep open a safely operating, but economically struggling nuclear plant. He said they would need to consider that on a "case by case" basis, but didn't elaborate.
When asked in a follow-up email, O'Hanlon declined to say what his main reasons are for opposing nuclear. Fear of an accident and how to handle nuclear waste are common factors among the public.
What they're saying: At the rally, I asked people in line whether they think nuclear power should be part of the Green New Deal. The responses were mixed and more nuanced than one might initially expect.
Highlights:
"That is a really complicated question. I personally don't think we really need nuclear power, so I think we should stay away from it, but I don't have ethical problems with it," says Caroline, who like many of the interviewees preferred first names only.
"I have mixed feelings about it. It certainly needs to be part of the discussion because it is carbon-free but there are a lot of negative consequences," says Zack, who was there with his 11-year-old daughter Molly for her first political rally.
"I think there are already nuclear power plants in existence and there is no reason to immediately shut them down as we transition," says Jewel.
"It's possible, if it can be done safely and there are some checks on it. I don't know too much about it, but I do think it should be on the table," says Sunil.
"I think it has problems, largely due to the storage issues, and number 2, based on my understanding of the advances of the technology, it's not necessary to get to renewable energy. We can do renewables without nuclear," says Rick.
Go deeper: As climate change worsens, America faces nuclear power closures
Go deeper