Warning: Signs of credit crisis grow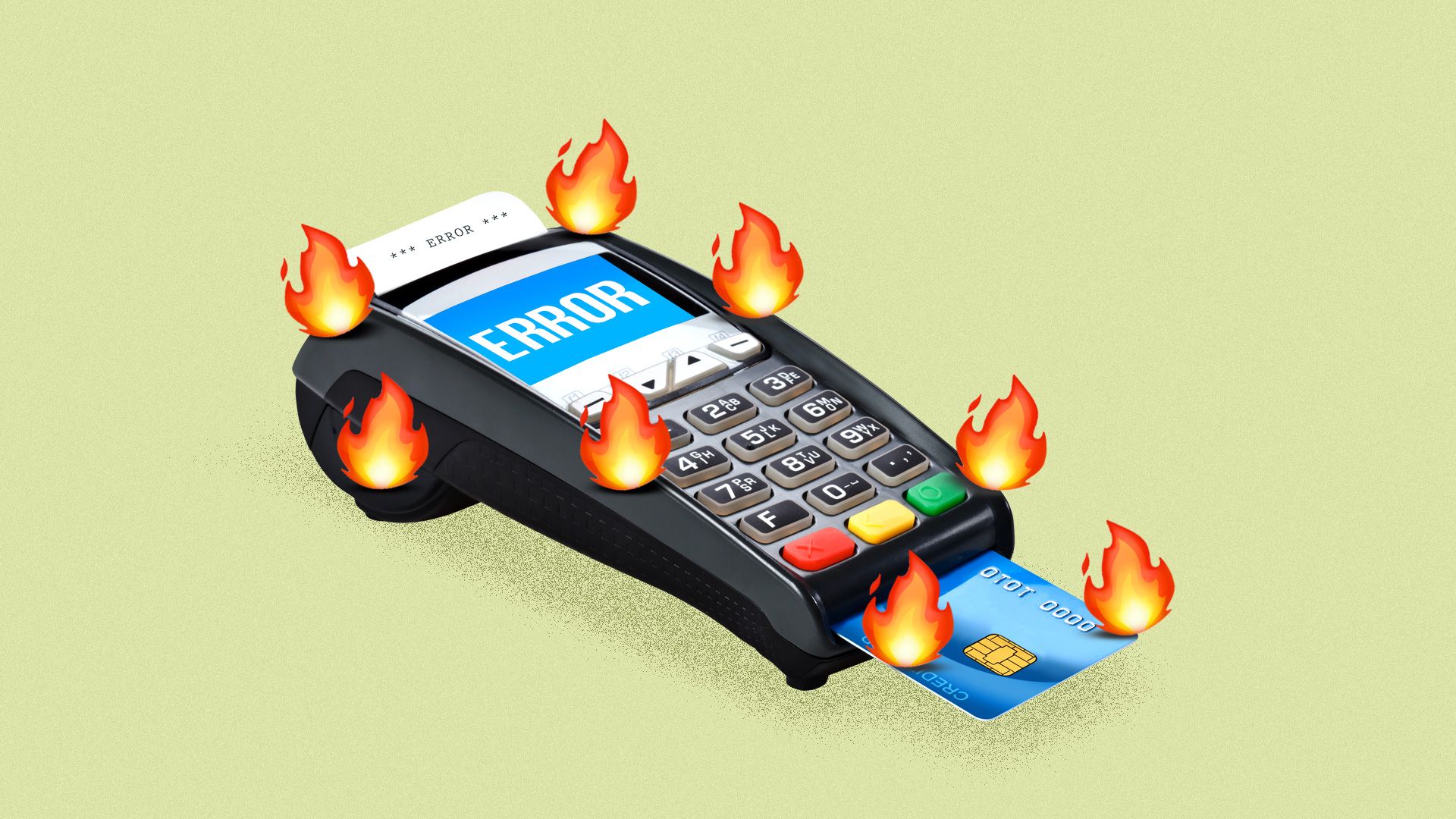 A recent survey of bank officers shows U.S. institutions are tightening their lending standards and raising rates on commercial loans and credit cards.
Details: Bankers say they have increasing concern about future economic growth, despite continued U.S. labor market strength and solid economic fundamentals. The data banks are seeing runs contrary to the overall narrative of a strong U.S. economy.
Driving the news: Credit card delinquency rates in Q1 hit the highest level since 2012, driven in part by a spike in overdue payments by people ages 18–29, according to a report out this week from the New York Federal Reserve.
What's happening: In addition to the inability to make credit card payments, the rise in younger borrowers' delinquency rates — by far the highest among all age groups — reflects the cohort jumping into the credit card market at a faster rate, as well as the eagerness of banks to latch on to younger consumers. Still, the delinquency rate remains well below that seen during the financial crisis.
More young people are opening credit cards now than they did in the the past decade — about 52% in 2018 versus 46% in 2008, per the New York Fed — pushing up the likelihood of more delinquencies.
Credit card accounts among young borrowers fell in 2009 following the passage of the Card Act, which added new rules for consumers under 21 looking to borrow and limited how much banks could advertise to young people.
"There has been some recovery in credit card prevalence in recent years, consistent with increased issuance in card accounts," according to the Fed.
Why it matters: After the financial crisis, young people had been largely debt-averse — particularly with credit cards — as a result of the the Great Recession. But that trend looks to be reversing.
"Banks were a little concerned going forward and [expect to] tighten standards," David Norris, head of U.S. credit at TwentyFour Asset Management, tells Axios.
"I think from the viewpoint of the marketplace, if that's going to continue ... it works its way into consumer spending habits, consumer attitudes, and that can affect the demand side of the economy."
That move comes as U.S. debt is $1 trillion higher than its previous record...
The N.Y. Fed's latest report shows that total household debt increased by $124 billion in Q1. It was the 19th consecutive quarter with an increase, and household debt is now $993 billion higher than the previous peak of $12.68 trillion in the third quarter of 2008.
Between the lines: Delinquency rates are trending up again, and not just for younger consumers.
The report found that seriously delinquent credit card balances have also risen for consumers aged 50–69.
For borrowers aged 50–59 and 60–69, the 90-day delinquency rate increased by nearly 100 basis points each.
"People are probably extending themselves too much," said TwentyFour's David Norris, also noting that the headline numbers for Q1 U.S. GDP were a bit misleading.
"Banks are seeing this currently and they're beginning to get concerned about credit quality and the quality of borrowers and they're trying to tighten standards. This is a signal that we need to watch out for."
A deeper look at the credit card delinquencies that are steadily rising...
Go deeper: AOC, Bernie Sanders to introduce bill capping credit card interest at 15%
Go deeper