Scoop: Top aide to Labor secretary to depart after clash with White House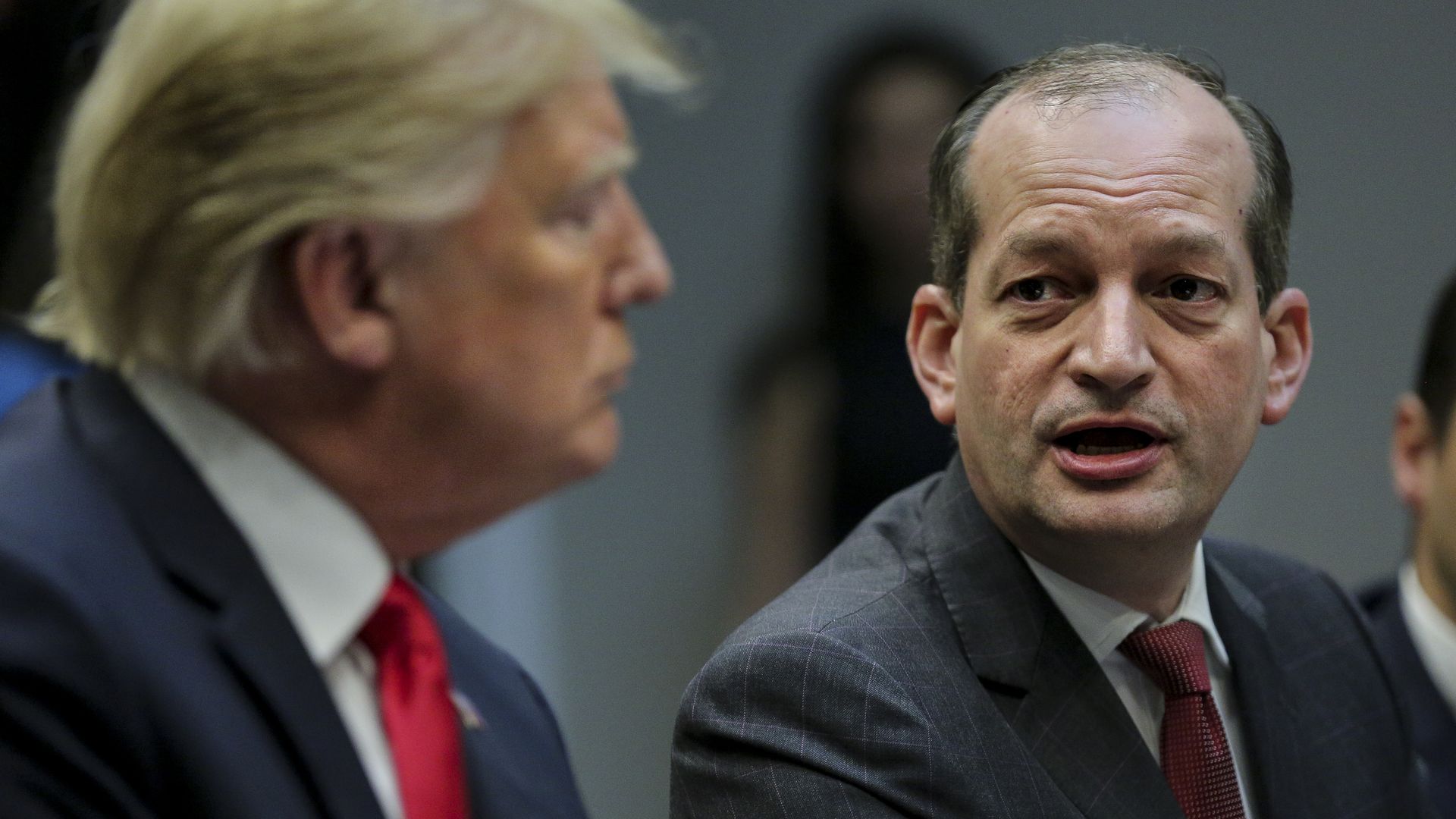 Nick Geale, the top aide to Labor Secretary Alexander Acosta, is leaving the Trump administration after a clash with White House officials who regarded him as personally difficult and an impediment to President Trump's deregulatory agenda, according to sources with direct knowledge.
Behind the scenes: Senior White House officials — especially within the Domestic Policy Council — have made it clear to Acosta that they're frustrated that, in their view, the Labor Department hasn't been moving quickly or aggressively enough on deregulation. And some have pointed to Geale as the problem. The White House also separately lodged a complaint about Geale.
A source who is close to the president and has direct knowledge of the situation told me: "The pace of change has not been sufficient. [Acosta] tends to be fairly fearful of taking hardline positions. He tends to be solicitous of the unions, often making the argument that that's what the president wants."
"The only question in my mind is, is it Nick Geale that's the problem? Or is he just doing his boss' bidding? It's not clear to me that Nick is the only problem. You take your cues from the top."
Geale has told Acosta that he will be leaving shortly. A source with direct knowledge told me Geale's departure date is May 31.
Geale told me: "We in the administration all want to do what is best for the country. There are lots of passionate people in the administration, and I certainly am one of them. I believe I've done a great job in implementing the president's vision, and I wish everyone good luck in continuing their important work."
A Labor Department spokesperson defended the department against White House accusations that it had been slow on deregulation.
"The U.S. Department of Labor had $3.28 billion in deregulatory savings in FY 2018 — the second most in the administration," the spokesperson said. "Even more actions like the current rules-making on overtime, joint employer and regular rate are in process."
"Nick Geale plays an important role in these efforts. The Department of Labor will continue to work aligned with presidential priorities."
Context: The White House's frustrations with Acosta's Labor Department are not new. Bloomberg Law describes the clashes and philosophical disagreements between the White House and the Labor Department exhaustively in this article. They boil down to a view among conservative White House officials that Acosta hasn't cracked down hard enough against unions and has been too cautious to implement deregulatory policies that might spark an uproar on Capitol Hill.
But, but: Two sources familiar with the situation told me that while White House officials had been frustrated for months with what they perceived as Acosta's unwillingness to aggressively deregulate, they think Acosta has shown signs of improvement over the past six months.
Go deeper