Chamber of Commerce courts Trump, comparing him to Reagan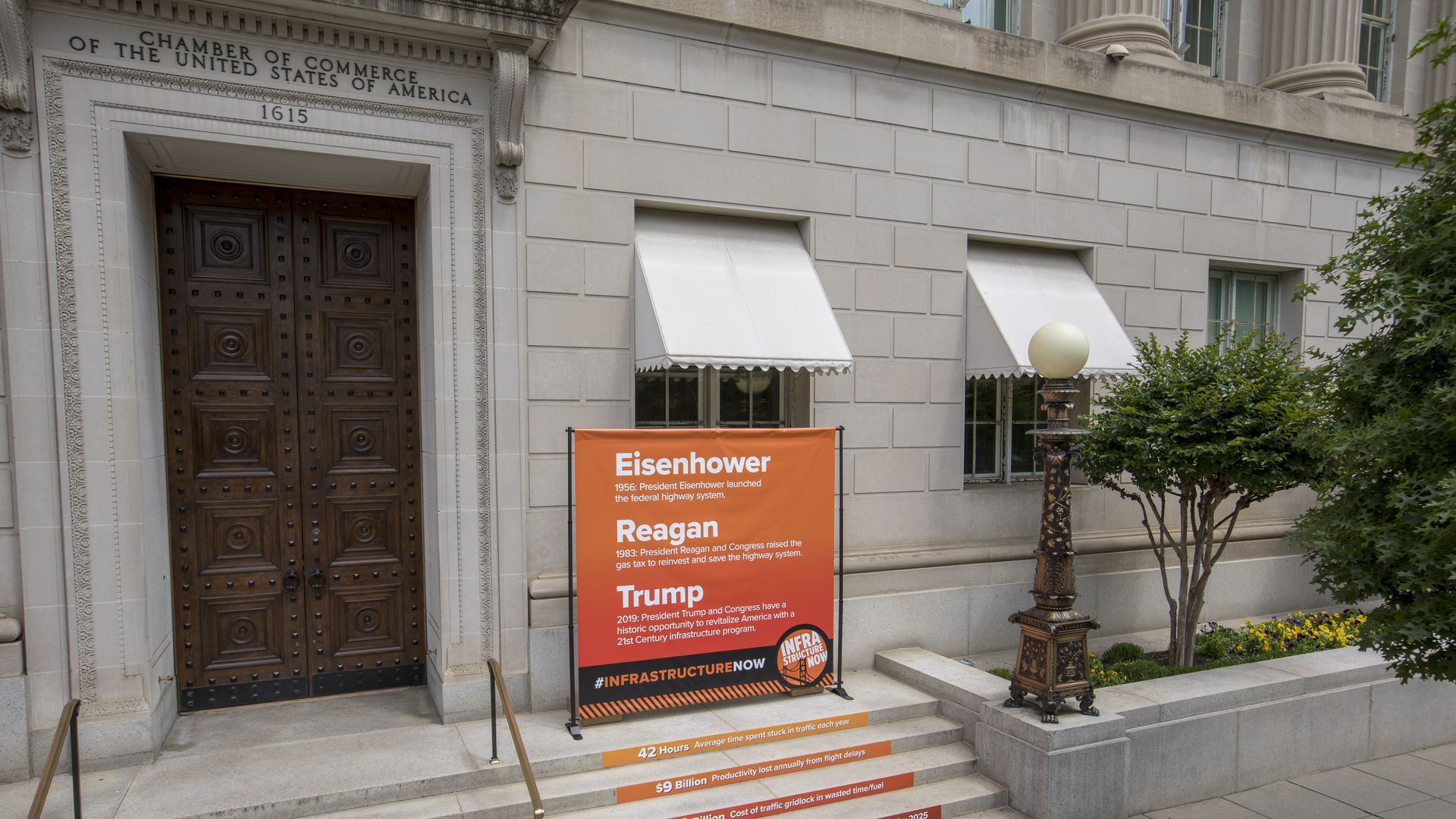 Sign of the times: The top advocate for corporate America, the U.S. Chamber of Commerce, has installed a sign on the front steps of its headquarters in Washington, D.C., comparing Donald Trump to Ronald Reagan and Dwight Eisenhower. Their building is right near the White House.
Why it matters: Comparing Trump to Reagan and Eisenhower is quite a leap for a group that got on the wrong side of the president by excoriating his 2016 campaign and clashing with him on everything from tariffs to immigration policy. (A previous sign on the Chamber's steps advocated for DACA recipients.)
The new message highlights the Chamber's determination to help Trump pass a massive infrastructure bill.
The sign places Trump in the grand sweep of history. It says that in 1956, Eisenhower launched the federal highway system; in 1983, Reagan "raised the gas tax to reinvest and save the highway system"; and in 2019, "President Trump and Congress have a historic opportunity to revitalize America with a 21st Century infrastructure program."
Driving the news: This is part of a campaign called "Infrastructure Now," in which the Chamber is convening a coalition of business groups to pressure politicians on infrastructure.
"Post the Trump-Pelosi and assorted other Democrats meeting on infrastructure ... we're making a big push — now's the time to get an agreement on an infrastructure package and financing," Neil Bradley, executive vice president at the U.S. Chamber of Commerce, told me. "This has the potential to be historic."
Between the lines: The Chamber's sign will likely appeal to Trump's ego. As I recently reported, in an early 2017 infrastructure meeting at the White House with his friend New York real estate billionaire Richard LeFrak, Trump laid out his grand Trumpian vision:
"They say Eisenhower was the greatest infrastructure president. They named the highway system after him," Trump said, per a source who was in the room. "But we're going to do double, triple, quadruple, what Eisenhower did."
Go deeper