How Joe Biden's campaign will approach climate change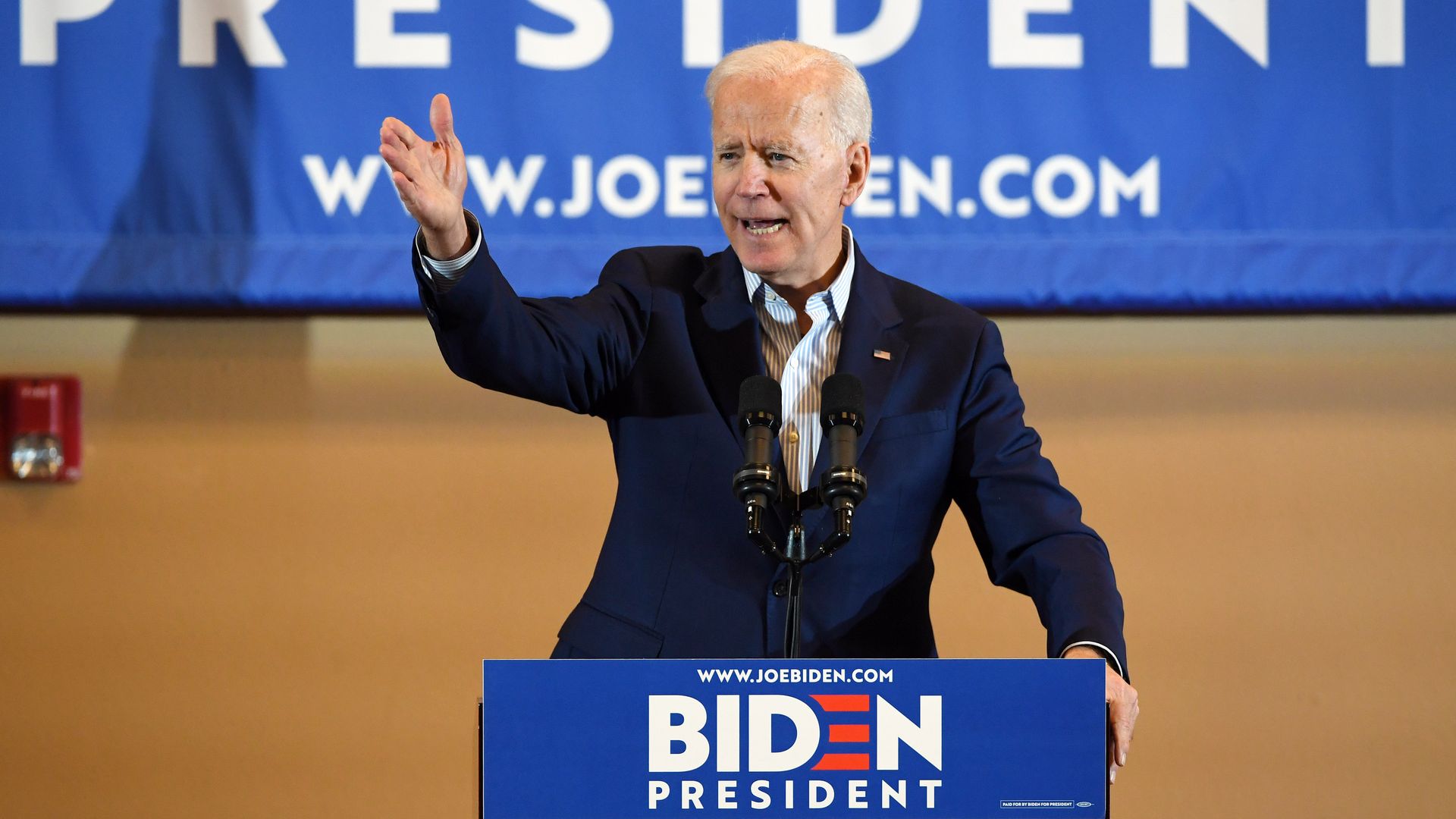 Joe Biden, the early 2020 Democratic frontrunner, is seeking a middle ground on climate policy and has brought on one of former President Obama's high-level aides as an informal adviser, Reuters reports.
Why it matters: The story sheds new light on how Biden will approach a topic that he has not yet emphasized in his nascent White House run. While Biden's campaign has not yet unveiled a policy platform, the report confirms that he is not seeking to join rivals who are running to the left on the issue.
A number of other candidates have endorsed the Green New Deal resolution — which has drawn criticism from some labor unions — or floated other quite aggressive plans.
The big picture: The "backbone" of Biden's policy will involve remaining in the Paris climate deal, and preserving emissions and vehicle mileage rules that President Trump's agencies are unwinding.
The story sources that broad outline to Heather Zichal, a former top aide to Obama who Reuters reports is now Biden's informal climate adviser.
"[T]he policy will likely also be supportive of nuclear energy and fossil fuel options like natural gas and carbon capture technology, which limit emissions from coal plants and other industrial facilities," says the report, citing an unnamed former Energy Department official also advising Biden.
What they're saying: Zichal told Reuters that Biden will seek to build a "new climate coalition" and that "unions and environmentalists are searching for common ground."
While Biden appears to be seeking continuity with Obama-era climate policies, he's likely to face pushback from activists on the left flank of the environmental movement who are pushing the Green New Deal or have proposed other sweeping plans.
Varshini Prakash of the Sunrise Movement released a statement saying Biden's policy would be "a death sentence" for younger generations.
The intrigue: Biden's informal energy adviser, Heather Zichal, responded to the Reuters story on Twitter, calling it "wrong." Her response illustrates the Democrat's internal debate over how aggressively to pursue climate policy.
What's next: Via Twitter, Biden said he views climate change as an "existential threat," and that he will unveil more details "in the coming weeks."
Go deeper: What Biden and Beto just told us about the 2020 climate fight
Go deeper