The college perspective on climate change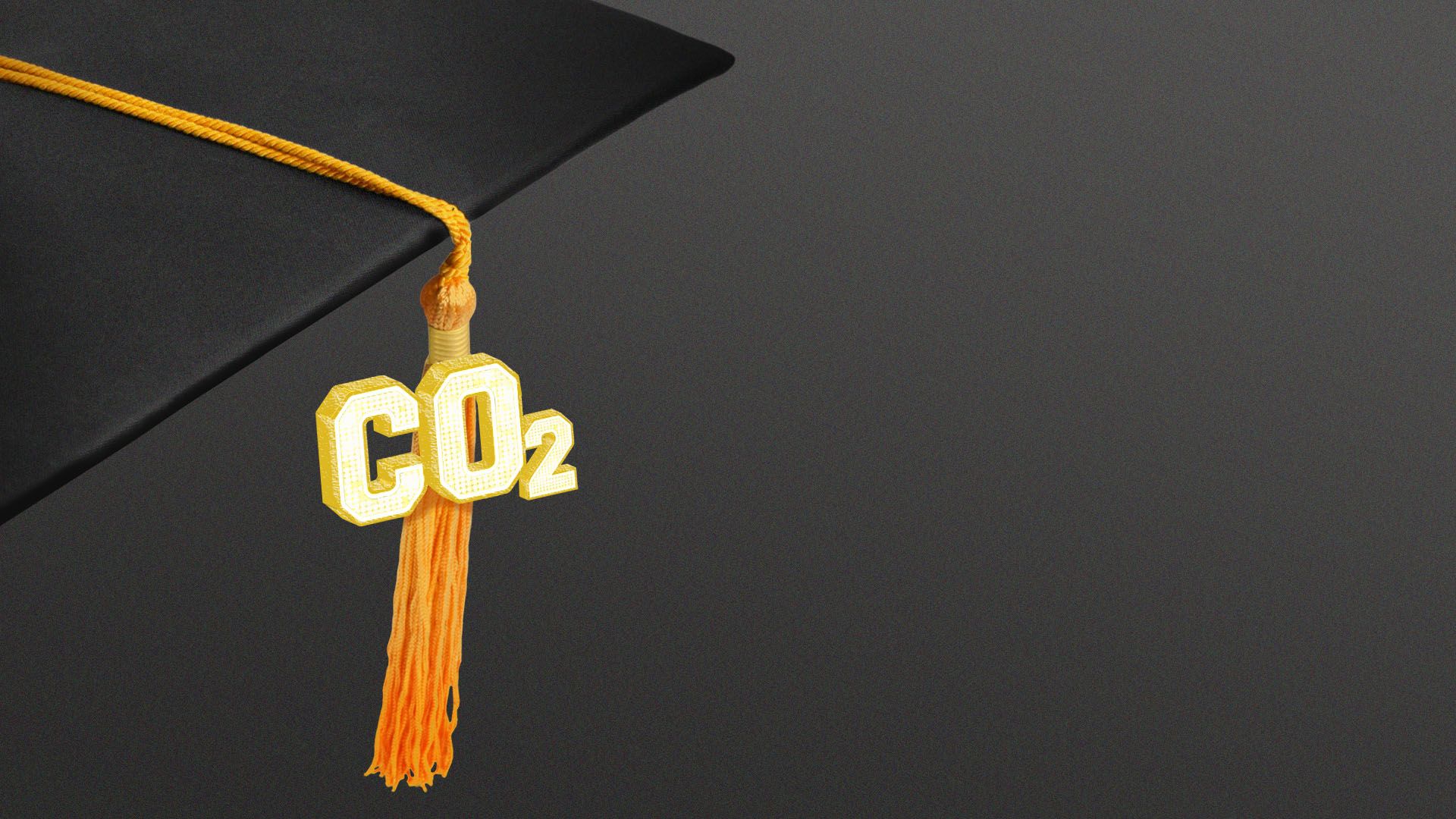 America's youngest voters are more worried about climate change, more supportive of big government and more likely to identify as Democrats than older generations.
Why it matters: By Election Day 2020, millennials and those in the younger generation known as Gen Z will represent more than a third of eligible voters, according to a recent survey by Harvard University.
The poll found that more than 50% of likely voters between 18 and 29 say the government should do more to curb climate change, even at the expense of economic growth.
The intrigue: I found out more during recent visits to two college campuses. I held informal roundtables with about eight students at Western Washington University, a public university in Bellingham, Washington (my alma mater). A few days later, I sat down with a similarly sized group at the University of Chicago (where I'm a journalism fellow).
The two groups included students studying energy and climate change and also those that aren't.
Of course this can't be a comprehensive representation of America's college students. Both schools likely lean more left politically than other parts of the country, for example. But these exchanges offer a window into America's emerging generations.
The big picture: My conversations revealed persistent concern about the issue and an attempt to reconcile that with lifestyles dependent on oil, natural gas and coal — the sources of emissions that are fueling the rise in global temperatures. The students were also pragmatic — far more so than our national politics — about how to go about addressing the problem.
"My mom says our generation worries too much and is too intense and we just need to relax and have fun. We can't do that — on climate issues."
— Lexi Bright, 21-year-old Western student getting a degree in energy policy.
How to live
Our conversations returned time and again to lifestyles.
Nearly all of the students at Western drive cars, most of them gasoline-powered.
Most of the Chicago students don't have cars, largely because of ride-sharing companies like Uber and Lyft, the room agreed.
Most students eat beef, considered the most impactful food on climate change.
"We all know this information and still take part in these activities," said Kellen Lynch, a 29-year-old who plans to work on energy issues on Washington state's Olympic Peninsula, where he grew up, after graduating from Western. "Telling people not to eat or not to drive is not that effective. How do we reframe that conversation."
Kristen Lam, a 19-year-old University of Chicago student studying economics, says people are unlikely to change how they're living without being forced to by policies.
Students talk about these issues during class, but then when that's over, Lam says no one changes their behavior, including herself: "That link is missing."
Who to blame
Everyone including ourselves, but at the end of the day, corporations more than others, both groups of students generally agreed.
"Our system of our extractive economy is the enemy," said Erin Ruark, a 22-year-old student at Western who's planning to work on local pollution issues after graduation. "I wouldn't like to think of petroleum companies or the people that work for them as enemies. I would like to think of them as potential partners."
Lynch responded by saying ExxonMobil knew for decades about how its products fuel rising temperatures. "We are addicted, and they are allowing us to stay addicted and they're benefiting greatly off it," Lynch said.
An Exxon spokesman reiterated its support for action on climate change and rejected the notion the company definitively knew the science and hid conclusions.
What to do
Students from both schools generally agreed that major systematic changes are needed because individual action is not enough for such a global problem.
"Changing how one company like Wal-Mart sources things — that realistically creates bigger positive environmental impact than me running around trying to convince people to become vegetarian," said Kimika Padilla, a 20-year-old undergraduate at Chicago who stopped eating meat in high school because of its environmental footprint.
Ideas ranged from a carbon tax to clean-energy mandates to better education. Students didn't mention the Green New Deal.
"I don't think the idea of a carbon tax intuitively makes sense to the average person walking down the street," said Padilla, who plans to work with business on climate change and broader sustainability. "As a political feasibility issue, it needs to be distilled down further."
What we're watching: A network of college groups supporting a carbon pricing proposal in Washington D.C., has more than tripled, despite little traction on Capitol Hill.
Students for Carbon Dividends, which was founded early last year with 33 members, now has more than 100, according to its 23-year-old founder Alex Posner. He will graduate from Yale University at month's end.
Go deeper