Pompeo says reductions in Arctic ice offer "new opportunities for trade"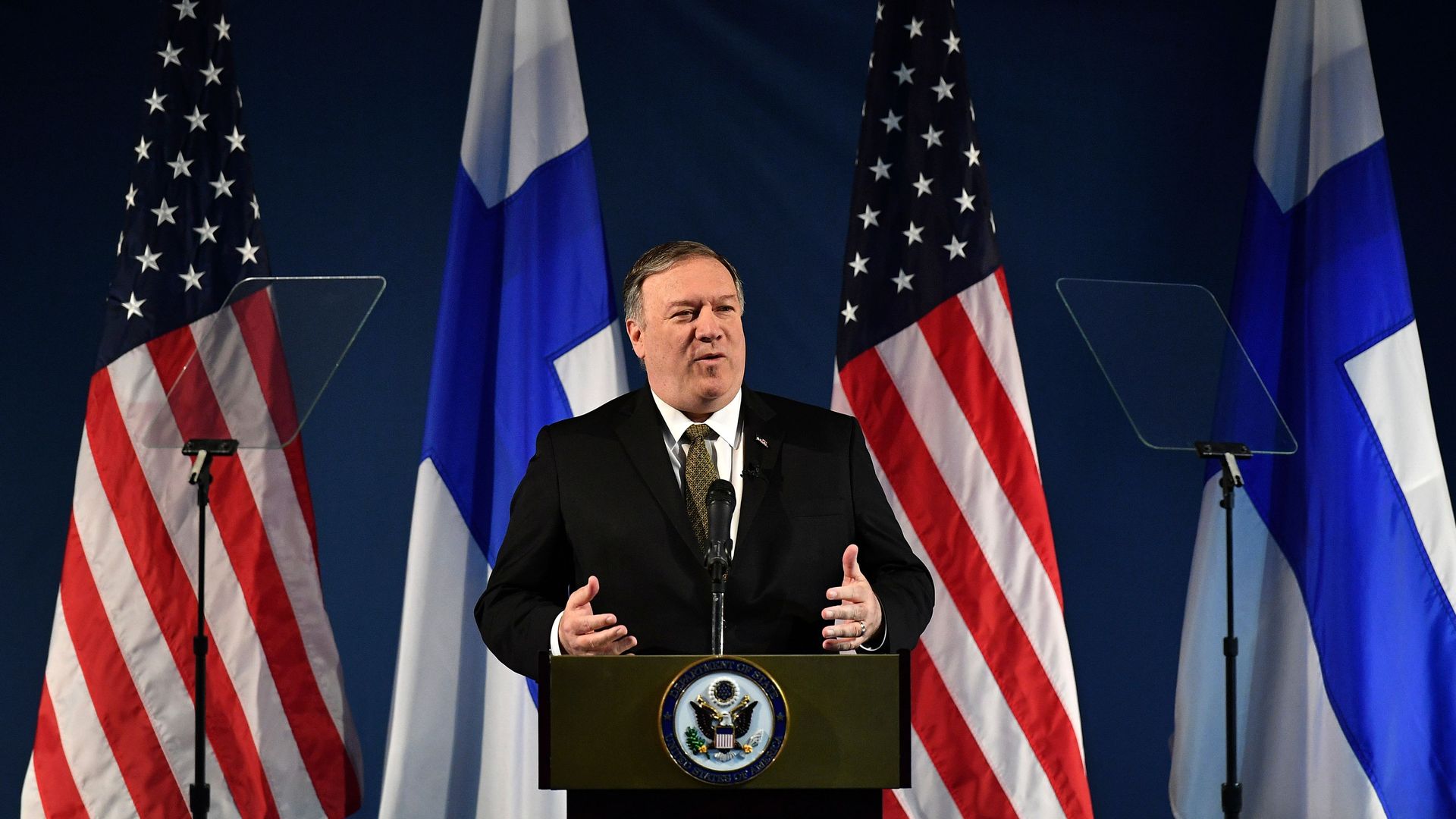 Secretary of State Mike Pompeo told diplomats at a meeting of the Arctic Council in Finland on Monday that the rapidly warming Arctic region presents a land of "opportunity and abundance," citing untapped resources like oil, gas, uranium and gold and rare earth minerals.
"And its centerpiece, the Arctic Ocean, is rapidly taking on new strategic significance. Offshore resources, which are helping the respective coastal states, are the subject of renewed competition. Steady reductions in sea ice are opening new passage ways and new opportunities for trade."
Why it matters: As Axios Science editor Andrew Freedman explains, the Arctic is warming at more than twice the rate of the rest of the globe, setting in motion the transformation of a once-frozen region. Melting sea ice is quickly making the Far North more accessible, and marine traffic from container ships and cruise vessels is becoming more common, particularly in Russian and Canadian waters. As one of 8 Arctic nations, the U.S. plays a key role in setting policy for the region.
Details: In his speech, Pompeo also pointedly warned about China and Russia's growing "aggressive behavior" in the Arctic.
"Do we want the Arctic Ocean to transform into a new South China Sea, fraught with militarization and competing territorial claims?" he asked.
Pompeo later added: "We know Russian territorial ambitions can turn violent," pointing to the conflict in Ukraine. "Just because the Arctic is a place of wilderness does not mean it should become a place of lawlessness."
As for the U.S., Pompeo said the Trump administration is boosting security and diplomatic presence with new military exercises, icebreakers and expanding Coast Guard operations.
Yes, but: Pompeo's remark shocked many diplomats and observers, who said the council was intended to address climate change, not security issues.
"Everything has been focused on constructive cooperation where you don't bring outside problems in. All of a sudden, the speech today shifted everyone's attention to, 'Are we looking at next conflict in Arctic?' when the real issue here is still climate change. No speech will change that."
— Malgorzata Smieszek, a political scientist and a fellow at the International Arctic Science Committee, told the
New York Times
.
"The Arctic is changing fast. Global warming will change the environmental and economic landscapes of the region. New sea routes and easier access to natural resources will become a reality."
— Finnish Foreign Minister Timo Soini, per
the AP.
According to the AP, Pompeo's 2,400-word speech did not once mention the words "climate change."
Go deeper:
Go deeper