Jay Inslee unveils his energy plan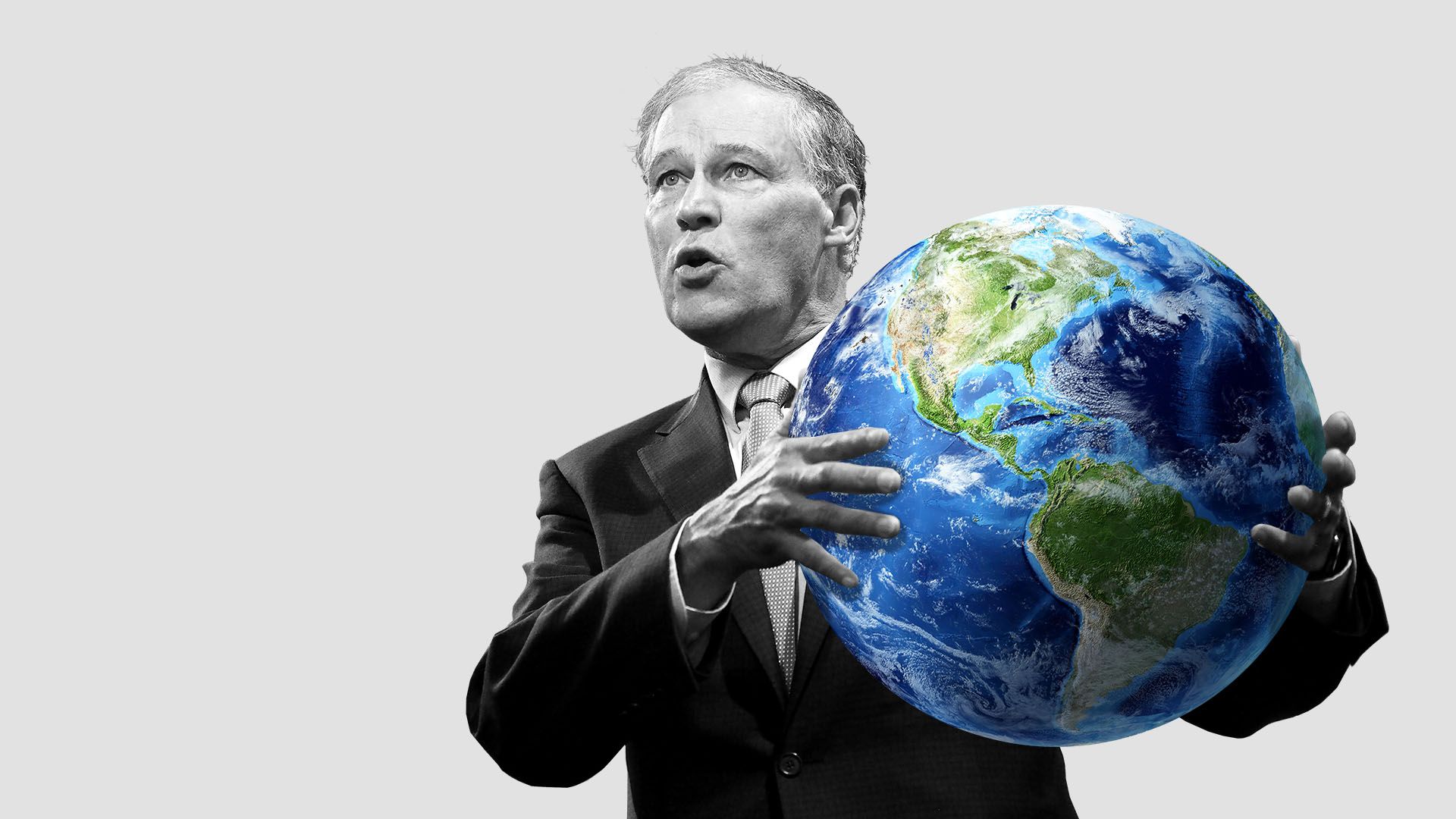 Democratic White House hopeful Jay Inslee unveiled a plan this morning that requires all U.S. electricity to be "carbon-neutral" by 2030 and mandates all new car and light truck sales to be zero-emissions vehicles by the same date.
Why it matters: It's the first detailed policy plank from Inslee, the Washington governor running on the untested theory that a campaign devoted to fighting global warming can gain traction in national politics.
Details: The plan also calls for all new residential and commercial buildings to be zero-carbon by 2030. Power, transportation and buildings together account for roughly 70% of U.S. emissions, it notes.
But, but, but: Big portions of the proposal would require legislation, including new mandates, investments and tax credits, clouding its prospects.
Inslee has been outspoken in calling on Democrats to kill filibuster rules if they regain the Senate.
But it also notes that much can be carried out with executive power. (Think stuff like tougher Clean Air Act rules and stronger appliance efficiency rules.)
The big picture: Inslee's overall goal is for the U.S. to have net-zero greenhouse gas emissions "as fast as possible" but no later than 2045, while cutting emissions in half by 2030.
Friday's proposal will be followed by subsequent plans for sectors including agriculture and industry, as well as details on investment policies, an aide said.
Other planks will address working with communities of color, providing a "just transition" for workers, ending fossil fuel tax incentives, and more.
The intrigue: Inslee's campaign has not taken carbon pricing off the table, but it's not part of today's rollout.
Between the lines: The former congressman has been working on energy and climate for decades.
But the proposal also has language that echoes the Green New Deal in calling for a "10 year mobilization" even as it touts Inslee's work as governor.
My thought bubble: Yes, yes, it's early days, but I'll be watching to see if Inslee, who is far down in the polls, can seize on voters' interest in climate change that's been apparent in some recent surveys.
A CNN poll Tuesday showed that 96% of Democrats and Democratic-leaning independents say it's very or somewhat important for a presidential candidate to promise aggressive action on climate change.
The poll's sample was small so the margin of error was large, but that said it clearly showed climate among the topics that Democrats care most about, noted Axios' David Nather's story on the poll.
A deeper look at some aspects of Inslee's plan...
For power, it calls for a national "Clean Electricity Standard" that would require utilities to provide all "carbon neutral" power by 2030 and completely "clean, renewable and zero-emissions" generation by 2035.
It effectively seeks to nationalize a version of laws emerging in several states including Washington State.
The plan steers clear of mandating technology-specific generation sources, which leaves room for nuclear and carbon-capture alongside renewables.
It includes refundable tax credits for not only renewables but also storage, smart grid, transmission and other tech.
For transportation, the plan requires that all new light- and medium-duty vehicles and buses will be zero-emissions by 2030.
Why it matters: Transportation is now the largest source of U.S. carbon emissions.
It calls for expanded tax credits and a "clean cars for clunkers" program that would provide rebates to help defray the cost for consumers' replacing guzzlers with zero-emissions cars.
Other portions include tougher federal emissions regulations, and working with states, local governments, tribes and utilities on a "massive investment" in charging infrastructure.
For buildings, it calls for a Zero-Carbon Building Standard by 2023 and working with cities and states to fold it into their codes. Other provisions include:
Using the tax code to incentivize efficiency and electrification in new homes and commercial buildings.
"Dramatically" boosting access to federal financing for retrofits and new construction for schools and public buildings.
Go deeper: Climate change is a massive issue for Democrats in 2020
Go deeper