Venezuelan opposition left exposed after plot unravels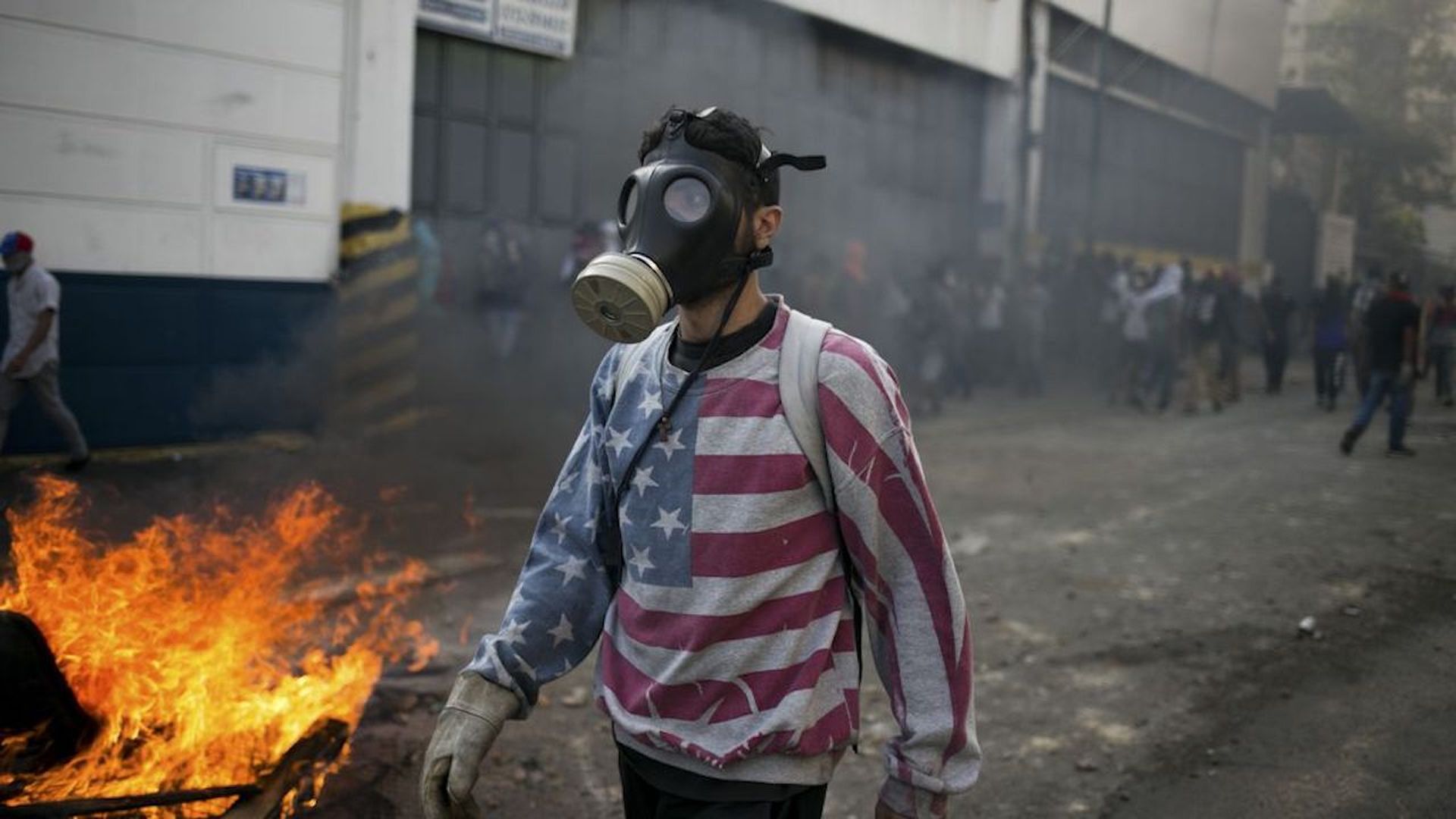 The collapse of a U.S.-backed plot to bring down Nicolás Maduro leaves the Venezuelan opposition vulnerable, and the Trump administration with few options short of military force.
Why it matters: "What we saw happen in the last few days is a card you only get to play once," says Fernando Cutz, who served as South America director on the White House National Security Council earlier in the Trump administration.
"We're getting very close to a put up or shut up moment. Either you go all-in on Venezuela or you pretend it never happened."
— Cutz on the Trump administration's predicament
Catch up quick: After weeks of effort, the Venezuelan opposition thought it had convinced members of Maduro's inner circle to turn on him.
The plan was to go into effect on Wednesday, but Maduro reportedly caught wind of it and there were fears Juan Guaidó, whom the U.S. recognizes as Venezuela's legitimate president, would be arrested.
Guaidó made his move at dawn on Tuesday, appearing alongside Leopoldo Lopez, an opposition icon who had been under house arrest, and declared that elements of the military were under his control.
National security adviser John Bolton has since laid out the next dominoes the U.S. expected to fall:
After a series of high-profile defections and steps challenging Maduro's legitimacy, Defense Minister Vladimir Padrino and the military were to "take action."
As the plan began to unfold, Maduro considered fleeing to Havana but "the Russians said, 'Don't leave right now. If this all crumbles, we'll get you out,'" a source briefed on the matter tells me.
In the end, nearly all of the officials and most of the military stood by Maduro. Bolton said it was "not clear" why the plan failed, but he lambasted the alleged conspirators by name for failing to follow through.
With Padrino at his side today in an early morning parade, Maduro claimed the military's total loyalty and asked: "How many deaths would there be if a civil war started here because of the senselessness of the coup-mongers and traitors?"
Guaidó, meanwhile, is trying to keep the pressure on. He told supporters at fresh protests today: "We are on the right track, there is no turning back."
"There was probably an expectation from Venezuelans on the ground that when the time came that they really needed it, the U.S. would do something," Cutz says. "I don't think the U.S. was ever ready to take that step."
Cutz says Bolton is probably seeking or examining military options "as we speak." Short of an all-out invasion, he says the options include covert steps, a naval blockade or no-fly zone — all of which carry major risks.
One red line the White House has set is Guaidó's safety. If he's arrested, that will be a real test of Washington's will.
Between the lines: The Trump administration's rhetorical offensive can't last forever without results. But officials insist the equation in Caracas could shift in Guaidó's direction without military action.
The "paranoid dynamic at the heart of the regime" combined with the cumulative effects of U.S. sanctions "could force things to come to a head," the source briefed on the matter argues.
A senior administration official adds: "Maduro is acutely aware that he cannot trust his circle of advisers, a fact clearly seen in his overwhelming use of paid colectivo thugs and foreign military and intelligence services to intimidate those who would otherwise stand for democracy and the people of Venezuela."
What to watch: Clashes between security forces and protestors have reportedly left four dead, but we haven't seen a "Tiananmen or Tahrir Square moment," Shannon O'Neil of the Council on Foreign Relations writes for Axios Expert Voices:
"Whether the standoff escalates into widespread bloodshed may be the most decisive question for the longevity of Maduro's regime and the future of Venezuela."
By the numbers: Suffering in Venezuela
Gallup's polling on safety and well-being around the world offers a glimpse at how far things have fallen since Venezuela's economic collapse began.
In 2010, 64% of Venezuelans were satisfied with the availability of quality health care. That's down to 15%.
In 2010, 46% said they had confidence in police and 31% felt safe walking alone at night. Those are down to 14% and 12%, respectively.
In 2010, 64% of Venezuelans were considered to be "thriving" (based on polling related to their well-being) while 4% were "suffering." Now 28% are suffering while just 13% are thriving.
Go deeper