Trump seeks to flex America's energy muscles abroad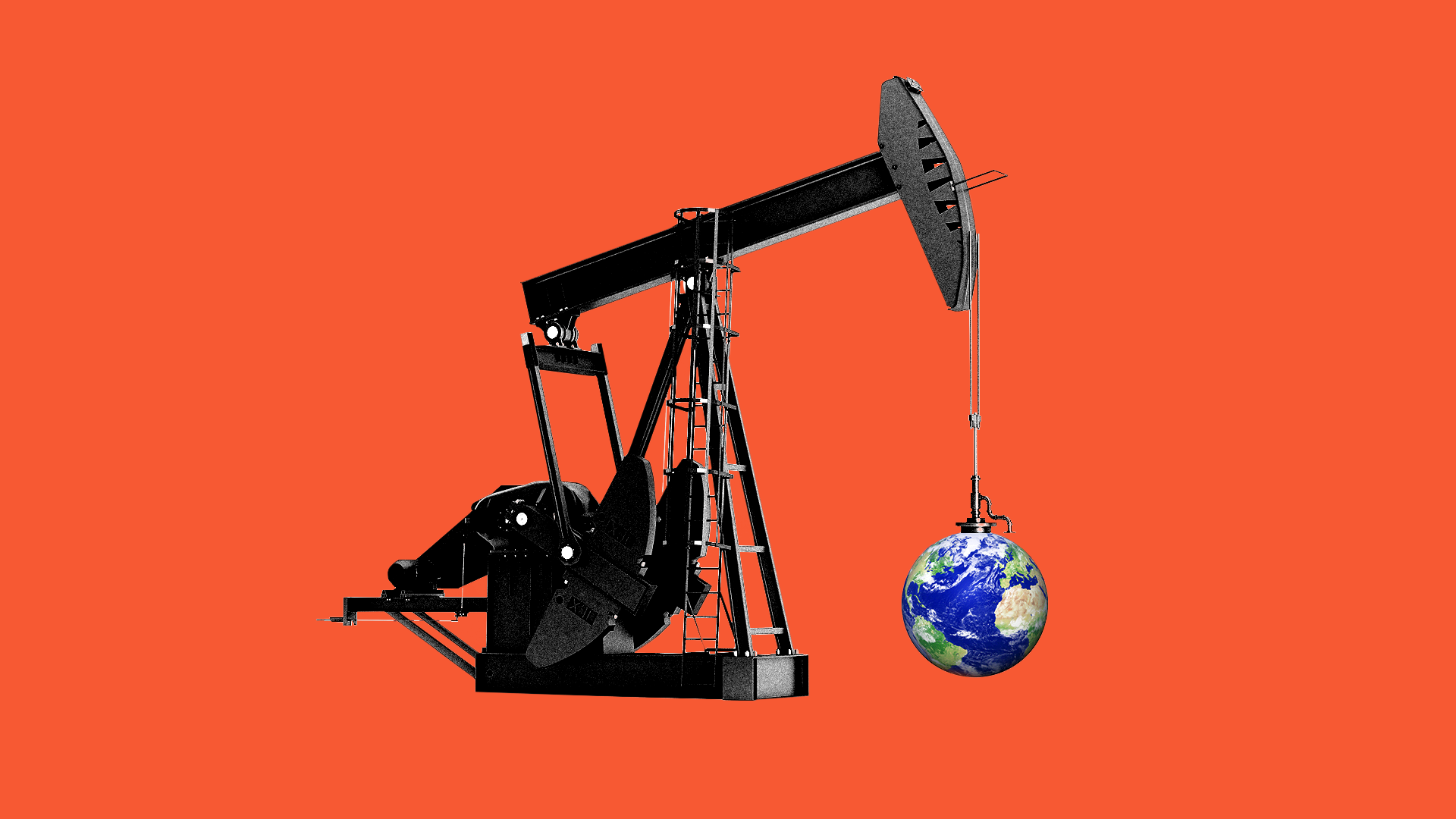 President Trump is seeking to aggressively invoke America's oil and natural gas resources to influence geopolitics.
Driving the news: White House officials are citing America's surging oil production as reason to ban all Iranian oil purchases by Thursday, per Reuters. Meanwhile, in meetings in Brussels, Energy Secretary Rick Perry and European officials are touting a record-setting amount of U.S. liquefied natural gas (LNG) entering Europe, helping to lessen that region's dependence on Russian gas.
The big picture: America's oil production has more than doubled over the last decade, going from 5 million barrels a day (b/d) in 2008 to an estimated more than 12 million b/d this year. Amid a parallel boom in natural gas, exports of that fuel in liquefied form have shot up from essentially zero since 2015. America is now the world's biggest producer of both oil and gas.
Where it stands: Perry and the European Commission are touting a 272% increase of LNG imports to Europe from the U.S. since July of last year when Trump and European Commission President Jean-Claude Juncker agreed to collaborate on the issue.
Between the lines: Trump and other top officials are connecting the dots — on Twitter, in official negotiations and speeches — between American oil and gas production and America's geopolitical influence more aggressively than Obama administration officials once did.
These latest moves follow the stark message Secretary of State Mike Pompeo delivered to an oil and gas conference earlier this year, urging the industry to help the government with its geopolitical goals.
But, but, but: Experts say America's oil and gas is having big geopolitical consequences, but that's not thanks to actions or pronouncements by Trump.
"The stunning surge in U.S. oil and gas output has significant geopolitical implications, but those result from market forces not from government decisions about how that abundance is deployed."
— Jason Bordoff, director of Columbia University's Center on Global Energy Policy
One level deeper: Carlos Pascual, who as President Obama's energy envoy at the State Department was closely involved with that administration's Iranian sanctions and LNG issues in Europe, shared his thoughts by email with me:
Russian gas often remains cheaper than U.S. sources, but even the presence of American gas helps Europe with leverage, Pascual writes.
Referencing Trump's tweet in April in which he said Saudi Arabia will increase production to ensure adequate supply to counterbalance U.S. sanctions on Iran, Pascual writes: "It is quite extraordinary that a U.S. president felt that he could announce Saudi Arabia's intentions on oil markets."
What we're watching: Whether oil prices rise substantially in the aftermath of the Iranian waivers ban.
Bob McNally, president of the Rapidan Energy Group and former energy adviser to President George W. Bush, writes in The Financial Times ($) that Trump's move on Iran is a risky bet the president made that he can enlist Saudi Arabia's help in ensuring enough production keeps oil prices — and by translation, Americans' pump prices — in check.
Go deeper