Democrats tussle over lofty climate targets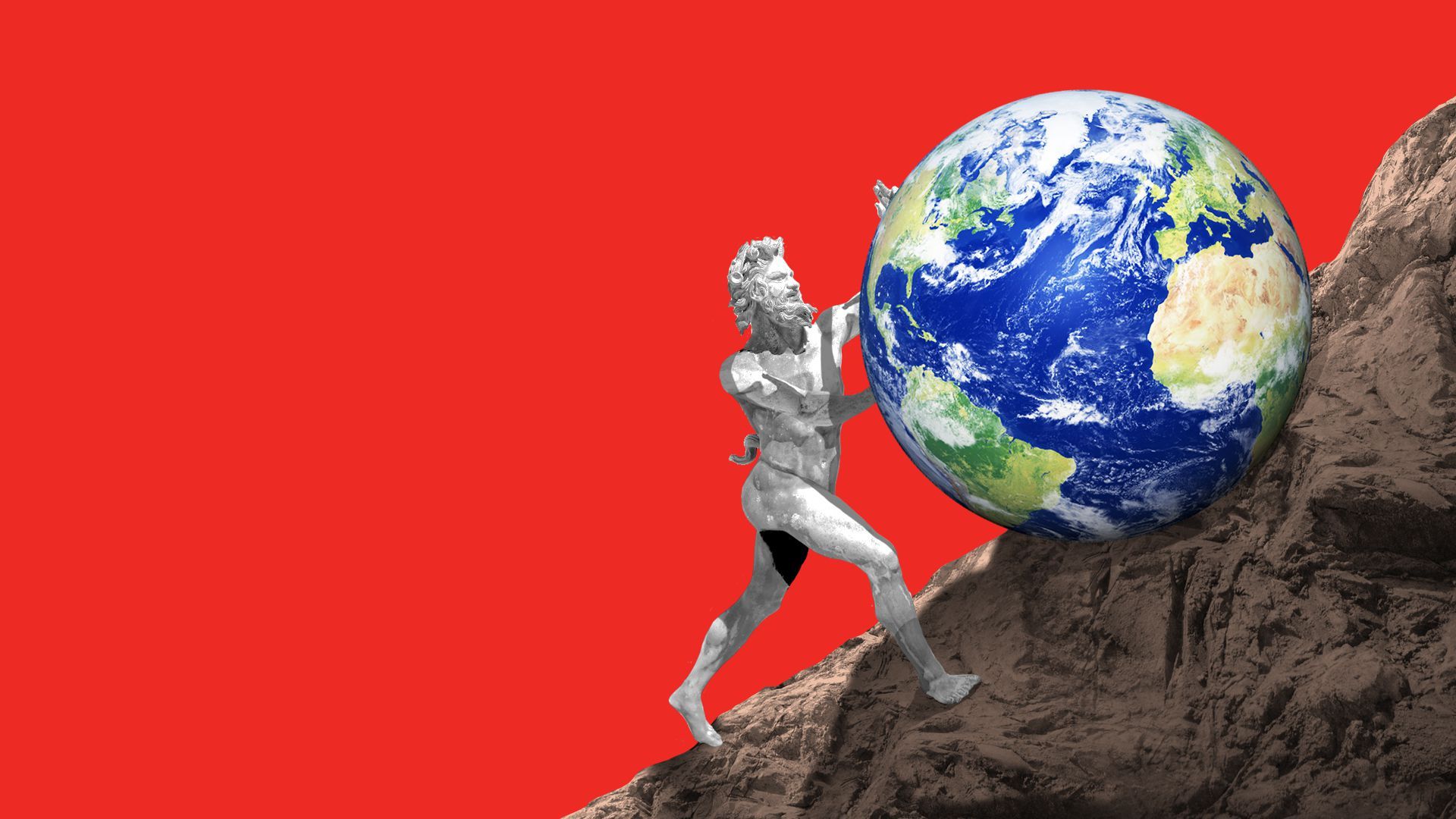 Rep. Alexandria Ocasio-Cortez said Tuesday that Beto O'Rourke's new climate change plan isn't aggressive enough, especially when compared with the Green New Deal — but in fact neither are tethered to economic reality or precedent.
Driving the news: Backers of the GND, including the New York Democrat, are pushing a goal of net zero U.S. greenhouse gas emissions as soon as 2030. The new plan by O'Rourke, one of numerous Democratic presidential hopefuls, calls for that by 2050.
Reality check: Those plans would require a revolutionary level of political, economic and technological change to occur in an amount of time that's unprecedented in American history.
The big picture: Oil, natural gas and coal make up a little more than 80% of America's energy consumption. These fossil fuels emit the lion's share of GHG emissions, so they either need to be eliminated or their emissions need to be captured to reach the progressives' goals.
AOC and other backers of aggressive climate change action say unprecedented, transformative change is exactly what's needed and that it's political stonewalling, led by Republicans and industry, that's stopping America from such a big transformation.
One metric to gauge reducing carbon dioxide emissions is the rate of decarbonization of the U.S. economy. That's a reduction in the ratio of CO2 emissions to GDP.
Roger Pielke Jr., a University of Colorado environmental studies professor, did some quick math to assess what emission reduction targets would be required for O'Rourke's plan and the GND, pushed by the Sunrise Movement group.
By the numbers, per Pielke:
The GND (targeting 2030) would need an annual 27% decarbonization rate while O'Rourke's plan (aiming for 2050) would need an annual 11% decarbonization rate, he tells Axios.
Yes, but: The annual average rate of decarbonization in the U.S. from 1992 to 2018 was only 2.4% — and the estimated rate of decarbonization in 2018 is 0%.
Where it stands: O'Rourke's plan is arguably more detailed than the Green New Deal, whose backers say a more detailed plan is set for early next year.
Several major elements of O'Rourke's plan would require new legislation on Capitol Hill, including its call for a "legally enforceable" standard for achieving net-zero emissions by 2050, Ben wrote Monday.
The reliance on Capitol Hill for key elements heavily clouds its prospects due to widespread GOP resistance to aggressive emissions policies.
What we're watching: To what extent other Democratic candidates, especially Joe Biden, seek to chase these lofty targets (or not, as Ben suggested Tuesday).
Go deeper: Democrats' left turn on climate change
Go deeper