Clashes in Caracas as Venezuelan opposition tries to topple Maduro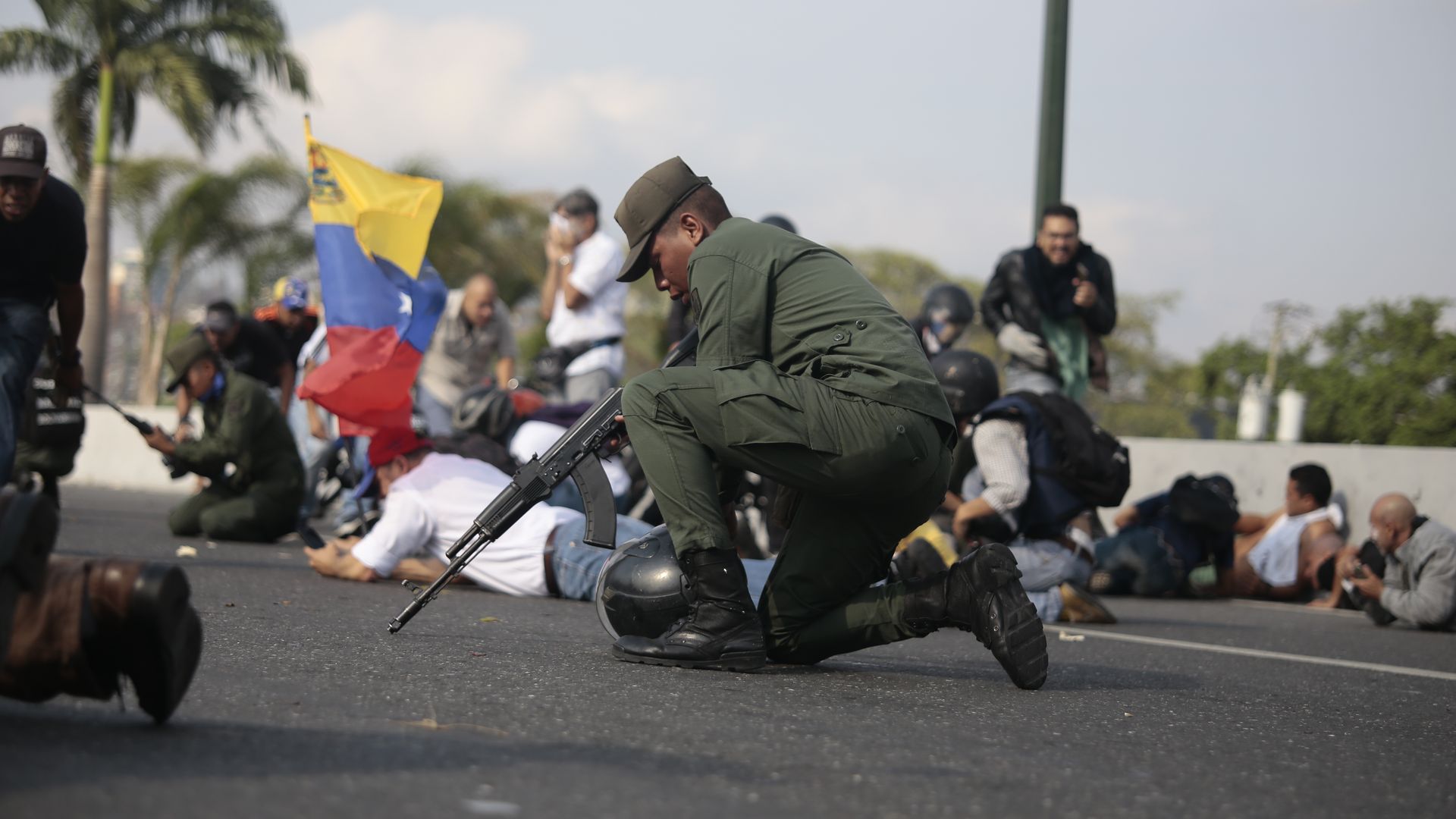 Venezuelan National Assembly President Juan Guaidó has taken to the streets alongside newly freed opposition politician Leopoldo López to call on the military to rise up and topple President Nicolás Maduro, a bold step that comes three months into a fierce power struggle.
The backdrop: Guaidó declared himself Venezuela's interim president in January and was swiftly recognized by the U.S. and a string of other countries, but Maduro has maintained his hold on power. The Trump administration and senior members of Congress have backed today's high-risk move, while senior members of the Venezuelan regime have denounced what they've described as a futile "coup attempt."
López, one of Venezuela's best-known politicians, was detained in 2014 for organizing anti-Maduro protests and had been under house arrest. He claimed to have been freed "by members of the security forces responding to an order by Guaidó," per the AP.
Venezuela's foreign minister has since said the U.S. likely paid a guard to free López.
The scene in Caracas
"As [López] spoke on a highway overpass, troops loyal to Maduro sporadically fired tear gas from inside the adjacent Carlota air base as the crowd of a few hundred civilians, some of them brandishing Venezuelan flags, scurried for cover," the AP reports.
"The crowd swelled to a few thousand as people sensed what could be their strongest opportunity yet to overthrow the government after months of turmoil that has seen Maduro withstand an onslaught of protests and international pressure with the support of his top military command and allies such as Russia and Cuba."
"The dramatic events playing out in the opposition's stronghold in wealthier eastern Caracas appeared not to have triggered a broader military revolt."
The latest: An armored military vehicle rammed into pro-Guaidó protesters in Caracas. Meanwhile protesters broke through a fence and into the military base where this morning's uprising took place, per Bloomberg. News coverage shows billows of smoke coming from the base.
The big picture: As the world has waited for a decisive moment in the Maduro-Guaidó showdown, the suffering of the Venezuelan people has only intensified. The U.S. has ratcheted up sanctions, arguing that Venezuela's economic crisis will never end until Maduro leaves power. But it's not the only power with a stake in the outcome — Russia has sent troops in support of Maduro, and China has also defended the regime.
Go deeper